May 24, 2012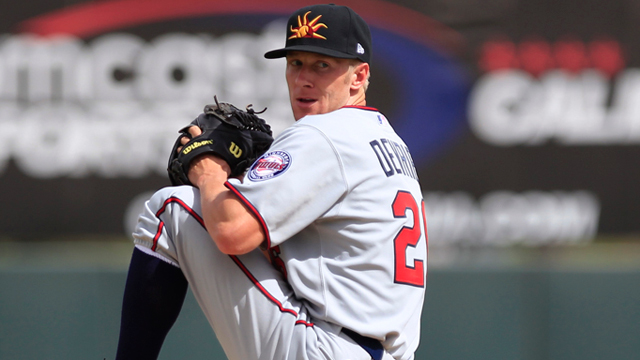 Cole De Vries was the Gophers' ace in 2006, going 7-3 with a 2.42 ERA and 72-to-32 strikeout-to-walk ratio in 93 innings to earn All-Big Ten second-team honors, but the Eden Prairie native went undrafted before signing with the Twins. He debuted at low Single-A in 2007 and moved up to high Single-A in 2008, faring well in both stops, but then struggled at Double-A in 2009 with a 4.53 ERA, .291 opponents' batting average, and 90/46 K/BB ratio in 138 innings.
At that point the Twins shifted De Vries from the rotation to the bullpen and had him repeat Double-A in 2010, but he was even worse there and also got knocked around in his first taste of Triple-A. Combined between the two levels De Vries posted a 5.79 ERA with 113 hits and 39 walks in 92 innings while serving up 12 homers. At age 26 he was in danger of being released, but instead the Twins sent him back to Double-A and something clicked the third time around.
Serving as New Britain's closer he saved nine games with a 2.28 ERA and 33/5 K/BB ratio in 28 innings, earning a promotion to Rochester. He came back down to earth, but remained plenty effective at Triple-A with a 3.90 ERA and 42/18 K/BB ratio in 62 innings. He still wasn't on the prospect radar, still wasn't on the 40-man roster, and still wasn't protected from the Rule 5 draft, but at age 27 he finally earned a chance to start a season one step from the majors.
And not only did De Vries begin this year at Triple-A the Twins decided to shift him back into the rotation there. When injuries and ineffectiveness destroyed the MLB rotation depth his Triple-A rotation-mates Liam Hendriks, Scott Diamond, and P.J. Walters got calls to the majors and De Vries kept plugging along in Rochester with a 4.24 ERA and 37/7 K/BB ratio in 47 innings. They dipped down into Triple-A again to replace Jason Marquis and De Vries got the nod.
De Vries' big opportunity comes more as a result of the failure of others than his own success, but that surely doesn't make finally reaching the majors with his hometown team at age 27 any less satisfying for an undrafted career minor leaguer. And he did his part by persevering through some rough times and improving as a pitcher even while bouncing back and forth from role to role and level to level.
As we'll see in De Vries' major-league debut tonight his raw stuff is underwhelming, including a high-80s fastball that failed to miss many bats in the minors and may have big-league hitters drooling. However, after walking 3.3 batters per nine innings between Double-A and Triple-A in 2009 and 2010 he sliced that to 1.9 walks per nine innings at the same two levels in 2011 and 2012. He's hittable, but at least he throws strikes and in the Twins' world that means a lot.
As an undrafted 27-year-old extreme fly-ball pitcher with a high-80s fastball and a 4.65 ERA between Double-A and Triple-A the odds are heavily stacked against De Vries having any kind of sustained success in the majors, but it'll be awfully difficult to pitch any worse than the $3 million mess that was Marquis. Hopefully he can follow Diamond and Walters as an unexpected spark for the rotation and either way De Vries simply reaching the majors is a helluva story.
This week's blog content is sponsored by Curt's Salsa, a locally owned salsa company that believes in fresh ingredients and rooting for the little guy. Please support them for supporting AG.com.