June 5, 2012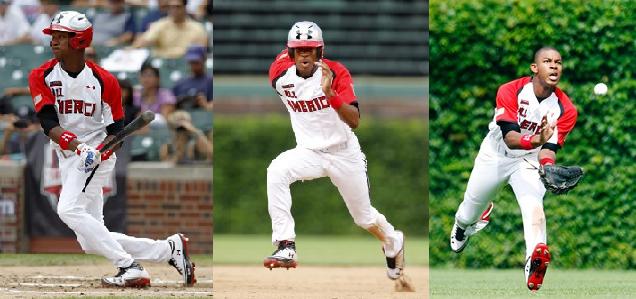 For months the assumption was that the Astros would use the No. 1 pick on either Stanford right-hander Mark Appel or Georgia high school center fielder Byron Buxton and the Twins would take the other guy with the No. 2 pick. That all changed last night when the Astros shocked the baseball world (and immediately ruined every mock draft) by taking Puerto Rico high school shortstop Carlos Correa, leaving the Twins with their choice of Appel and Buxton.
Leading up to the draft Twins officials were adamant about selecting the best player available rather than targeting a specific need, which is absolutely the correct approach to take for the long-term health of the franchise and a big part of what separates the MLB draft from the NFL and NBA versions. And ultimately they ended up with the top-ranked prospect on their draft board in Buxton, choosing the raw high school outfielder over the polished college pitcher.
It sets the Twins up for years of second-guessing if Appel quickly becomes an ace or Buxton flames out, but this year's draft class was considered extremely lacking in elite-level talent and there was no clear-cut top choice. Many draft analysts believed that at least five and as many as eight players from last year's class would have been the No. 1 pick this year and the Astros and Twins weren't alone in passing on Appel. He fell all the way to the Pirates at No. 8.
Most mock drafts had Appel pegged for the Astros in the top spot, but his being from Houston seemingly played a big factor in that assumption and based on prospect rankings rather than pick projections Buxton was as close as anyone from this class got to being the consensus top talent available. Baseball America, ESPN.com, and MLB.com all ranked Buxton as the best player available, whereas those same three outlets rated Appel fourth, sixth, and second.
None of which is to say that choosing Buxton over Appel or various other college options isn't a significant risk for the Twins, because that's undeniable when committing a hugely valuable pick and more than $5 million to a teenager lacking experience versus high-level competition. On the other hand, as the Twins unfortunately showed the last time they had the No. 2 pick choosing a polished college arm hardly guarantees anything and can prove plenty risky too.
Appel isn't Adam Johnson, but simply being a dominant college pitcher doesn't offer immunity to going bust and they fell in love with Buxton's immense physical tools, which include elite speed and range in center field, a right-handed swing that produced a batting average above .500, and an arm so strong that he struck out 18 batters in a seven-inning complete game last week to win the deciding game of the Georgia state championship series as a pitcher.
Along with the level of competition in rural Georgia power potential is his other major question mark, but hitting 30 homers isn't exactly a prerequisite for center fielder greatness. And while the question with 2007 first-rounder and fellow Southern high school outfielder Ben Revere was whether he could become a star-caliber player without any power, the question with Buxton is whether his 6-foot-2 frame will produce substantial power. There's a big difference.
In ranking Buxton as the best player available, here's some of what Baseball America said:
Buxton emerged last summer and fall as the top position player in the 2012 draft class, first with his premium, athletic body and blazing speed, then with his emerging power potential and intriguing bat. Buxton has a chance to be a true five-tool player if his bat develops as hoped. The 6-foot-2, 170-pounder has a high-waisted frame that oozes projection. He hasn't hit for big power this spring, though he flashes plus raw power in batting practice and was runner-up in last year's home run derby prior to the Under Armour All-America Game at Wrigley Field.
ESPN also ranked him as the best player available, with a similarly glowing scouting report:
Buxton is by far the best upside prospect in this year's draft, as his body and off-the-charts athleticism have earned him comparisons to players from the Uptons to Matt Kemp to Eric Davis to Willie Mays. If you want raw tools, this is about as good as it gets. ... Buxton has quick wrists and gets good rotation in his right-handed swing, with good hand-eye coordination but a slight tendency for his swing to get long on balls out of the zone. ... There are risk factors here. Buxton has hit for very little power this spring, giving up the long ball for more contact but raising questions about what his actual power ceiling might be.
Ultimately the decision hinges on the Twins and their scouting department being right about what type of player a teenager will be in five years, which is admittedly pretty scary. However, the history of the No. 2 pick shows very few sure things, the lack of elite-level talent in this year's class created even less certainty than usual, and clearly the Twins aren't the only team with doubts about Appel becoming an ace. And so they swung for the fences with Buxton.
This week's blog content is sponsored by PickPointz, where you can make predictions, pick games, and win prizes for free. Please support them for supporting AG.com.