June 13, 2012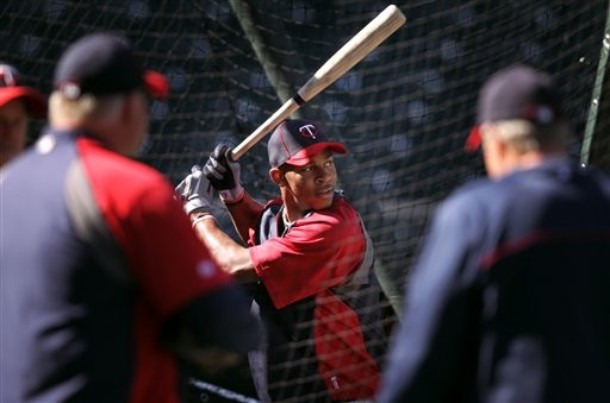 One of the nice things about the draft-related changes to the collective bargaining agreement is that MLB moved the signing deadline from mid-August to mid-July, encouraging players to sign quickly and get their pro careers started in the minors. Kyle Gibson and Levi Michael are recent Twins first-round picks who signed too late to debut the year they were drafted, but this year the Twins have already signed 10 of their first 11 picks within two weeks of the draft.
That includes No. 2 overall pick Byron Buxton, who arrived in Minnesota yesterday to undergo his pre-signing physical exam and also took batting practice at Target Field in the same hitting group as Joe Mauer and Justin Morneau. Jim Callis of Baseball America reports that Buxton agreed to a $6 million signing bonus, which is slightly below the $6.2 million slot figure and substantially more than the $4.8 million Carlos Correa got from the Astros as the No. 1 pick.
Not every dollar figure is public yet, but Baseball America reports that No. 32 pick Jose Berrios agreed to a deal for the exact slot amount of $1.55 million and No. 63 pick Mason Melotakis accepted $750,000 compared to the slot amount of $818,500. And among the 11 players the Twins took within the draft's first 250 overall selections Georgia Tech right-hander and No. 42 pick Luke Bard is the only one yet to sign.
All of which is a major change from past years and particularly encouraging for Buxton, who can now get an early start on his development and potentially play a full rookie-ball season at age 18. Buxton will likely be assigned to the Gulf Coast League, which is the lower level of rookie-ball, and if things go well there early on Rhett Bollinger of MLB.com reports that the Twins could move him up one level of rookie-ball to the Appalachian League by season's end.
Even the best-case scenario for Buxton's development probably won't get him to Minnesota before 2015 and not arriving until 2016 or 2017 wouldn't be surprising, but to get him signed, get him working with Twins coaches, and get him in the lineup against professional pitchers just weeks after being drafted is a nice first step down the long road to the big leagues. I'm already looking forward to checking those rookie-ball box scores.
This week's blog content is sponsored by PickPointz, where you can make predictions, pick games, and win prizes for free. Please support them for supporting AG.com.