June 27, 2012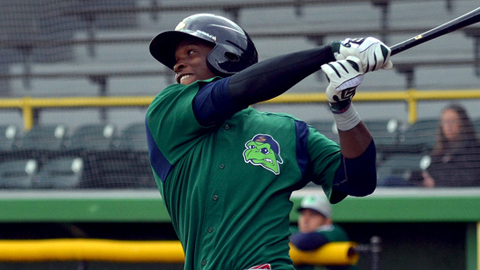 Each winter I rank and profile the Twins' top 40 prospects, so with the minor-league season reaching the halfway point let's check in on the top 10 prospects to see how they're faring:
• No. 1 prospect Miguel Sano got off to a huge start at low Single-A, hitting .276/.422/.586 in April, but then showed that for all the incredible long-term upside he's still a teenager with shaky strike-zone control facing full-season competition for the first time. Sano went into a prolonged slump right around his 19th birthday and has hit just .220 with 58 strikeouts in 48 games since May 1, putting on hold any talk of a first-half promotion to high Single-A.
Sano also struck out 137 times in 127 games of rookie-ball, so the lack of consistent contact is nothing new and remains a potential red flag. On the other hand 19-year-olds with massive raw power are supposed to be strikeout prone and Sano has made major strides in plate discipline by drawing 42 walks in 73 games for Beloit after totaling 47 walks in 127 games at rookie-ball. And even while struggling overall recently he's continued to hit for huge power.
Sano leads the Midwest League with 15 homers and ranks fourth slugging percentage, fifth in walks, and seventh in OPS despite being the sixth-youngest player in the league. His low batting average and high strikeout total are certainly worrisome and make it impossible to project him as a future .300 hitter, but in terms of being a middle-of-the-order monster Sano remains right on track with a .240/.355/.483 line at the same age as a college sophomore.
• No. 2 prospect Joe Benson has had a miserable season that started bad and got much worse. Finally promoted to Triple-A for the first time at age 24 he hit .179 in 28 games for Rochester, at which point the Twins decided to send him back down to Double-A for a third straight year. He got off to a slow start there before breaking his wrist on a swing in his eighth game, requiring surgery and a two-month recovery timetable.
Wrist injuries often prove tricky for hitters to bounce back from and when combined with hitting .173 in 36 games between Double-A and Triple-A his stock has clearly plummeted this season. Reacting to 28 bad games at Triple-A by demoting Benson back to a level he'd already mastered for two seasons was an odd, seemingly panicky move by the Twins, but that's mostly a moot point now as he simply needs to get healthy and start hitting again somewhere.
• No. 3 prospect Aaron Hicks made the jump to Double-A and hit well enough early on to create some optimism that he was finally ready to tap into his offensive potential after underwhelming power and batting averages in the low minors. Instead he's basically back to where he's always been, showing excellent plate discipline and good speed while hitting just .248 with seven homers in 63 games for New Britain.
He's still 22 years old and it would be silly to brush aside 33 walks and 16 steals in 63 games from a strong-armed center fielder, but at this point his long-term upside needs recalibrating. His defense, speed, and on-base skills are still more than enough to make Hicks a potential quality regular in the majors, but any thoughts of stardom can wait until his average or power rise and his switch-hitting actually leads to good production from both sides of the plate.
• No. 4 prospect Eddie Rosario was one of the few Twins minor leaguers having a standout year, hitting .293/.362/.473 with seven homers, 20 doubles, and 27 walks in 62 games at low Single-A as a 20-year-old. Then a batting practice line drive off the bat of a Beloit teammate struck him in the face on June 12 and surgery to insert a metal plate above his lip followed, putting his season on hold for at least six weeks.
Halting his strong hitting isn't ideal, but the bigger issue is that Rosario had been transitioning from center fielder to second baseman and all the missed repetitions will further complicate an already difficult proposition. Also worth noting is that while hitting well overall before the facial injury his power was down substantially from last year, which is what many people expected to happen considering Rosario is more of a line-drive hitter than a slugger.
• No. 5 prospect Liam Hendriks was the Twins' choice to replace the injured Scott Baker in the Opening Day rotation despite being 23 years old with just nine starts at Triple-A. He predictably struggled and was sent back to Rochester three weeks later, but then put together an impressive seven-start stretch there in which he threw 46 innings with a 1.94 ERA, .180 opponents' batting average, and 42-to-13 strikeout-to-walk ratio.
That and more injuries to the rotation earned Hendriks a return to the majors two weeks ago and he promptly served up three homers in his first start back after allowing a total of three homers in 16 starts at Triple-A. Learning to keep the ball in the ballpark will be crucial, because Hendriks' raw stuff is mediocre and his bat-missing ability is in question. Hendriks was the top pitching prospect by default and his upside as a mid-rotation starter hasn't changed.
• No. 6 prospect Oswaldo Arcia has moved past the slumping Sano to own the highest OPS by any Twins minor leaguer and while his long-term upside can't compete with Sano he's in the mix as one of MLB's best young outfield prospects. Arcia began the year at high Single-A and hit .309/.376/.517 with seven homers, 16 doubles, and an improved strikeout-to-walk ratio in 55 games to earn a promotion to Double-A and a spot in the Futures Game next month.
At just 21 years old Arcia is one of the half-dozen youngest hitters in the Eastern League and it's noteworthy that the Twins have gone away from their usual deliberate development by aggressively promoting him for a second straight season. In general testing good prospects is smart, although in Arcia's case his plate discipline and strike-zone control are shaky enough that constantly facing new, tougher competition makes improving those skills on the fly tough.
• No. 7 prospect Kyle Gibson has been sidelined since undergoing Tommy John elbow surgery last September, but the 2009 first-round pick recently started a throwing program and is ahead of schedule in his recovery. He won't be an option for the Twins this season, whereas before the surgery he was on track to be in the majors by now, but getting back on the mound for some minor-league game action at some point in July would be great news.
• No. 8 prospect Levi Michael was supposed to advance through the farm system quickly after starring in college at North Carolina, giving the Twins some much-needed middle infield depth. Jumping directly to high Single-A was part of that plan, but the switch-hitting first-round pick has struggled there by hitting .219 with two homers and 49 strikeouts in 61 games while splitting time between shortstop and second base.
Michael had excellent strike-zone control in college, totaling more walks (93) than strikeouts (73) in 2010-2011. So far the plate discipline side of that equation has remained with 31 walks despite a .295 slugging percentage not scaring pitchers, but the 49 strikeouts are a concern attached to such little power. Hopefully he simply wasn't as advanced as believed, since it'd be a shame if the Twins finally addressed their infield issues with a college pick who went bust.
• No. 9 prospect Alex Wimmers recovered from extreme control problems to get back on track by the end of last season and the Twins were confident enough to assign the 2010 first-round pick to Double-A this year. Unfortunately he went down with an elbow injury after just one start there and was diagnosed with a partially torn ulnar collateral ligament, which typically leads to Tommy John surgery. For now he's attempting rest and rehab instead of surgery.
• No. 10 prospect Brian Dozier began the year at Triple-A for the first time at age 25 and didn't play particularly well, but the Twins called him up in mid-May anyway and he arrived with some misguidedly inflated expectations among many fans and media members. Talk of him being "the next big thing" seems even sillier now, as Dozier has struggled both offensively and defensively while playing shortstop every day for the past six weeks.
He's hit .225/.249/.306 in 44 games with predictably little pop and a surprisingly ugly 33-to-6 strikeout-to-walk ratio after walking nearly as often as he struck out in the minors. Defensively he's shown iffy range and arm strength while also being less sure-handed than expected. He realistically never projected as anything close to a star, but struggling so much to control the strike zone and consistently make plays at shortstop is worrisome for 25-year-old.
This week's blog content is sponsored by Curt's Salsa, a locally owned salsa company that believes in fresh ingredients and rooting for the little guy. Please support them for supporting AG.com.