July 18, 2012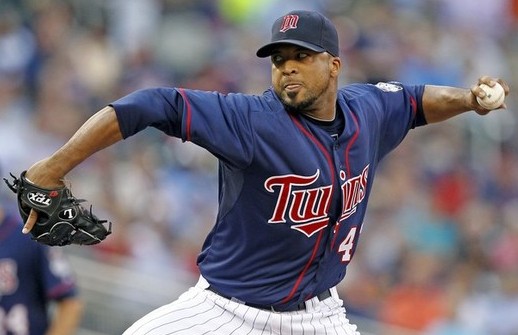 • How dominant was Francisco Liriano against the A's on Friday night? Not only were his 15 strikeouts the second-most in Twins history behind Johan Santana with 17 on August 19, 2007, his 30 swings and misses induced were the most by any MLB pitcher since ... Santana had 32 on August 19, 2007. I went back through the AG.com archives to find what I wrote about his incredible performance that day and shockingly it included a Jessica Alba comparison.
Liriano's first start following his brief demotion to the bullpen also came against Oakland and he overpowered the A's then too, giving him a ridiculous 24-to-3 strikeout-to-walk ratio in 14 innings against them since May 30. And it was good timing, as at least a half-dozen teams reportedly sent scouts to evaluate Liriano for a potential trade. Since rejoining the rotation he's thrown 57 innings with a 2.83 ERA, .170 opponents' batting average, and 67 strikeouts.
• Some fun facts from that Santana start on August 19, 2007: He struck out 17 in eight innings and then closer Joe Nathan struck out two more in the ninth inning, as they combined for 19 strikeouts, zero walks, and two hits allowed in a 1-0 shutout of the Rangers. Michael Cuddyer homered for the game's only run, C.J. Wilson pitched in relief for Texas, and the Rangers had a 38-year-old Sammy Sosa batting cleanup. And here was the Twins' lineup:
1. Alexi Casilla, 2B
2. Joe Mauer, DH
3. Torii Hunter, CF
4. Justin Morneau, 1B
5. Michael Cuddyer, RF
6. Mike Redmond, C
7. Rondell White, LF
8. Tommy Watkins, 3B
9. Nick Punto, SS
Oh, and Jason Tyner came in defensively for Rondell White late in the game. One not-so-fun fact about the game: Santana made just seven more starts in a Twins uniform.
• Friday's deadline to sign draft picks came and went without much drama for the Twins, who'd already agreed to deals with their first 11 picks weeks ago. Or so everyone thought. It turns out sixth-round pick Andre Martinez, a high school pitcher from Florida who originally agreed to an over-slot $260,000 bonus, ended up reworking his deal after a pre-signing physical exam revealed shoulder issues. He signed Friday for $80,000 compared to the $200,000 slot.
Another last-minute signing was 20th-round pick Zach Larson, a high school outfielder from Florida who agreed to a $190,000 deal that's nearly twice the slot value for picks after the 10th round. By saving money elsewhere compared to the slot values for various picks the Twins had plenty of extra money to throw Larson's way and in fact overall they spent about $300,000 less than their MLB-high $12.3 million allotment.
Ninth-rounder L.J. Mazzilli is the earliest Twins pick not to sign, as the Connecticut second baseman and son of longtime big leaguer Lee Mazzilli presumably turned down close to the $130,000 slot amount for the No. 280 overall pick. Mazzilli hit .339/.404/.548 with 16 steals in 58 games as a junior, but also committed 20 errors and was no sure thing to stick at second base defensively as a pro. In all the Twins signed 27 of 43 picks, including 14 of their first 15.
Mark Appel, the Stanford pitcher represented by Scott Boras who fell to No. 8 after being an oft-projected No. 1 pick and possible Twins choice at No. 2, ended up as the only first-rounder not to sign. He turned down $3.8 million, which is $900,000 more than slot and the most the Pirates could offer without forfeiting next year's pick. Appel can return to college for his senior year and be drafted again, while the Pirates get the No. 9 pick in 2013 as compensation.
• After going 3-for-4 with a walk (and a great diving catch) last night Joe Mauer is now hitting .333/.420/.462, which is nearly identical to his .324/.404/.470 career line despite offense being down across baseball. He leads the league in on-base percentage and ranks second in batting average, has hit .385 in his last 45 games, and is projected to be worth $26 million this year according to Fan Graphs. He's being paid $23 million.
• Nick Blackburn is already back with the Twins after allowing one earned run in two starts at Triple-A following his demotion, but the bad news is that he managed just five strikeouts in 15 innings. He succeeded there by keeping the ball in the ballpark, but his ground-ball rate wasn't exceptional and as usual there's little reason to think pitching to that extreme level of contact is going to get the job done against big-league hitters.
• Matt Capps' return from the disabled list lasted all of five days, as he showed decreased velocity and was shut down again with more shoulder problems. That ruins whatever chance the Twins had of trading Capps before July 31, which is a shame because reportedly at least one team was actually showing interest. Suffice it to say that the Twins' decision to forfeit a draft pick in order to re-sign Capps for $5 million has gone about as well as expected.
• Carl Pavano isn't close to returning from his own shoulder injury, so the even slimmer odds the Twins had of trading him before the July 31 deadline is officially gone. It's possible that he could return in time to make a few starts before the August 31 waiver trade deadline, but even that's no sure thing and obviously counting on Pavano to be effective enough to draw interest at that point would be wildly optimistic.
• David Laurila of Fan Graphs interviewed Terry Ryan and the lengthy transcript is definitely worth reading, but here's one particularly interesting excerpt about the team's oft-questioned involvement with statistical analysis:
We never messed with that too much back in the '70s, but we did in the '80s and the '90s and the 2000s. We've been looking at that forever. ... People don't want to hear that out of the Minnesota Twins. But we've been looking at that forever. Way before some. We're not as deep as some, but we do believe in certainly doing our work, and that stat page is one big piece to the puzzle of putting players together.

Our scouts, and our people, will tell you if I'm looking at a player, and I go down and look at his line, and it doesn't add up, I've got to give him a call quick. I tell him, "This doesn't make any sense." His role, his skills and his statistical history, and you're going to tell me this? How do you get there? I believe in that.

All forms of information are good. I've drilled that into our people. Bring it on. All forms, let me sort it out. ... I read all that stuff, and sometimes it's so much information that I do get paralyzed reading it and taking it all in. You can spend as much time as you want on everything that is available. It's almost mind-boggling how much stuff is out there.
Ryan and other Twins decision-makers have adopted "we're into that even if you don't know it" as their response to those questions. And that's fine, although it's worth noting that, for instance, assistant general manager Rob Antony lacked familiarity with basic aspects of statistical analysis as recently as two years ago and even in the above excerpt Ryan talking about looking at stats isn't really what anyone would consider a new-school approach.
When people wonder if the Twins are involved with statistical analysis the questions aren't about literally looking at a player's stats--that much is assumed, no matter a team's public stance--but rather taking full advantage of new technology and the increasingly in-depth data available. They've recently hired some stat-heads and clearly want to keep things secretive, but what little Ryan and others do say about the issue leaves plenty of room for skepticism.
• Midseason prospect rankings are out and Baseball America moved Miguel Sano from No. 18 to No. 22, whereas ESPN.com moved Sano from No. 28 to No. 26. In other words Sano remains a top-30 talent as an all-around prospect and among hitters who don't play up-the-middle positions only Wil Myers of the Royals, Oscar Taveras of the Cardinals, and Nick Castellanos of the Tigers rank ahead of Sano on both lists.
• As part of their minor-league roster shuffling the Twins released Jairo Perez, who ranked 34th on my preseason list of the team's prospects. He hit .337/.413/.580 at low Single-A last year and .265/.350/.403 at high Single-A this year, which makes cutting Perez in July an odd move. On the other hand at age 24 he was very old for Single-A and didn't really have a clear defensive home. And now he's playing in an independent league.
• Matt Maloney parlayed a good spring training into an Opening Day bullpen spot after the Twins claimed him off waivers from the Reds in October, but the soft-tossing left-hander coughed up 10 runs in 11 innings and not surprisingly passed through waivers unclaimed in May. He was even worse at Triple-A, allowing 33 runs in 24 innings, and now he'll be out until mid-2013 following Tommy John elbow surgery.
• Twins castoff Luke Hughes was released by the A's after hitting .223/.316/.338 in 42 games between Double-A and Triple-A.
This week's blog content is sponsored by Ballplayer: Pelotero, a controversial new documentary about baseball prospects in the Dominican Republic starring Miguel Sano as a 16-year-old.