August 14, 2012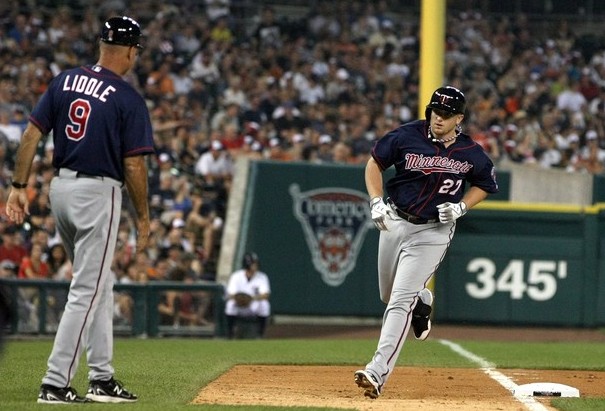 Not much about the Twins' handling of Chris Parmelee this season has made sense. Coming into the year he'd never played at Triple-A and had a measly .416 slugging percentage in 253 games at Double-A, yet they handed him an Opening Day job based on the small samples of his strong September call-up and good spring training. Parmelee struggled with the big jump, hitting .179 with zero homers and 21 strikeouts in 92 plate appearances through mid-May.
At that point they demoted him to Rochester for his first career taste of Triple-A, but then after just three weeks there the Twins recalled Parmelee to Minnesota even though there wasn't an obvious place for him to play regularly. And sure enough he spent the next month collecting dust on the bench, starting just four times and totaling 23 plate appearances in the span of 25 games before they demoted him back to Triple-A again.
They rushed a non-elite prospect to the majors by having him skip Triple-A, demoted him to the minors six weeks and 92 plate appearances later, and then called him up three weeks after that to spend a month on the bench. None of that seems like how you'd want to handle a young player and he's hit just .204/.283/.324 with a 28/9 K/BB ratio in 40 games for the Twins this season, but there is one big bright spot: Parmelee has been amazing at Triple-A.
In the low minors Parmelee showed excellent power and plate discipline, but struck out a ton with poor batting averages. As he moved up the organizational ladder the Twins tinkered with his approach for reduced strikeouts and a higher batting average, but Parmelee sacrificed power and plate discipline in the process. All of which is how he went from high-strikeout, low-average slugger at Single-A to hitting .282 with a .416 slugging percentage at Double-A.
However, in his first Triple-A action Parmelee has kept his strikeouts down and his average up while rediscovering the big-time power and patience. And the end result has been a beautiful .360/.471/.703 line with 15 homers, 14 doubles, and more walks (35) than strikeouts (31) in 47 games for Rochester, which is basically unheard of production. In fact, here are the highest OPS totals by Rochester hitters since the Red Wings became the Twins' affiliate in 2003:
                  YEAR      PA      OPS
CHRIS PARMELEE    2012     208    1.174
Trevor Plouffe    2011     220    1.019
Justin Morneau    2004     326     .992
Jason Kubel       2004     390     .958
Brian Buscher     2008     214     .915
Denard Span       2008     184     .915
Randy Ruiz        2008     456     .902
Parmelee is blowing away the competition with an OPS approaching 1.200 while the only other Rochester hitter to even top a 1.000 OPS since 2003 was Trevor Plouffe last year. Plouffe's mediocre production in the minors and early big-league struggles caused his prospect stock to drop until that monster 50-game stretch in Rochester completely changed his outlook, which sounds similar to Parmelee's story right down to both players being former first-round picks.
And while not as extreme, Denard Span also appears on the above list as another former first-round pick whose prospect stock waned until a great stretch at Triple-A in 2008 propelled him to the majors. Obviously none of that guarantees Parmelee will follow the Plouffe/Span path to MLB success, but whatever you thought of him before this season and whatever you thought of his poor showing with the Twins this year .360/.471/.703 is an opinion-changer.
I'd love to know how differently things may have played out for Parmelee if the Twins had simply sent him to Triple-A to begin the year and called him up after a strong half-season in Rochester, although even that scenario isn't without issues. Considering the Twins' record and his Triple-A performance Parmelee has certainly earned another call-up and regular playing time down the stretch, but where exactly does he play?
Parmelee's natural position is first base, but Justin Morneau is there. He's also played quite a bit of right field and a little bit of left field in the minors, but those spots are manned by Ben Revere and Josh Willingham. Joe Mauer and Ryan Doumit are splitting designated hitter, so there's no room for Parmelee at DH. And the logjam isn't just this season, as Mauer, Morneau, Willingham, Revere, and Doumit are signed for 2013 and all but Morneau are signed for 2014.
Presumably if the Twins thought enough of Parmelee this spring to hand him an Opening Day job despite modest production at Double-A and zero experience at Triple-A they'll still think enough of him next spring to want him playing regularly after crushing Triple-A pitching. In order for that to happen, however, they'll seemingly need to make a trade. Mauer isn't going anywhere, Revere presumably isn't either, and Doumit just signed a two-year extension.
Morneau is the obvious choice, as he plays Parmelee's primary position and is owed $14 million in the final season of his contract. Willingham would fetch more in return, but there's been no indication that the Twins are willing to part with the hugely productive slugger they signed to a three-year deal in December. They could also open a spot by trading Span and shifting Revere to center field, but Parmelee as an everyday corner outfielder could be ugly defensively.
Wherever and however, the Twins need to find a place in the 2013 lineup for Parmelee.
This week's blog content is sponsored by Sky Spinner Press and EmilyMeier.com. Please support them for supporting AG.com.