August 15, 2012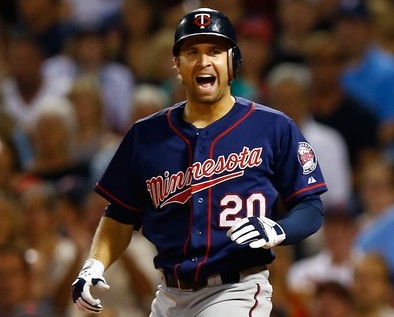 From the moment Ron Gardenhire repeatedly singled him out by name as a desired call-up last season Brian Dozier's hype has surpassed his actual upside. He went from non-prospect to Twins minor league player of the year by hitting .320 last season between high Single-A and Double-A, at which point fans started getting their hopes up and prominent local media members fanned the flames by calling him "The Next Big Thing." Literally.
Lost in the hype and optimism was that Dozier's lofty batting average came as a 24-year-old who began last season repeating high Single-A, included modest power, was vastly better than his very underwhelming previous production, and went alongside widely held questions about his defense at shortstop. In reality Dozier was nowhere near being thought of as a top prospect. In fact, he wasn't even considered a top prospect within the Twins organization.
Coming into the season ESPN.com, Baseball Prospectus, and Baseball America rated him 7th, 9th, and 10th among Twins prospects and Dozier placed 10th in my annual ranking of the team's farm system. Anyone expecting Dozier to be more than a decent regular for the Twins, let alone a star, was engaging in some serious wishful thinking and unfortunately even "decent regular" proved too optimistic for his first taste of the big leagues.
Dozier has been awful as a 25-year-old rookie, hitting .234/.271/.332 with error-filled defense in 84 games, including an ugly 58-to-16 strikeout-to-walk ratio that showed an overmatched hitter rather then someone with a track record of good strike-zone control. And late last night the Twins decided they'd seen enough, demoting Dozier back to Triple-A and calling up Pedro Florimon, a 24-year-old offseason waiver claim who hit just .251/.308/.345 in Rochester.
Dozier's performance was certainly bad enough to warrant a trip back to the minors, but the timing of the move seems odd. Why call him up after just 28 games in Rochester despite a modest .276/.339/.371 line there and then play him every day from May through mid-August only to send him down with just two weeks left in the Triple-A season? It's not as if the Twins are fighting for a playoff spot and it's not as if Florimon is more than a potential utility man.
Perhaps the Twins legitimately believe that a dozen games at Triple-A can jump-start Dozier before an inevitable September call-up and after the recent Rochester breakouts from Trevor Plouffe and Chris Parmelee nothing seems out of the question. However, he'll be 26 years old next season and except for a 2011 performance that was over-hyped to begin with there's nothing in Dozier's track record to suggest he has considerable upside.
Giving him an extra couple weeks at Triple-A before being called up may have come in handy, but three months and 340 plate appearances in the majors later does a two-week demotion before a return to Minnesota in September seem likely to accomplish much of anything? I'd love to be wrong, just as I'd love to be wrong about Dozier's upside in general, but right now the Twins are back in their all-too-familiar place of searching for answers in the middle infield.
This week's blog content is sponsored by Sky Spinner Press and EmilyMeier.com. Please support them for supporting AG.com.