August 21, 2012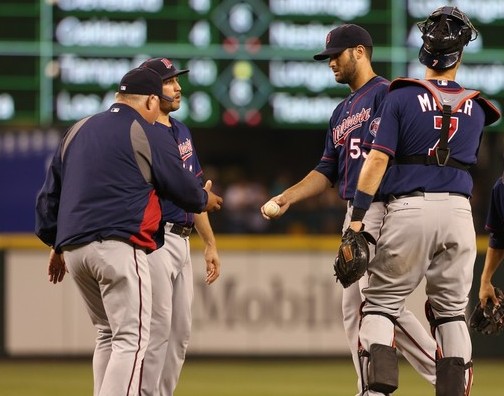 • Nick Blackburn's latest start came against the AL's lowest-scoring lineup in one of MLB's most pitcher-friendly ballparks, yet he still allowed five runs in five innings and served up two homers among 11 total hits. Among all MLB pitchers to start more than 15 games this season Blackburn ranks dead last with a 7.39 ERA (no one else is worse than 6.36) and a .340 opponents' batting average (no one else is worse than .316).
And as Twins fans know all too well, Blackburn's extreme struggles date back much further. Since the beginning of 2010 he's now started 71 games and thrown 408 innings with a 5.56 ERA while opponents have hit .313/.359/.507 off him. To put that in some context: Justin Morneau is a career .281/.351/.497 hitter. So for the past three seasons and 408 innings Blackburn has essentially turned every batter he's faced into a better version of Morneau.
Among all MLB pitchers to start more than 60 games since 2010 he ranks dead last in:
- ERA (5.56)
- Opponents' batting average (.313)
- Opponents' on-base percentage (.359)
- Opponents' slugging percentage (.507)
- Homers per nine innings (1.5)
- Baserunners per nine innings (14.1)
- Strikeouts per nine innings (4.1)
- Strikeout-to-walk ratio (1.55)
Quite simply: Blackburn has been the worst pitcher in baseball for the past three seasons and it's not particularly close. If not for the Twins giving him a misguided and totally unnecessary contract extension in March of 2010 he'd have been cut a long time ago, but instead they're paying him $4.75 million this season and owe him another $5.5 million in 2013. They also hold an $8 million team option on Blackburn for 2014, which would be funny if it weren't so sad.
And yet when asked recently about Blackburn's status for 2013, Ron Gardenhire said:
He's going to be one of our pitchers. He'll be one of our pitchers again next year, and we need good outings from him. He's the veteran of this staff now. Hopefully we'll let him finish out here and he'll get on a bit of a roll and get some wins underneath his belt and get him more confidence.
Gardenhire's stance apparently wasn't shared by the front office, because yesterday Blackburn was sent outright to Triple-A. That means he was removed from the 40-man roster and passed through waivers unclaimed, as predictably none of the other 29 teams wanted anything to do with his contract. Blackburn remains in the organization and can be recalled to the majors at any time, but first the Twins would have to re-add him to the 40-man roster.
• Tsuyoshi Nishioka was also sent outright to Triple-A after the Twins initially optioned him to Rochester last week. Nishioka, like Blackburn, is no longer on the 40-man roster after passing through waivers unclaimed and will continue to play at Triple-A. I'm not sure why they avoided dropping Nishioka from the 40-man roster immediately last week or when they first sent him to the minors during spring training, but there's obviously no need to waste a spot on him.
• In further 40-man roster housecleaning Rene Tosoni was sent outright to Triple-A to make room for Matt Carson's arrival. Tosoni was once a solid prospect who projected as a potential starting corner outfielder, but he's 26 years old now and has been brutal in the minors for the past two seasons. Not surprisingly he passed through waivers unclaimed, so the Twins were able to retain him in the organization without the 40-man roster spot.
• By calling up Carson as a fill-in for the banged-up outfield the Twins showed they'd rather have Chris Parmelee playing in Rochester than collecting dust on the bench in Minnesota again and perhaps don't view him as a viable outfield option defensively. Based on his great Triple-A performance Parmelee is obviously deserving of another opportunity in the majors, but as I wrote last week there's nowhere for to consistently play him barring a trade or injury.
Carson is a 31-year-old journeyman who joined the organization in November on a minor-league deal. He previously had brief stints in the majors with the A's in 2009 and 2010, but was never a top prospect and has spent 11 seasons in the minors. Carson hit .277/.339/.447 in 110 games for Rochester, which is both nothing special for a corner outfielder and nearly identical to his career .264/.325/.447 line in 4,649 plate appearances as a minor leaguer.
• April elbow surgery knocked Scott Baker out for the year and the Twins will decline his $9.25 million option for next season, making him a free agent. However, with the 2013 rotation wide open and Baker looking for a place to get his career back on track a reunion is possible. Baker is scheduled to begin throwing off a mound in October and indicated to Joe Christensen of the Minneapolis Star Tribune that all things being equal he'd like to remain in Minnesota.
• After missing two months with a broken leg Anthony Slama is back to closing out games for Rochester, where he's logged 26 innings with a 0.70 ERA, .183 opponents' batting average, and 44 strikeouts. Slama isn't on the 40-man roster, but as noted above they created multiple new openings and there's no excuse for the Twins not to give a September call-up to the 28-year-old with a 2.25 ERA and 180 strikeouts in 144 innings at Triple-A.
• There are 10 pitchers in the Twins' farm system to throw 100 or more innings this year and all 10 have a strikeout rate below 7.0 per nine innings. Blackburn's likely replacement, Liam Hendriks, has the highest strikeout rate among those 10, whiffing 82 batters in 106 innings at Triple-A for a rate of 6.9 per nine innings that's actually below the International League average of 7.4 per nine innings. Pitching to contact still dominates the farm system.
• Back in 2003 the Twins moved their Triple-A team from Edmonton of the Pacific Coast League to Rochester of the International League, where they've been since. There were some rumblings that Rochester could try to ditch the Twins when their contract expired after this season, which would have left the Twins scrambling for a new Triple-A home and might have even led to returning to the PCL, but the two sides have agreed to a two-year extension.
• Twins rookie-ball catcher Michael Quesada was suspended 50 games for violating the minor league drug prevention and treatment program by testing positive for Methylhexaneamine, a stimulant and dietary supplement. Quesada was a 10th-round draft pick out of Sierra College in 2010, but has hit just .213/.314/.333 with three homers in 62 career games while remaining in rookie-ball as a 22-year-old.
• Denard Span injured his shoulder on August 12. Nine days later he remains "day-to-day" and on the active roster despite being unavailable to play for that entire time and finally underwent an MRI exam yesterday. At this point I'm not even sure what to say about the Twins' ongoing pattern of "day-to-day" injuries and disabled list avoidance, other than maybe "sigh."
• Only two MLB hitters with more than 375 plate appearances this season have zero homers: Jamey Carroll and Ben Revere.
• Four hitters in the Twins' entire organization, majors and minors, have drawn 60 or more walks this season: Joe Mauer, Josh Willingham, Miguel Sano, Aaron Hicks.
• Since becoming the primary closer Glen Perkins has converted 7-of-8 save chances with a 2.66 ERA and 24-to-3 strikeout-to-walk ratio in 24 innings. Before that he had two career saves.
• For a whole lot more about Blackburn and Hendriks, plus a pretty good puking-in-public story and comparing Sam Deduno to a UFO, check out this week's Gleeman and The Geek episode.
Interested in sponsoring a week of AG.com? Click here for details.