August 29, 2012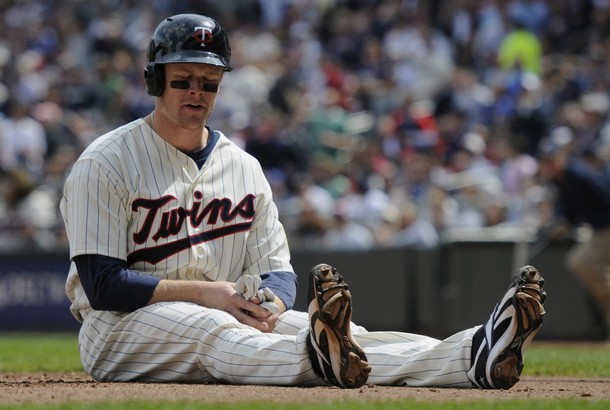 • Within the Los Angeles Times' story about the Dodgers-Red Sox blockbuster trade was this tidbit from beat reporter Dylan Hernandez:
A four-time All-Star first baseman, [Adrian] Gonzalez was the prize in the deal. The Dodgers inquired about him leading up to the July 31 non-waiver trade deadline and approached the Red Sox again after a failed attempt to land Minnesota Twins first baseman Justin Morneau last week.
Not shocking, as the Dodgers were also linked to Justin Morneau in July, but the notion of the Twins turning them down multiple times is certainly interesting. Morneau has been excellent since the All-Star break, hitting .320/.365/.523 in 39 games, but his overall production this season still qualifies as good but not great and his health remains an issue. Toss in the fact that he has one year and $14 million left on his contract and Morneau's trade value isn't great.
Or at least it shouldn't be, which makes me wonder if they should've jumped at the Dodgers' offer assuming it included any kind of decent prospect. Simply clearing Morneau's salary off the books for 2013 has value to the Twins, especially with Chris Parmelee waiting in the wings as a minimum-salaried replacement, and the Dodgers ended up sending a surprisingly strong package of players to the Red Sox for the right to take on $275 million in mostly bad contracts.
Given how the Dodgers are throwing around money it's not safe to assume their interest in Morneau and his contract guarantees similar interest from other teams, and now Los Angeles is no longer an option for a future deal. Obviously every Twins fan would love to see Morneau resume being an elite hitter, but $14 million would come in handy and letting him walk for nothing as a free agent in 15 months would be a missed opportunity.
• Liam Hendriks came into Monday with an 0-8 record and 6.75 ERA in 13 career starts, threw a one-run complete game while allowing just three hits ... and lost 1-0 to Felix Hernandez. Setting aside the silliness of "wins" and "losses" for pitchers it was a very encouraging outing and it's nice to see the Twins giving Hendriks an opportunity to start every fifth day down the stretch following another good stint at Triple-A. At age 23 he maintains mid-rotation potential.
• Carl Pavano has been ruled out for the season and--you may want to sit down for this--the Twins' medical staff apparently failed to properly diagnose his injury for three months before a second opinion found the source of the problem:
It's too bad it took three months diagnose that. I could have been resting. The good news is, it doesn't require surgery. I've had this in the past and gotten through it, and obviously I've pitched a lot since then. But as far as I'm concerned, this whole season has been a failure on many levels, for myself, for the team. It's just kind of lousy that it took this long.
Pavano went on to blame himself, rather than the Twins, but it's tough not to connect those dots after reading John Shipley's article in the St. Paul Pioneer Press.
• Keith Law of ESPN.com recently stopped by Beloit to watch the Twins' low Single-A team and had some interesting observations about Miguel Sano. First, the good:
Sano has incredibly easy power, with a clean, rotational swing that generates most of its power from his hips and legs, a textbook example of how to make hard contact and drive the ball to all fields. His home run on Friday night went over the batter's eye in Beloit, which is 380 feet from home plate, and he drove two more balls to left without even squaring either up fully.
And now, the bad:
Sano's biggest drawback is his obvious disdain for the defensive side of the game. ... So while he has the arm and hands for [third base] now, the question of whether he'll outgrow the position is secondary to the question of whether he'll work enough to make third base a possibility.
Law also wrote up reports on Eddie Rosario, Kennys Vargas, and Taylor Rogers.
• Monday night Lew Ford started at designated hitter and batted fifth for the Orioles, going deep off White Sox starter Francisco Liriano for his first homer since 2007. What a world.
• Speaking of Liriano, since being traded to the White Sox he's started six games with a 4.26 ERA and 33-to-16 strikeout-to-walk ratio in 32 innings. Liriano has allowed two or fewer runs in five of those six starts and dating back to rejoining the Twins' rotation in May he's started 17 games with a 3.87 ERA, .211 opponents' batting average, and 112 strikeouts in 98 innings.
• Joe Mauer passed Earl Battey for the most games caught in Twins history, which provides a good reason to remind everyone that Battey was a helluva player.
• While researching a future article about prospect development, I stumbled across this:
Mauer in the minors: .330 batting average, .406 on-base percentage, 1.2 walks per strikeout
Mauer in the majors: .322 batting average, .404 on-base percentage, 1.2 walks per strikeout
It's probably also worth noting that Mauer was done playing in the minors at age 20, played only 73 games above Single-A, and skipped Triple-A altogether.
• Joe Benson's nightmare season now includes left knee surgery, along with a demotion from Triple-A to Double-A and a broken wrist. Coming into the year he looked just about ready to claim a starting job in the majors at age 24, but instead he hit .202/.288/.336 while missing half the season with injuries and never even got to Minnesota.
• Twins' record in their last 300 games: 117-183.
• Chris Jaffe of The Hardball Times depressingly notes that all the recent losing has dropped the Twins' all-time record since moving to Minnesota below .500.
• Hundreds of players are placed on revocable waivers every August. Mauer is reportedly one of them. Probably isn't the first time. Probably won't be the last time. The end.
• I'm not sure what exactly is going on here with Mauer, but I watched it about 50 times.
• I went to last night's Twins-Mariners game (the weather was nice, at least), which means I was part of the smallest crowd in Target Field history.
• For a lot more about Morneau and Hendriks, check out this week's Gleeman and The Geek.