December 6, 2012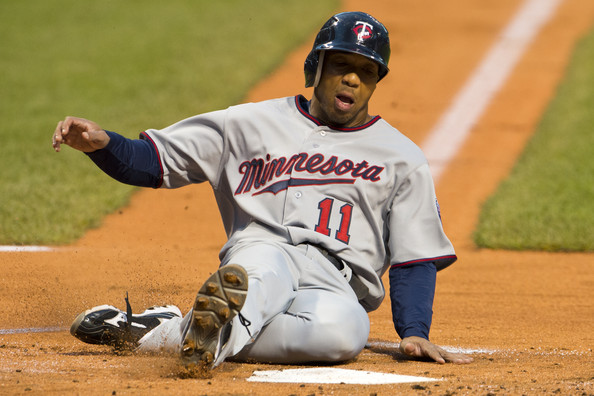 In trading Denard Span to the Nationals last week for pitching prospect Alex Meyer the Twins cleared the way for Ben Revere to take over as the everyday center fielder and leadoff man, sacrificing some of their strong outfield depth to address an organization-wide lack of quality pitching. And now it turns out Terry Ryan and company were willing to take that approach one step further, trading Revere to the Phillies for Vance Worley and Trevor May.
Rather than viewing Revere as the long-term replacement for Span the Twins apparently view former first-round pick Aaron Hicks as the long-term replacement for both of them. And rather than waiting until Hicks was clearly ready to replace them--he just turned 23 years old and played at Double-A this year--they moved early to add a middle-of-the-rotation starter for now in Worley and a high-upside prospect for later in May.
Revere predictably was an immediate fan favorite thanks to blazing speed, batting average-fueled offense, and warm smile, but his upside has always been limited by an extreme lack of power and arm strength. Through two seasons he hit .278, but that comes with zero homers, 33 total extra-base hits, and 57 walks in 1,064 plate appearances. Even while hitting .298 this year Revere had a mediocre .333 on-base percentage and measly .342 slugging percentage.
Stealing tons of bases at a good clip makes up for some of that weak production at the plate and Revere's excellent range in center field means that he doesn't have to hit much to hold significant all-around value. However, his terrible arm takes a chunk out of that still-impressive defensive value and there's only so much room for a young hitter to grow when he can barely reach the warning track with fly balls.
Because of his skill set Revere basically has to hit .280-.300 to be an above-average regular and between his elite speed and contact skills he's a good bet to do that, but even then his ceiling is more or less Juan Pierre. Good player? Absolutely. Indispensable building block? Not really. And he still has work to do before reaching the Pierre level. Revere is a good player and an awful lot of fun to watch, but it's difficult to envision him developing much further.
Revere will be missed, just as Span will be missed, but even with both on the team the Twins weren't going to contend in 2013 and were going to struggle to contend in 2014 and beyond if they didn't find a way to bring in some high-upside pitching. Both trades accomplish that and if Hicks stays on his current trajectory he'll be starting in center field soon enough anyway, with one-time top prospect Joe Benson still looming as another potential option.
Hicks took a big step forward this year, hitting .286 with 13 homers, 45 total extra-base hits, 79 walks, and 32 steals in 129 games at Double-A as a 22-year-old and he's considered a very good defender with an exceptional arm. He'll begin 2013 at Triple-A unless the Twins rush him to the majors to replace Span and Revere, and in the meantime they can turn to Darin Mastroianni (or Benson if he can get healthy and back on track) to keep the position warm.
Mastroianni is a question mark defensively and will almost certainly be a dropoff from Span or Revere in center field, but his .252/.320/.350 line in 186 plate appearances as a part-time player this year wasn't far off from Revere hitting .294/.333/.342 as a regular. Mastroianni also stole 21 bases in limited action and has a decent minor-league track record. He's unlikely to be as good as Revere or Span in 2013, but 2013 rightfully isn't the Twins' focus.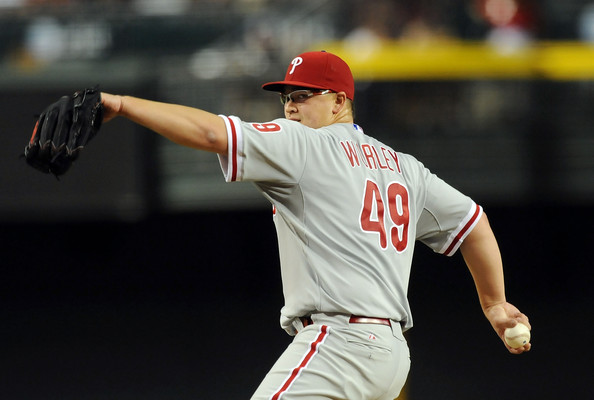 And yet the trade isn't all about the future. Worley missed the final month of this season following surgery to remove a bone spur from his elbow, but plenty of pitchers--including Johan Santana in his Twins days--come back from that procedure without missing a beat and at the moment he's arguably the Twins' best starter. Even including second-half struggles while pitching with elbow pain Worley has a 3.50 ERA in 278 career innings through age 24.
His secondary numbers aren't quite that good, but a 3.83 xFIP isn't far off--for context, Scott Baker has a 4.07 career xFIP--and Worley has managed 7.7 strikeouts per nine innings despite a fastball that tops out in the low-90s. There are some questions about maintaining that strikeout rate without missing many bats. Worley has gotten a very high percentage of his strikeouts on called third strikes and his swing-and-miss rate is actually below average.
Toss in his elbow issues and Worley is certainly a risk, but he's also just 25 years old with a good track record through two seasons in the majors, currently making the minimum salary, and under team control through 2017. If not for the elbow issues Worley by himself might be a reasonable return for Revere, but the Twins may not even view him as the centerpiece of their haul because May is a good prospect.
Philadelphia's fourth-round pick in 2008, the 6-foot-5 righty led the minors with 12.4 strikeouts per nine innings in 2011 and came into 2012 ranked 69th on Baseball America's annual prospect list, drawing praise for a mid-90s fastball with "heavy life and great angle." Promoted to Double-A as a 22-year-old this season, May often struggled with a 4.87 ERA and 78 walks in 149 innings and his strikeout rate dipped to a still-strong 9.1 per nine frames.
His stock definitely declined, but May is still a borderline top-100 prospect and still has plenty of long-term upside. May is similar to Meyer in that he's a big, hard-throwing right-hander with potential control issues and that's exactly the type of pitcher the Twins misguidedly shied away from for so many years. Neither of them is a sure things by any stretch of the imagination, but they each give the Twins a chance to hit a home run.
In analyzing the Span trade last week I felt the Twins did well enough under less than ideal circumstances, getting good but not great value for a player they'd normally be building around rather than using to help rebuild. In trading Revere they did even better, getting immediate help in Worley and future value in May while selling high on a player with limited upside at a position where they have quality alternatives.
I'm glad the Twins are focusing on 2014 and beyond, as contending in 2013 wasn't realistic and they so desperately needed an influx of young arms. If either Hicks or Benson develop as hoped Span and Revere won't necessarily be missed for long and Ryan got solid value in an obvious area of weakness. Now the question is whether the bold rebuilding moves will continue with Josh Willingham and Justin Morneau following Span and Revere out the door.
For a lot more on the Revere trade and what it means for 2013, check out this week's "Gleeman and The Geek" episode.