December 20, 2012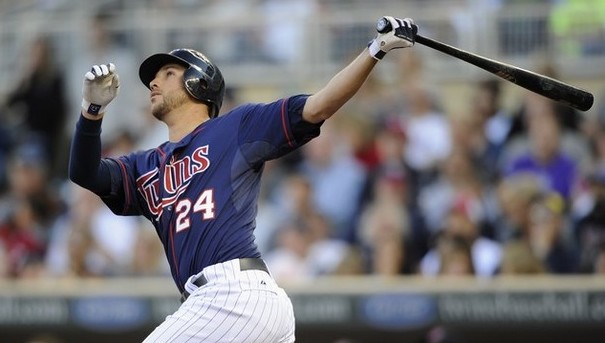 Trevor Plouffe's quasi-breakout season can be separated into four distinct parts. First he made the Twins out of spring training as a bench player and was used sparingly, starting 13 of the first 30 games while hitting .140. Then he became the starting third baseman when Danny Valencia was demoted to Triple-A and went on an amazing power binge, at one point going deep 13 times in 22 games and slugging .582 over a 57-game stretch.
Plouffe injured his finger on July 20, was "day-to-day" for more than a week, finally went on the disabled list for what turned out to be a total of three weeks, and hit .147 with one homer in his first 21 games back. And then, as many people started to wonder if Plouffe's two-month power display was a fluke, he finished the season by smacking four homers and 11 total extra-base hits in his final 24 games for a lofty .227 Isolated Power.
So, to recap: Plouffe was barely used and incredibly unproductive early, became one of MLB's best hitters for two months, injured his finger and struggled upon returning, and then quietly had a solid last few weeks. Overall he hit .235/.301/.455 in 119 games, mixing tremendous power with a low batting average and poor strike zone control. He also looked very much like someone with limited experience at third base, often struggling to make routine plays.
In fact, at this point the question is basically whether Plouffe's power potential is enough to cancel out the many flaws in his all-around game. He's already 26 years old and Plouffe's track record includes a .261 batting average and .315 on-base percentage in 339 games at Triple-A, plus a .231 batting average and .295 on-base percentage in 222 games for the Twins. Those are not numbers that fit particularly well in a corner spot, especially from a non-elite defender.
With that said, Plouffe's power potential is legitimately outstanding. Even with his horrendous start and post-injury struggles included in the overall numbers Plouffe had the 16th-highest Isolated Power in the AL and joined Kirby Puckett in 1994 and Harmon Killebrew in 1965 as the only right-handed hitters in Twins history with 20-plus homers in fewer than 500 plate appearances. And his similar power binge at Triple-A in 2011 suggests it wasn't just a fluke.
Given the Twins' longstanding inability to develop power hitters and their need for right-handed pop in a lineup that's been lefty dominant for more than a decade now living with Plouffe's flaws seems palatable if he can go deep 30 times. Whether he can do that still remains to be seen, of course, but the days of Plouffe being a light-hitting shortstop prospect are long gone and it's not as if the Twins have a ton of other options.
Late in the season general manager Terry Ryan talked about needing to see more from Plouffe, especially defensively, before viewing him as the long-term answer at third base. It's tough to disagree with Ryan's stance, but the Twins lack other in-house options to fill the position, don't have any good third base prospects near the majors, and the only third basemen they've been linked to this offseason have been utility-man types.
If he's capable of 25 homers per season then Plouffe only needs to hit .250 and play something resembling passable defense at third base to offer a flawed all-around package that would be plenty valuable from someone making the minimum salary for a couple more seasons. There's no reason to lock him into the job long term and there are lots of reasons to remain skeptical, but the Twins need to find out if Plouffe is for real in 2013.
Other "offseason outlook" write-ups: Justin Morneau, Josh Willingham, Joe Mauer, Ryan Doumit
This week's blog content is sponsored by Paul Bennett, an Independent Certified Financial Planner Practitioner. Discover what he can do for you at PaulMBennett.com. And please support him for supporting AG.com.