December 28, 2012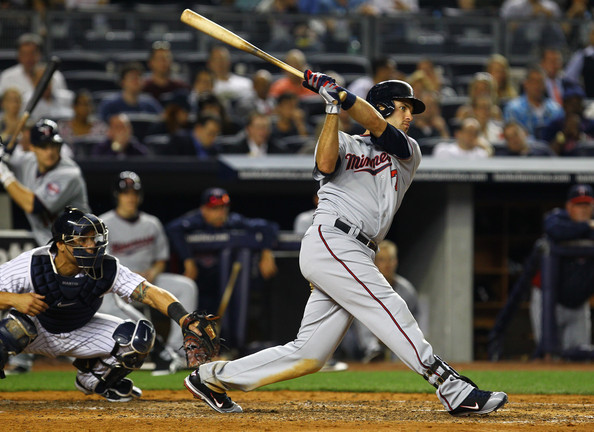 Joe Mauer's uncertain health status caused the Twins to look for insurance behind the plate last offseason and they found a perfect fit in Ryan Doumit. Doumit was available cheaply as a free agent because, like Mauer, he was coming off an injury wrecked season, but by essentially using both players as part-time catchers and part-time designated hitters the Twins found a pairing that worked well for everyone involved.
Mauer made 72 starts at catcher and 42 at DH, plus 30 at first base. Doumit made 56 starts at catcher and 48 at DH, plus 22 in the outfield. And they both stayed healthy to set career-highs in games. Mauer got off to a slow start, but hit .337 in his final 110 games and took advantage of the reduced catching workload to hit .356 in September. Not bad for a guy who was regularly booed by a not insignificant portion of the home crowd at Target Field during the first half.
While those people were harping on last season's injury Mauer led the Twins in games and plate appearances. While those people were blaming the Twins' ineptitude on his $23 million salary Mauer's performance was worth $22.5 million according to Fan Graphs. While those people were focusing on his lack of power and supposed lack of clutch, Mauer nearly won his fourth batting title, led the league in on-base percentage, and hit .352 in "high-leverage" situations.
He'll forever be under-appreciated by people who still think homers and RBIs are the best way to judge a hitter, but Mauer's incredible ability to get on base enabled Josh Willingham (and Justin Morneau before him) to rack up huge RBI totals hitting behind him. And when Mauer came to the plate with runners on base he hit .346, including .372 with runners in scoring position, .397 with two outs and runners in scoring position, and .500 with the bases loaded.
Win Probability Added measures the actual in-game impact of hits and awards more value for, say, a game-tying solo homer in the ninth inning than a grand slam in a blowout. Mauer ranked seventh among AL hitters in Win Probability Added and Mike Trout was the only guy ahead of him who also played an up-the-middle position defensively. Mauer's singles, doubles, and walks made a huge impact based on actual game situations.
Mauer's lack of power certainly plays a part in his modest RBI totals, but he drove in 18.1 percent of the runners on base for his plate appearances. Not only did that rank eighth-highest in the entire league, it topped Willingham's mark of 16.3 percent. Mauer converted a higher percentage of his RBI chances than Willingham, but Willingham had 45 more runners on base in 26 fewer plate appearances because Mauer was on constantly in front of him.
Outs are an offense's most precious commodity and having runners on base drives scoring more than anything else, and Mauer is spectacular at avoiding outs and getting on base. If someone is unwilling or unable to recognize the value in those skills despite endless amounts of supporting research ... well, then that's on them at this point. It's time to stop placating the "yeah, but he doesn't hit homers!" subset and start appreciating Mauer for what he does so well.
Mauer has always walked a ton, but this season he walked more than ever before to rank fifth among AL hitters in walk rate. That's pretty remarkable considering Mauer saw the eighth-most fastballs in the league and hit just 10 homers, and speaks to his great eye and amazing patience. He swung at a lower percentage of pitches than anyone in the league and when he did swing only nine hitters made more contact. And only two hitters saw more pitches per plate appearance.
He also walked more than he struck out for the sixth time in seven seasons and was one of only two hitters in the league with more walks than strikeouts. And yet despite striking out less often than all but 20 hitters in the league Mauer's strikeout rate of 13.7 percent was a career-high and solidly above his lifetime mark of 10.7 percent. That could represent a change in approach due to aging or an attempt to add power, or it could just be a one-season fluctuation.
For the first time in his career Mauer pulled more than the half the balls he put in play, which would seemingly lend credence to the change in approach theory, although his line-drive rate, ground-ball rate, batting average on balls in play, and isolated power were all right around his norms. And his overall .319/.416/.446 line was very close to his .323/.403/.471 career mark even though offense was down across baseball. His adjusted OPS+ was seventh in the league.
Things weren't so pretty defensively, as Mauer struggled to throw out runners all season and finished with an abysmal caught-stealing rate of 14 percent. That's below the MLB average of 25 percent and miles from Mauer's career rate of 33 percent. Doumit and the normally impossible-to-run-on Drew Butera were also below average, so the pitching staff shares a big part of the blame, but Mauer threw out at least 26 percent in each of his first eight seasons.
Of course, the difference between 14 percent and 25 percent amounted to a grand total of seven extra steals under Mauer's watch. He also had lower passed ball and wild pitch rates than Doumit and Butera, so while Mauer's defense certainly wasn't good and definitely cost the Twins runs it only made a small dent in his overall contributions. Mauer ranked ninth among AL hitters in Wins Above Replacement, which factors in offense, defense, and positions played.
Mauer needs only to duplicate his 2012 performance to be worth his annual salary to the Twins and while that's no sure thing as he approaches age 30 he's produced at least $20 million in value in five of the past seven seasons. By re-signing Doumit the Twins can put together a similar catcher/DH split in 2013, although if his defense bounces back and he avoids the disabled list it wouldn't be surprising to see Mauer's workload behind the plate expand.
Other "offseason outlook" write-ups: Justin Morneau, Josh Willingham, Trevor Plouffe, Ryan Doumit
This week's blog content is sponsored by Paul Bennett, an Independent Certified Financial Planner Practitioner. Discover what he can do for you at PaulMBennett.com. And please support him for supporting AG.com.