January 2, 2013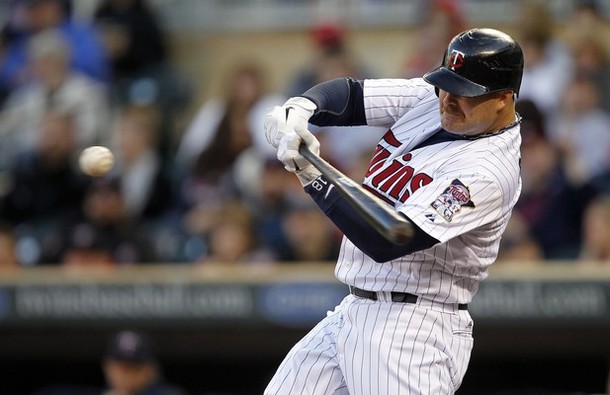 Ryan Doumit missed half of 2011 with a broken ankle suffered on a collision at the plate and became a free agent when the Pirates declined his $7.25 million option. He'd spent seven seasons as Pittsburgh's primary catcher, consistently ranking among MLB's best hitters at the position, but poor defense and multiple significant injuries suppressed his market and made him available to the Twins on a modest one-year, $3 million deal.
Just as Josh Willingham essentially replaced Michael Cuddyer as a right-handed bat in the middle of the Twins' lineup, the switch-hitting Doumit replaced Jason Kubel's left-handed bat. Doumit's career numbers were very similar to Kubel's numbers with the Twins, with the added bonus that he could split time behind the plate with Joe Mauer whenever necessary and keep manager Ron Gardenhire from relying so heavily on Drew Butera.
And that's exactly how things worked out. Doumit hit .275/.320/.461 to basically duplicate both his career .271/.331/.442 mark with the Pirates and Kubel's career .271/.335/.459 mark with the Twins. Gardenhire almost immediately soured on the idea of Doumit as a regular outfielder, but he ended up starting 22 games in an outfield corner along with 56 games at catcher and 48 games at designated hitter. And without having to catch five times a week Doumit stayed healthy too.
What made Doumit a nice fit for the Twins is that his bat is good enough to be useful at DH and his glove is good enough to be useful at catcher, and he was such a nice fit that they signed him to a two-year, $7 million contract extension in late June. He's locked in as a regular for 2013 and 2014, but his position will depend largely on how often Mauer is catching and could also be tied to what happens with Justin Morneau and Willingham.
Doumit wasn't perfect, of course. His defense behind the plate wasn't as awful as his reputation suggested, but it certainly wasn't pretty. He also looked bad in the outfield, including a brutal three-error inning in left field. And while Doumit's overall production offensively was strong, he hit just .247/.287/.403 against left-handers to continue a career-long pattern of extreme platoon splits that takes some of the value out of his being a switch-hitter and everyday player.
As a soon-to-be 32-year-old with a lengthy injury history and more than 4,000 career innings logged behind the plate Doumit is also an obvious candidate to decline, but going from everyday catcher to part-time catcher helped him remain nearly injury free while setting career-highs in games (134) and plate appearances (538). Doumit's dual role defensively helped him as much as it helped the Twins.
One potential red flag within his otherwise solid production is Doumit's plate discipline and strike zone control. He whiffed 98 times compared to just 24 non-intentional walks overall, including an ugly 46-to-8 strikeout-to-walk ratio in the second half. No one noticed because he was hitting .264 with a .468 slugging percentage during that time, but an approach at the plate that results in eight walks over 263 plate appearances is something that eventually catches up to a hitter.
Doumit was worth more than $7 million in 2012 alone and also topped that value in 2007, 2008, and 2011, so $7 million for two years should be a bargain. Ideally he'd catch a little less and be on the bench versus left-handed pitching a little more, but either way having his .750-.800 OPS bat around to plug in wherever it's needed is one of the reasons why the Twins' lineup looks to be in good shape for 2013. And if the losses start piling up again Doumit could have trade value.
Other "offseason outlook" write-ups: Justin Morneau, Josh Willingham, Trevor Plouffe, Joe Mauer
This week's blog content is sponsored by Paul "Fantasy Camper" Bennett, who'll be blogging and tweeting about his annual experience at Twins fantasy camp in Fort Myers the week of January 6. Please support him for supporting AG.com.