January 9, 2013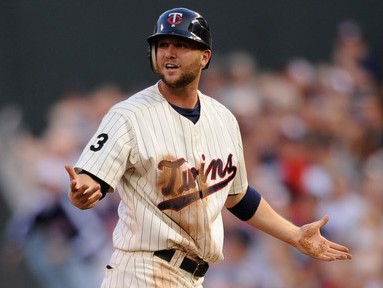 • Parker Hageman of Twins Daily interviewed Twins manager of major league administration and baseball research Jack Goin for a glimpse into the team's use of statistical analysis. Hageman co-hosted this week's "Gleeman and The Geek" episode and we discussed that topic quite a bit. Short version? While it's nice to see the Twins get more involved in statistical analysis my sense remains that they're merely dipping their toes in the water while other teams are swimming.
• Rene Tosoni, who the Twins dropped from the 40-man roster in August, has signed with the Brewers on a minor-league contract. Tosoni cracked my annual ranking of Twins prospects at No. 11 in 2010 and No. 14 in 2011, but he was sidetracked by injuries and then basically just stopped hitting. Now he's a 26-year-old corner outfielder who struggled in 60 games for the Twins in 2011 and hit just .224/.293/.315 in 81 games between Double-A and Triple-A last season.
• Clete Thomas, who briefly filled a bench spot while the Twins kept Ben Revere at Triple-A for a bit longer, has re-signed on a minor-league deal. Thomas struck out 16 times in 28 at-bats for the Twins and hit just .232/.281/.405 with a 109-to-22 strikeout-to-walk ratio in 109 games at Triple-A, so despite his big-league experience the 29-year-old outfielder now looks like little more than depth for Rochester.
• After appearing on "Gleeman and The Geek" two weeks ago Darren Wolfson of 1500ESPN.com did some digging and found that Rich Harden's minor-league contract with the Twins includes a July 31 opt-out clause. As far as opt-out clauses go that's a very late one, so if he doesn't look to be at full strength in spring training the Twins can stash Harden at Triple-A for a while and that makes what was already a worthwhile, low-risk flier look even better.
• Free agent Brett Myers was linked to the Twins by various sources throughout December, but ended up signing a one-year, $7 million deal with the Indians that includes an $8 million team option for 2014. And according to Wolfson the Twins never even made him an offer, which has become a familiar story this offseason and makes Kevin Correia's two-year, $10 million deal all the more confusing.
• And speaking of the Indians, they're the latest mid-market team to secure a new local television deal that significantly surpasses the Twins' current contract with FOX Sports North.
• Adam Rubin covers the Mets for ESPN New York and had an interesting little note related to the Twins, reporting that they would have taken Jefry Marte from the Mets with the No. 4 pick in the Rule 5 draft had Ryan Pressly of the Red Sox not been available. Marte is a 21-year-old third baseman who hit just .251/.322/.366 at Double-A last season and was not selected by another team, with the Mets later trading him to the A's for Collin Cowgill.
• Billy Bullock, the 2009 second-round pick traded to the Braves for the ability to stash Scott Diamond at Triple-A as a Rule 5 pick, was suspended 50 games for a "drug of abuse." He still throws hard with lots of strikeouts, but Bullock's control is awful and he's no longer a prospect at age 24. I hated that trade at the time and it's worked out very well for the Twins, although I still think they should have just kept Diamond as a long reliever and kept Bullock.
• On a related note, Diamond underwent minor elbow surgery to remove a bone chip and should be ready for spring training, but he won't pitch for Canada in the World Baseball Classic.
• In looking over Mike Pelfrey's career it struck me how amazing his draft class ended up being. Pelfrey was the No. 9 pick out of Wichita State and among the players selected ahead of him were Justin Upton, Alex Gordon, Ryan Braun, Troy Tulowitzki, and Ryan Zimmerman. But wait, there's more. Other top-30 picks included Andrew McCutchen, Jay Bruce, Cameron Maybin, Jacoby Ellsbury, Colby Rasmus, and Matt Garza, who the Twins took No. 25. That's crazy.
• Jeff Clement was the No. 3 pick in that same draft--between Gordon and Zimmerman--and after hitting just .218/.277/.371 in 152 games for the Mariners and Pirates he'll likely spend this season at Triple-A for the Twins.
• After spending nearly all of last season in the Twins' bullpen despite adding to his lengthy track record of mediocrity with a 5.71 ERA and 26-to-22 strikeout-to-walk ratio in 52 innings Jeff Gray was dropped from the 40-man roster in late August. He went unclaimed on waivers, became a free agent, and agreed to a minor-league deal with the White Sox.
• Kiley McDaniel, who formerly worked for several MLB teams, recently watched Miguel Sano and Byron Buxton play instructional league games and wrote very detailed, interesting scouting reports for Fan Graphs.
• Francisco Liriano's two-year, $12.75 million deal with the Pirates is in jeopardy because of an offseason injury to his non-throwing arm.
• An oral history of Nick Punto sliding into first base is the best thing you'll read today.
• Podcast listeners who enjoy when we're interrupted by a drunk person will absolutely love this week's episode, and there's also some good Twins talk about how the roster is shaping up.