January 10, 2013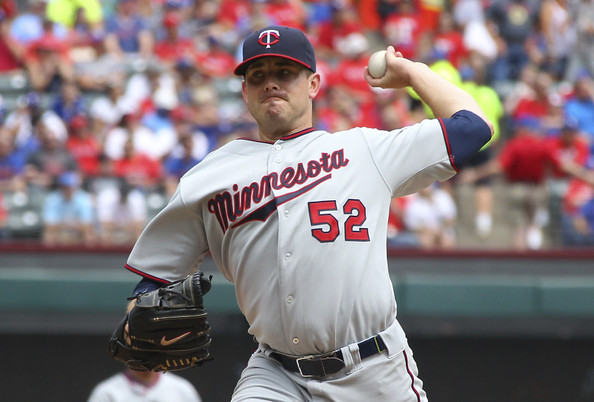 Brian Duensing flopped as a full-time starter in 2011, posting a 5.23 ERA and .300 opponents' batting average in 28 starts, so the Twins moved him back to the bullpen and as usual he fared well. However, when injuries decimated the rotation Duensing was called on to start again and the results were worse than ever with a 6.92 ERA and .336 opponents' batting average in 11 outings. At this point it seems pretty safe to conclude that Duensing shouldn't be a starter.
He had some initial success starting in 2009 and 2010, but even those nice-looking ERAs weren't supported by strong secondary numbers and for his career Duensing now has a 4.57 ERA in 61 starts. As a starter he's averaged 5.9 strikeouts per nine innings while allowing opponents to hit .290 with a .455 slugging percentage. He simply doesn't have the raw stuff to miss bats or avoid big damage going multiple times through a lineup stacked with right-handed hitters.
As a reliever Duensing doesn't have to worry about facing the same hitter again and can also be spotted mostly versus lefties or at least to avoid righty sluggers. His strikeout rate as a reliever isn't any better than as a starter, but opponents have hit 55 points lower with 57 percent fewer homers. Even last year, as he was getting clobbered as a starter, Duensing allowed just one homer in 57 innings as a reliever and held opponents to a .236 batting average.
And there's no shame in that. Most successful relievers were failed or at least mediocre starters and in recent Twins history that includes Joe Nathan, Eddie Guardado, LaTroy Hawkins, Juan Rincon, Matt Guerrier, and J.C. Romero. Glen Perkins, whose emergence as the Twins' closer opens the door for Duensing to replace him as the primary left-handed setup man, was himself a struggling starter as recently as three years ago.
I'm not sold yet on Duensing as a late-inning setup man, in part because his raw stuff seems unlikely to make the sort of jump in velocity/sharpness that Perkins discovered, but he's proven capable of getting outs as a reliever and just as importantly has proven incapable of being more than a mediocre fifth starter. Given the Twins' obvious and oft-stated focus of overhauling the rotation, if Duensing starts games in 2013 something went very wrong.
Other "offseason outlook" write-ups: Justin Morneau, Josh Willingham, Trevor Plouffe, Joe Mauer, Ryan Doumit