January 16, 2013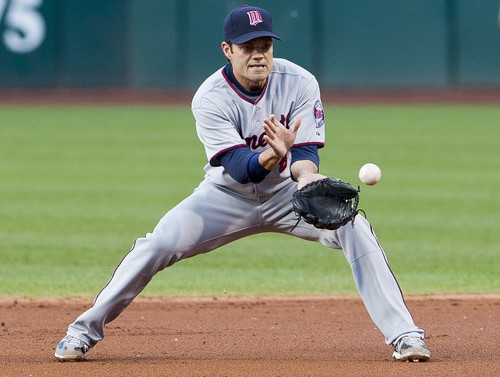 Signed to a two-year, $6.5 million contract last offseason to provide some much-needed middle infield stability, Jamey Carroll was more or less as advertised at age 38. He played sure-handed defense with decent range, worked deep counts and drew walks without striking out much, and moved all around the infield while starting 56 times at second base, 33 times at shortstop, and 28 times at third base.
Carroll got off to a slow start thanks largely to a low batting average on balls in play, but his luck evened out in the second half as he hit .315/.378/.371 in 58 games. Overall he batted .268 after hitting .285 during the previous four seasons, but thanks to 52 walks in 537 plate appearances Carroll still managed a .343 on-base percentage that topped Denard Span and Justin Morneau to rank third on the team behind Joe Mauer and Josh Willingham.
He joined Mauer and Willingham as three of the 22 hitters in the American League to see more than 4.0 pitches per plate appearance and joined Span and Ben Revere as three of the league's seven hitters to make contact on more than 90 percent of their swings. Carroll's ability to grind out long plate appearances and draw walks is particularly impressive considering his power was non-existent and pitchers threw him the third-most strikes in the league.
Carroll's complete lack of power was to be expected, as his lone homer of the season came on September 2 and snapped a streak of 1,540 plate appearances without a homer dating back to 2009. His modest RBI total of 40 actually set a new career-high and matched his combined RBI total in 924 plate appearances during the previous two seasons. His offensive value comes from getting on base and he did that remarkably well for a 38-year-old.
Defensively he began the year as the starting shortstop and looked perfectly capable there, but shifted to second base in May. That move was seemingly driven less by anything Carroll did and more by the Twins believing (wrongly, it turns out) that Brian Dozier was ready to thrive. Dozier was so unimpressive defensively that the Twins have apparently soured on him as a shortstop and he posted a .271 on-base percentage that was barely higher than Carroll's batting average.
Carroll is under contract for $3.75 million in 2013 and if the Twins decide against acquiring more infield help he figures to battle Dozier for the second base job during spring training. If he wins that battle or perhaps beats out Pedro Florimon for the shortstop job it'll be interesting to see how the Twins handle Carroll's playing time. Not only do 39-year-olds need regular days off, Carroll topping 401 plate appearances would trigger a $2 million player option for 2014.
In the history of baseball only 13 middle infielders have topped 400 plate appearances at age 39, but then again Carroll just became one of only 19 middle infielders to top 500 plate appearances at age 38. All of which means he's already aged significantly better than nearly every player like him for the past 100 years, but no one should be surprised if Carroll declines suddenly at some point. Until then he'll be a solid role player who can plug whichever infield hole is leaking most.
Other "offseason outlook" write-ups: Justin Morneau, Josh Willingham, Trevor Plouffe, Joe Mauer, Ryan Doumit, Brian Duensing
This week's blog content is sponsored by Seth Stohs' fifth annual "Minnesota Twins Prospect Handbook," which features 191 pages of content devoted to every key prospect, draft pick, and minor leaguer in the organization. Please support him for supporting AG.com.