January 17, 2013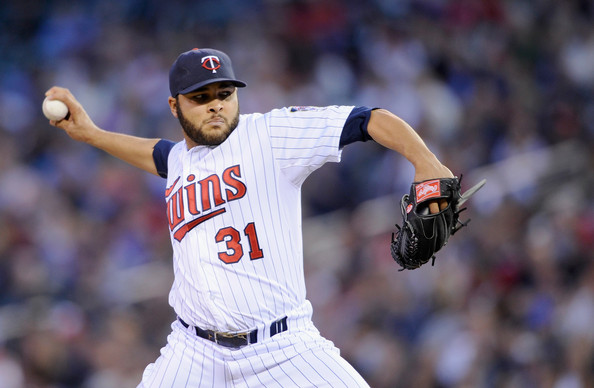 At first glance it looks like Alex Burnett took a big step forward in 2012, tossing 72 innings with a 3.52 ERA at age 24 after posting a 5.40 ERA in his first two seasons. Unfortunately a deeper look shows that his improvement was fueled almost entirely by an unsustainably low batting average on balls in play that masked a declining strikeout rate and poor control. Burnett didn't pitch well in 2012, he merely had a nice-looking ERA.
Burnett struck out 17.5 percent of the batters he faced as a rookie, but that dropped to 14.7 percent in 2011 and fell even further to 11.7 percent in 2012. To put his 2012 strikeout rate in some context, 166 different relievers threw at least 40 innings and Burnett tied for dead last with 4.5 strikeouts per nine innings. And he was tied for last with Jeff Gray, who spent most of the season alongside Burnett in the Twins' bullpen before being designated for assignment.
Burnett gets a solid number of ground balls and has made strides with his control, improving his yearly walks per nine innings from 4.3 to 3.7 to 3.3, but that's nowhere near enough to make up for such a pathetic strikeout rate. You'd think a young pitcher with a fastball that averaged 92.7 miles per hour, a mid-80s slider, and a changeup left over from his days as a starter couldn't help but miss some bats, but Burnett ranked 156th out of 166 relievers in swinging strikes.
It's worth noting that Burnett didn't move to the bullpen until 2009 and initially thrived at high Single-A and Double-A, but he was rushed to the majors in early 2010 to replace the injured Clay Condrey and never really got a chance to put together an impressive stretch at Triple-A. That less than ideal development and the fact that he's still just 25 years old makes it tough to totally write off Burnett, but nothing about his performance so far inspires much optimism.
Presumably his age, nice-looking ERA in 2012, and nearly three full seasons worth of experience in the majors will be enough to get Burnett an Opening Day bullpen spot, but he could easily pitch exactly as well as he did last season and see his ERA balloon back above 5.00. Without missing significantly more bats or vastly improving his control it's tough to see how Burnett can have long-term success as more than a middle reliever.
Other "offseason outlook" write-ups: Justin Morneau, Josh Willingham, Trevor Plouffe, Joe Mauer, Ryan Doumit, Brian Duensing, Jamey Carroll
This week's blog content is sponsored by Seth Stohs' fifth annual "Minnesota Twins Prospect Handbook," which features 191 pages of content devoted to every key prospect, draft pick, and minor leaguer in the organization. Please support him for supporting AG.com.