April 10, 2013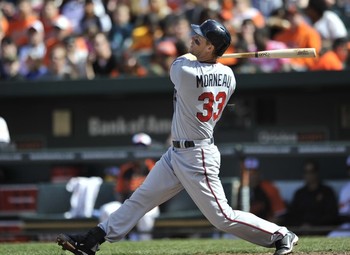 • LaVelle E. Neal III of the Minneapolis Star Tribune reports that Justin Morneau approached the Twins during spring training about a contract extension and they weren't interested, which is the right stance to take. Morneau is an impending free agent, but even setting aside his extensive injury history signing a good but not great 31-year-old first baseman to a multi-year contract isn't a great idea unless he were to take significantly less than his current $14 million salary.
Morneau hasn't topped an .800 OPS while playing more than 100 games since 2009 and while his .267/.333/.440 production in 134 games last season was encouraging after back-to-back years ruined by a concussion it was mediocre for a first baseman. Among the 29 regular first basemen he ranked 14th in batting average, 15th in on-base percentage, and 16th in slugging percentage. Toss in the health question marks and that's an awfully shaky investment.
There's also a chance of Morneau upping his production to pre-concussion levels, but even then they'd have an appealing option of tendering him a one-year "qualifying offer" that was worth $13.4 million this winter. If he accepts they get Morneau back for his age-32 season at a similar salary without a long-term commitment. If he declines and signs elsewhere they get a first-round draft pick. If he isn't traded by then, of course, which is another reason to avoid an extension.
• Scott Diamond's delayed comeback from December elbow surgery created an opening in the rotation before the season had even started and Samuel Deduno's groin injury ruled him out, so the Twins turned to Cole De Vries ... and he had to be placed on the disabled list with a strained forearm before his first turn came up. Already scrambling for starters, the Twins called up Triple-A left-hander Pedro Hernandez, who had the benefit of being on the 40-man roster.
Hernandez was acquired from the White Sox along with Eduardo Escobar for Francisco Liriano in July and ranked 35th on my annual list of Twins prospects. He's a soft-tossing control artist with extreme platoon splits that could make it tough for him to stick as a starter, but the 23-year-old fared well enough in his Twins debut. Assuming that Diamond avoids further setbacks Hernandez may not be needed again for a while.
• One side effect of Ron Gardenhire holding Glen Perkins back for "save situations" that may not actually arrive is that lesser relievers are forced into pressure-packed spots. For instance, in the eighth inning Friday left-handed Orioles slugger Chris Davis came up with the bases loaded and one out in a tie game. Situations don't get any more important and if there was no such thing as the "save" statistic Perkins--being the best reliever and a lefty--would be the obvious choice.
Instead, with the game in the balance, Gardenhire called on 25-year-old rookie Tyler Robertson, who served up a grand slam and was promptly demoted to Triple-A the next day. He barely made the team out of spring training, has yet to show he can consistently get big leaguers out, and was apparently one bad pitch from going back to the minors, yet the manager chose Robertson to face Davis while Perkins watched. And people say guys like me are obsessed with statistics.
Since taking over for Matt Capps as the Twins' closer Perkins has converted 18 of 20 saves with a 2.01 ERA and 45-to-5 strikeout-to-walk ratio in 45 innings. That's incredibly good pitching, but the role change has also made Perkins less of a weapon thanks to such strict usage. And because the Twins' overall bullpen depth is weak and their only other standout reliever, Jared Burton, needs regular days off holding Perkins back for save situations will lead to some ugly matchups.
• J.J. Cooper of Baseball America put together a list of the youngest prospects at each level of the minors, which includes Miguel Sano as the youngest player in the Florida State League and Oswaldo Arcia as the sixth-youngest player in the International League. Age relative to the level of competition is an extremely important factor in evaluating prospects, so keep that in mind when looking at their raw numbers this season.
• Here's where the Twins' top 20 prospects are beginning the season (Rochester is Triple-A, New Britain is Double-A, Fort Myers is high Single-A, and Cedar Rapids is low Single-A):
 1. Miguel Sano      Fort Myers       11. Max Kepler       Cedar Rapids
 2. Byron Buxton     Cedar Rapids     12. Luke Bard        Cedar Rapids
 3. Oswaldo Arcia    Rochester        13. Travis Harrison  Cedar Rapids
 4. Aaron Hicks      Minnesota        14. Mason Melotakis  Cedar Rapids
 5. Alex Meyer       New Britain      15. Jorge Polanco    Cedar Rapids
 6. Kyle Gibson      Rochester        16. J.T. Chargois    Cedar Rapids
 7. Eddie Rosario    Fort Myers       17. Niko Goodrum     Cedar Rapids
 8. Trevor May       New Britain      18. Hudson Boyd      Cedar Rapids
 9. J.O. Berrios     Cedar Rapids     19. Levi Michael     Fort Myers
10. Joe Benson       Rochester        20. Chris Herrmann   Rochester
No big surprises, although Byron Buxton moving to low Single-A and full-season ball at age 19 instead of spending more time in rookie-ball is noteworthy, as is Trevor May repeating Double-A at age 23 after spending all of last season there in the Phillies' system. Max Kepler will eventually join Buxton in the Cedar Rapids outfield, but for now he's rehabbing an injury in extended spring training. And some of the pitchers, including J.O. Berrios, will have their 2013 debuts delayed.
• Wilkin Ramirez making the Opening Day roster as the designated "bench bat" based on a good spring training was an odd choice because he's 27 years old with a decade of awful plate discipline and underwhelming overall production in the minors. In adding Ramirez the Twins needed to clear space on the 40-man roster and they did that by designating Alex Burnett for assignment, which exposed the 24-year-old reliever to the waiver wire and got him claimed by the Blue Jays.
I'm hardly a big Burnett fan and praised the Twins for finally deciding he was better off at Triple-A, but losing him for nothing in order to add Ramirez is different. They thought Burnett was worthy of a bullpen job in 2010 at age 22 and worth keeping in the bullpen in 2011 and 2012, but in 2013 he's not worth a spot on a 40-man roster that includes Drew Butera, Caleb Thielbar, and Tim Wood? All so they could add a 27-year-old corner outfielder who's hit .255/.310/.430 at Triple-A.
• Tuesday morning the Twins sent out a press release announcing an "early entry program" at Target Field offering fans the chance to pay an extra $15 for the ability to get in 45 minutes early to watch batting practice. About five hours later they issued another press release retracting that offer because it was "not fully vetted across the Twins organization" and "we apologize for a lack of internal communication which led to the premature release of this misinformation." So ... yeah.
• Through eight games Twins pitchers have the fewest strikeouts in baseball with 38, which is 4.9 per nine innings. They also ranked dead last among all teams in strikeouts in 2011 and 2012 while averaging 6.0 and 5.9 per nine innings.
• Josh Willingham has already been plunked twice and is well on his way to extending his streak of ranking among the league's top 10 in hit by pitches every season since 2007. Willingham has a career on-base percentage of .362, but if you removed the hit by pitches it would drop to .346.
• Kevin Correia isn't missing any bats, but he induced 12 and 15 ground-ball outs in his first two starts after getting 12 or more ground-ball outs just three times in his final 13 starts last season.
• Joe Mauer moved past Gary Gaetti for sixth place on the Twins' all-time hit list with 1,277. In getting those first 1,276 hits Gaetti made 1,077 more outs than Mauer. Seriously.
• Aaron Hicks joined Rich Becker in 1993 and Butera in 2010 as the only Twins position players to strike out three times in their MLB debut.
• Butera broke his left hand at Triple-A, so now he'll make $700,000 on Rochester's disabled list.
• "Roy Smalley's Fist List" is a thing, apparently.
• Ben Revere is learning some very important things in Philadelphia.
• On this week's "Gleeman and the Geek" episode we talked lots about Hicks' slow start, Perkins' excellence, and Gardenhire's decision-making.
---
This week's blog content is sponsored by Territory Train, which takes the heavy lifting out of planning and executing Twins road trips. Please support them for supporting AG.com.