June 12, 2013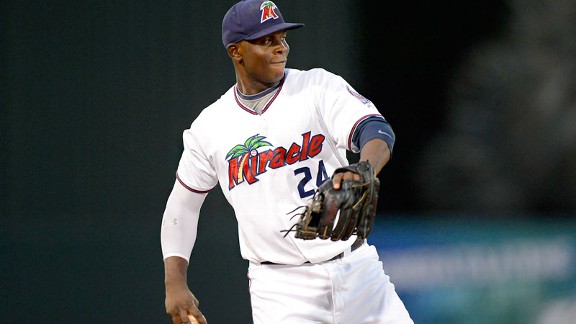 • Last year the Twins kept Miguel Sano at low Single-A for the entire season despite his having the second-highest OPS in the Midwest League. He moved up to high Single-A to begin this year and was even better, so this time around the Twins decided that a promotion was in order after two months of Florida State League destruction. Sano fittingly homered twice in his final game for Fort Myers, including a monstrous blast in his last at-bat.
Overall he hit .330/.424/.655 with 16 homers in 56 games, leading the FSL in homers, on-base percentage, and slugging percentage despite being the league's youngest hitter. It just doesn't get much better for a 20-year-old stud prospect and in fact no FSL hitter of any age has topped his OPS since 27-year-old Morgan Burkhart in 1999. Sano even stole nine bases at an 82 percent clip and reviews of his defense at third base have been a little more positive than last year.
And now he moves up to Double-A, where the average pitcher is five years older than Sano and both the off-speed pitches and command are much sharper than Single-A. It's a huge test for a truly elite hitting prospect, so even holding his own there at age 20 would be more evidence that Sano is very special and thriving there would put him on the verge of the majors. Aaron Hicks and Oswaldo Arcia arrived in Minnesota having played a combined nine games at Triple-A.
• Presumably the Twins considered promoting Byron Buxton in tandem with Sano to give Fort Myers a new stud prospect after losing the FSL's best hitter. For now at least Buxton remains at low Single-A, where he's batting .350/.444/.578 with 29 extra-base hits, 26 steals, and nearly as many walks (39) as strikeouts (44) in 58 games as a 19-year-old. Toss in standout defense in center field and Buxton's performance has been every bit as impressive as Sano's.
FOX Sports North broadcast Monday afternoon's Cedar Rapids game and Buxton put on a show, going 3-for-4 with a bases-loaded double off the left-center field wall, a legged-out triple on a ball that didn't even get to the right-center field wall, and a spectacular sprawling catch. No doubt the Twins wanted to avoid promoting Buxton until after FSN's special broadcast, but the kid is leading the Midwest League in batting average, on-base percentage, and slugging percentage.
• Eddie Rosario and Angel Morales are joining Sano in getting the promotion from Fort Myers to New Britain. Rosario ranked No. 7 on my annual Twins prospect list coming into the season and has improved his stock since then, batting .329/.377/.527 with 24 extra-base hits in 52 games at high Single-A as a 21-year-old and reportedly getting more comfortable defensively in his ongoing transition from center fielder to second baseman.
Morales once ranked among the Twins' top prospects, but injuries and poor performances have sent the 2007 third-round pick's stock plummeting in recent years. He turned things around in a big way at Fort Myers, batting .297/.364/.525 with 28 extra-base hits and 20 walks in 55 games as the everyday center fielder, but it's worth noting that Morales is 23 years old and had already played there for part of 2011 and all of 2012.
• Hicks' hamstring injury puts on hold the rookie's slow climb to respectability following a brutal 2-for-48 start to his career. Hicks has hit .225/.275/.423 in 42 games since then, which is at least more in line with standard rookie struggles. Oddly enough when Hicks couldn't buy a hit he drew walks in bunches, but he's walked just 10 times versus 36 strikeouts in those 42 games. His less patient approach resulted in plenty of pop, with six homers and a .198 Isolated Power.
To replace Hicks on the roster the Twins recalled Arcia from Triple-A just two weeks after sending him back there in part due to a lack of consistent playing time. Arcia clearly has no business in center field, the corner outfield logjam hasn't lessened any in the meantime, and he hit just .218 in 15 games at Triple-A between call-ups, so it's not exactly an ideal situation. Also far from ideal: Clete Thomas will presumably be the everyday center fielder with Hicks out.
• Thomas was playing well in Rochester, but he's a .250/.326/.423 hitter in 400 career Triple-A games and at 29 years old is the epitome of a replacement-level outfielder. Darin Mastroianni's ankle injury left the Twins short on center field depth and that's what replacement-level talent is there for, but if they were turning to a Triple-A journeyman as a stop gap Antoan Richardson would have been a more interesting call-up.
Richardson is the same age as Thomas and has only a brief cup of coffee with the Braves in 2011, but he's hit .314 with a .451 on-base percentage between Double-A and Triple-A this season and has a .404 OBP for his career. Thomas has much more power and perhaps the Twins don't trust Richardson's defense, but the switch-hitter has topped a .400 OBP in three straight seasons while averaging 40 steals per 150 games. Why not give him a shot in the unproductive leadoff spot?
• For the second time in two weeks the Twins lost a former top prospect in order to clear 40-man roster space. Joe Benson was claimed off waivers by the Rangers and now Tyler Robertson was claimed off waivers by the Nationals. At this point Benson and Robertson are long shots to become valuable big leaguers, but they at least have some upside remaining and the same can't be said of 40-man roster holdovers like Drew Butera and Cole De Vries.
When discussing the Twins' haul in last week's draft it's worth noting that Benson and Robertson were their second- and third-round picks in 2006. They both developed well enough to emerge as good prospects, with Benson even cracking Baseball America's top 100 in back-to-back seasons, only to be lost for nothing. Neither loss is hugely troubling in a vacuum, but considering how much the Twins preach patience with prospects it's frustrating to lose talent when it could be avoided.
• Alex Meyer, the 6-foot-9 right-hander who was acquired from the Nationals for Denard Span and ranks as the Twins' best pitching prospect, is on the Double-A disabled list with shoulder soreness. Hopefully it proves to be a minor injury, because Meyer was off to a very good start with a 3.69 ERA and 73-to-27 strikeout-to-walk ratio in 61 innings while holding opponents to a .226 batting average and just three homers.
• It took seven seasons, but Carlos Gomez is finally living up to his potential by becoming one of the best all-around players in baseball. Unfortunately it's coming far too late to help the Twins and Gomez's recent comments about how he's changed as a hitter sound a lot like David Ortiz's old comments when he started thriving with the Red Sox:
Before, Carlos Gomez tried to put the ball in play, hit the ball on the ground, because that's what people wanted. That takes my ability out. That's not me. I'm a free swinger. I like to swing hard, whether I have one or two strikes. When I step to the plate, I try to hit a home run.

I may hit a ball to right field, but I'm not trying to. I'm letting my instincts and my ability do the job. I'm looking for my pitch, a pitch I can hit out of the ballpark. If they throw me a different pitch, I can make the change and hit the ball the other way. If I try to hit the ball the other way, I get in trouble, because I slow down my swing. That's not me.
Obviously the Brewers deserve credit for Gomez's development, but he joins Ortiz and some other less prominent players in suggesting that the Twins stifled power potential by forcing hitters to fit their preferred mold.
• Scott Diamond allowed double-digit hits Sunday for the sixth time in 45 starts and opponents are now batting .293 off him for his career. That ranks as the fifth-highest batting average against in Twins history among all pitchers with 250 or more innings:
Travis Miller      .304
Nick Blackburn     .303
Carlos Silva       .303
Bob Tewksbury      .294
Scott Diamond      .293
If you can't strike anyone out you're going to give up a ton of hits and the above list is basically a mediocre middle reliever and four of the biggest pitch-to-contact starters you'll ever find.
• In the American League there are 66 pitchers with at least 50 innings and only three of them have a strikeout rate below 4.5 per nine innings: Diamond, Kevin Correia, Mike Pelfrey.
• Last year the Twins drafted Connecticut second baseman L.J. Mazzilli in the ninth round and he ended up being their highest pick not to sign, returning to school for his senior season. Mazzilli hit .354/.408/.515 with 29 steals in 63 games and was drafted by the Mets in the fourth round, so Lee Mazzilli's son probably earned himself an extra $250,000.
• Current third base coach and former hitting coach Joe Vavra's son, Valparaiso infielder Tanner Vavra, was drafted by the Twins in the 30th round. Nepotism aside Vavra has an incredible story, overcoming being blinded in his right eye by two serious childhood injuries to hit .332 as a junior and .330 as a senior. He's very much a legitimate late-round pick.
• General managers usually get the credit or blame for draft picks, but Terry Ryan talked to Parker Hageman of Twins Daily about why that's misleading.
• Since taking over for Matt Capps last season Glen "Proven Closer" Perkins has converted 30-of-34 save chances with a 2.31 ERA and 77-to-10 strikeout-to-walk ratio in 66 innings.
• Delmon Young in 225 games since leaving the Twins: .263/.296/.424 with 171 strikeouts, 33 walks, and 31 double plays. Toss in defense and he's been worth -1.5 Wins Above Replacement.
• Francisco Liriano has a 1.75 ERA and 47 strikeouts in 36 innings for the Pirates.
• For a lot more about Sano's promotion and the Twins' draft, check out this week's "Gleeman and The Geek" episode.
---
This week's blog content is sponsored by Ticket King, a local ticket broker that doesn't charge check-out fees, offers in-store pickup, and specializes in Twins tickets. Please support them for supporting AG.com.