May 15, 2013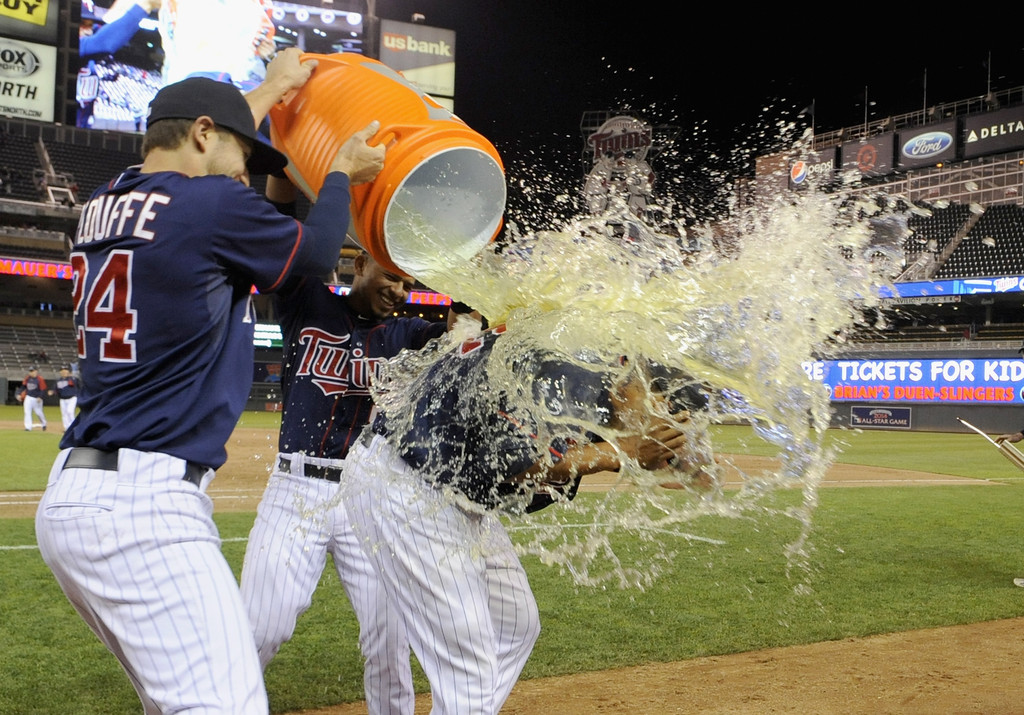 • Aaron Hicks got off to such a dreadful start that his overall numbers are going to look ugly for a long time--and maybe even the entire season--but there's no doubt he's putting together better plate appearances and getting better results. That all culminated with Monday's two-homer game and Hicks is now hitting .215/.333/.431 with three homers and a 15-to-12 strikeout-to-walk ratio in his last 22 games. Before that he was 2-for-43 (.047) with 20 strikeouts and three walks.
Since mid-April or so Hicks has been exactly the type of hitter that his minor-league track record suggested he would be, offsetting a low batting average with lots of walks and some power. Much has been made of Oswaldo Arcia's impressive start, and rightfully so, but since being recalled from Triple-A on April 20 he has an .839 OPS and Hicks has a .764 OPS. There are two rookies playing well offensively in the Twins' outfield right now.
Defensively has been another issue, however. Hicks was billed as a very good center fielder and has shown flashes of that, including robbing Adam Dunn of a homer along with hitting two of his own Monday, but overall he's been shaky with lots of bad reads and delayed reactions. Arcia was billed as a very good right fielder and actually played center field 77 times in the minors, which is almost impossible to believe while watching him stumble around struggling to make routine plays.
• Arcia's arrival initially cut into Ryan Doumit's playing time, but now that Doumit has broken out of his early slump Chris Parmelee is the one finding himself on the bench most often. Doumit or Parmelee is an interesting dilemma. Doumit is a switch-hitter, but since he's typically unproductive from the right side they might as well both be left-handed hitters. Doumit has a far superior track record and is signed through next season, but he's also 32 years old and Parmelee is 25.
In theory a team focused on 2013 should play Doumit and a team focused on the future should play Parmelee, but Doumit being signed for 2014 changes that a bit and the jury is very much still out on whether Parmelee is part of the future anyway. Parmelee had a great September debut in 2011 and crushed Triple-A pitching for two months last season, but he's hit .223/.292/.364 with eight homers and an 81-to-24 strikeout-to-walk ratio in 96 games for the Twins since 2012.
• In terms of age and lackluster performance Brian Dozier is similar to Parmelee, but the major difference is that the Twins don't have Arcia-caliber alternatives in the infield. I've been impressed by Dozier's defense at second base, but today is his 26th birthday and he's hit .230/.267/.324 with an 85-to-23 strikeout-to-walk ratio in 113 career games. He also hit just .232/.286/.337 in 48 games at Triple-A, so it's been a while since Dozier showed any sort of promise.
At the very least Dozier and his .267 career on-base percentage have no business in the leadoff spot, where the Twins have gotten a grotesque .189/.229/.233 line. That helps explain how Joe Mauer has just 13 RBIs despite batting .340 with 17 extra-base hits in 35 games. Jamey Carroll replacing Dozier at second base would likely improve the leadoff spot, but it's sort of a Parmelee-or-Doumit situation because Carroll is 39.
• Mauer has hit .319 with men on base, including .381 with runners in scoring position, but he's had a grand total of just 76 runners on base in his 157 plate appearances. By comparison Justin Morneau has had 126 runners on base in 149 plate appearances because he's got Mauer (.426 OBP) and Josh Willingham (.377 OBP) back-to-back in front of him. And batting Mauer second isn't really the issue, because in the third spot he'd just have two awful OBPs in front of him.
Mauer hit .366 in his first 17 games, then went into a career-worst 0-for-21 slump, and has now hit .431 with 10 doubles and 11 walks in 13 games since snapping his hitless streak. That works out to a .532 OBP and .628 slugging percentage. On this week's "Gleeman and The Geek" episode we talked about how odd it is for Mauer to be striking out so much, but his overall production is solidly above his career norms and he's also playing much better than last year defensively.
• Saturday night Vance Worley allowed five runs on 11 hits in 5.1 innings against the Orioles and got the win (Mauer, Morneau, and the Twins' lineup really got the win, but old stats die hard). In doing so Worley became just the seventh Twins pitcher in the Ron Gardenhire era (2002-2013) to win a game in which he allowed 11 or more hits:
Vance Worley      5/11/2013     Orioles
Nick Blackburn     5/4/2010     Tigers
Carlos Silva       5/9/2006     Rangers
Carlos Silva      4/29/2005     Angels
Carlos Silva       8/3/2004     Angels
Kyle Lohse         9/2/2003     Angels
Brad Radke        8/24/2002     Royals
Carlos Silva had 47 wins for the Twins and three of them came while allowing 11 or more hits, including a complete-game shutout in 2004. In all there have been 89 wins assigned to pitchers who allowed 11 or more hits in Twins history and Roger Erickson on June 25, 1978 is the only one to get fewer outs than Worley.
• On a related note, Twins pitchers have the fewest strikeouts in baseball with 204. No other team has fewer than 232 strikeouts and 14 teams have more than 300 strikeouts, including the Tigers with an MLB-leading 378. Breaking it down even further, Twins starters have 4.3 strikeouts per nine innings and Twins relievers have 8.0 strikeouts per nine innings, so the bullpen has actually been missing plenty of bats.
• Glen Perkins and Jared Burton since the beginning of 2012:
                 IP      ERA     SO     BB     HR     OAVG
Glen Perkins     83     2.71     98     21      9     .216
Jared Burton     79     2.05     74     22      5     .190
I wish Gardenhire would use Perkins a little more in non-save situations, but knowing that duo is looming whenever the Twins have a lead after seven innings is pretty fun.
• With a .500 record through 36 games the Twins have dramatically out-performed expectations so far. Here's how 18-18 compares to their previous records through 36 games under Gardenhire:
2013   18-18
2012   10-26
2011   12-24
2010   22-14
2009   18-18
2008   19-17
2007   17-19
2006   17-19
2005   21-15
2004   22-14
2003   20-16
2002   22-14
During their run of six AL Central titles from 2002-2010 the Twins' average record after 36 games was 20-16 when they made the playoffs and 19-17 when they didn't. Either way, it sure beats the hell out of where they stood after 36 games in 2011 and 2012.
• Last night was the 34th time in 36 games that the Twins have been the gambling underdogs. If you'd have bet $100 on the Twins to win each game so far you'd be up $618, which is on pace for a $2,781 profit over the course of 162 games.
• Jim Callis' first mock draft for Baseball America has the Twins taking Texas high school pitcher Kohl Stewart with the No. 4 pick. Callis also writes: "Rumors persist that Minnesota could cut a deal with Washington high school catcher Reese McGuire and spend heavily further down in the draft." Baseball America's current top-100 rankings have Stewart at No. 6 and McGuire at No. 12.
• Baltimore wants Alexi Casilla to give up switch-hitting even though his career numbers don't suggest it makes any sense.
• I love this picture of Hicks robbing Dunn of a homer.
• John Bonnes was on vacation, so Parker Hageman stepped in as my co-host for this week's "Gleeman and The Geek" episode and we got super-nerdy with the hardcore Twins talk.
---
This week's blog content is sponsored by Ticket King, a local ticket broker that doesn't charge check-out fees, offers in-store pickup, and specializes in Twins tickets. Please support them for supporting AG.com.