May 21, 2013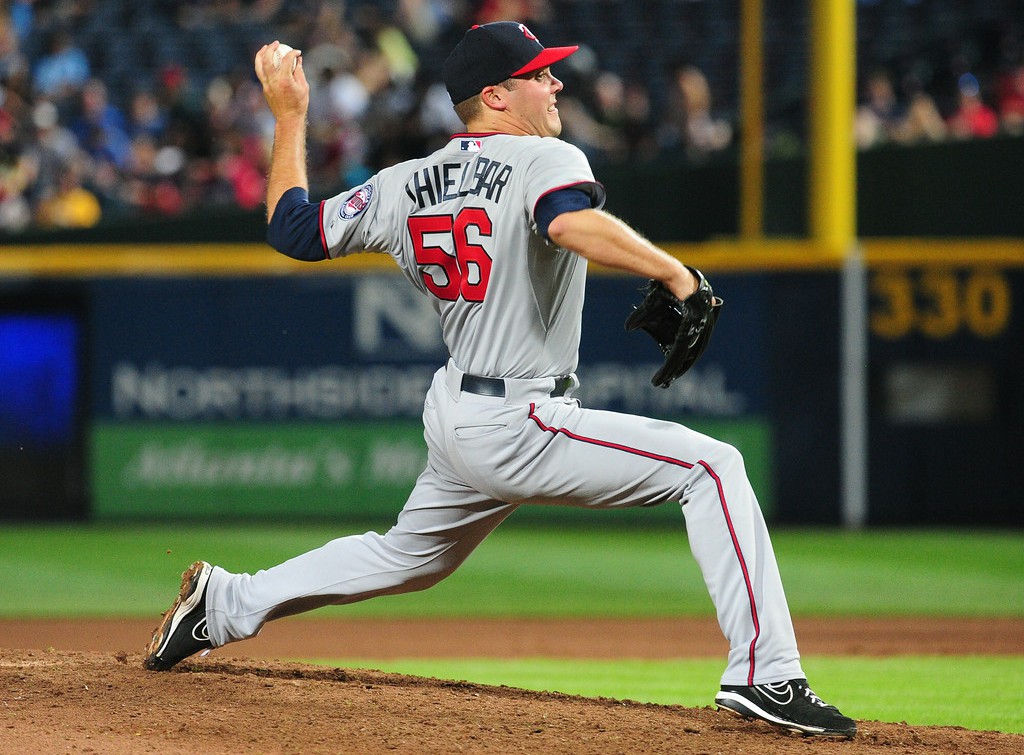 • Pedro Hernandez posted a 6.67 ERA with just 10 strikeouts in six starts since replacing Liam Hendriks in the rotation, predictably struggling versus lineups stacked with right-handed hitters. Hernandez, not unlike Brian Duensing, simply isn't capable of handling righties well enough to be a consistent starter. He struggled against righties in the minors and they've clobbered him in the majors, hitting .389 with a .704 slugging percentage and more walks than strikeouts.
Hernandez may still have a big-league future as a reliever, but in the meantime he's headed back to Triple-A and the Twins called up an actual left-handed reliever, Caleb Thielbar, to replace him. That leaves the identity of Friday's starter against Detroit unknown for now, leading to speculation that it might be Kyle Gibson's debut. Gibson threw a complete-game shutout Sunday at Triple-A, his second in his last three starts, and Friday would be his normal turn for Rochester.
Gibson turned in a clunker between the shutouts and his overall Triple-A numbers are good rather than great with a 3.25 ERA and 46-to-14 strikeout-to-walk ratio in 53 innings. If he doesn't get the nod Friday the other options are Rochester rotation-mates and short-term fixes P.J. Walters and Samuel Deduno, so presumably the choice comes down to whether the Twins believe Gibson is ready to stick in the majors yet.
UPDATE: Deduno will get the start Friday.
• As for Thielbar, he's a helluva story. Originally drafted by the Brewers out of South Dakota State in 2009, the Minnesota native got released before advancing past Single-A and latched on with the independent league St. Paul Saints. Thielbar had a 2.54 ERA and 62-to-15 strikeout-to-walk ratio in 50 innings for the Saints in 2011, which impressed the Twins enough to sign him. He started out at Single-A and has been at Triple-A since the middle of last season.
Thielbar had a 3.64 ERA and 66/24 K/BB ratio in 67 total innings at Triple-A, which isn't great for a 26-year-old reliever, but he's been unhittable for the past month and the Twins decided to give him a shot. He throws in the low-90s and has enough raw stuff to survive as a middle reliever, but based on Thielbar's track record too many walks and fly balls could get him in trouble. Assuming the Twins demote a reliever to make room for Friday's starter his stay this time may be brief.
• Chris Parmelee has regularly been benched in favor of Ryan Doumit since Oswaldo Arcia's arrival created a first base/corner outfield/designated hitter logjam, frequently sitting even against right-handed pitching. Parmelee's main problem is that he hasn't hit since a big September call-up in 2011, batting .219/.285/.352 with an 86-to-24 strikeout-to-walk ratio in 100 games, but he's also hurt by everyone competing for playing time being a left-handed hitter or switch-hitter.
And that hurts the Twins too, because Parmelee and Doumit aren't starting-caliber hitters against left-handed pitching and Arcia could certainly use the occasional day off versus tough southpaws. But because the Twins lack a decent right-handed hitter to sub for them what happens is that one of the lefty bats sits versus right-handers when they should start and two of the lefty/switch bats start versus left-handers when they should sit. All of which brings me to Chris Colabello.
Colabello is a 29-year-old non-prospect signed out of an independent league and wasn't all that impressive at Double-A in 2012, hitting .284/.358/.470. He moved up to Triple-A this season and has hit .361/.419/.657 with 12 homers in 45 games. Being stretched defensively anywhere but first base hurts Colabello's cause, but he's a right-handed hitter and would seemingly be more useful to the Twins than Parmelee given their current roster construction.
UPDATE: That was quick. Colabello has been called up to replace Trevor Plouffe, who was put on the seven-day disabled list with post-concussion symptoms.
• At the most basic level a team's best relievers should throw the most relief innings, but because of how most managers' bullpen usage revolves around the save statistic that often isn't the case. Instead, when a setup man becomes a closer his workload almost always decreases and closers frequently throw fewer innings than middle relievers because they're constantly being held back for "save situations" that may never actually arrive.
Glen Perkins is proving to be a prime example, as Ron Gardenhire goes out of his way to avoid using Perkins in non-save situations and has essentially stopped using him to get more than three outs. Perkins has been fantastic for the third consecutive season, posting a 3.07 ERA and 23-to-5 strikeout-to-walk ratio in 14.2 innings, but take a look at how his workload compares to the rest of the Twins' bullpen:
APPEARANCES                   INNINGS
Casey Fien          21        Anthony Swarzak     26.0
Jared Burton        20        Josh Roenicke       23.1
Brian Duensing      19        Ryan Pressly        21.2
Josh Roenicke       16        Jared Burton        19.0
Glen Perkins        15        Casey Fien          18.1
Ryan Pressly        13        Brian Duensing      17.1
Anthony Swarzak     12        Glen Perkins        14.2
Perkins missed a couple days with a sore left side, so if not for the injury he might have one more appearance, but the point remains. In terms of appearances Perkins' workload is closer to the long man (Anthony Swarzak) and Rule 5 pick (Ryan Pressly) than to the most-used relievers in the bullpen. And in terms of innings Perkins is the least-used reliever in the entire bullpen. How does that make sense? If you're not obsessed with the save statistic, it doesn't.
• Scott Diamond has struck out exactly one of the last 54 batters he's faced, during which time he's served up four homers and allowed 12 runs on 23 baserunners. His career strikeout rate of 4.47 per nine innings is now the lowest among all active left-handed pitchers with at least 250 innings. This is Diamond's third season in the majors and take a look at how his career numbers compare to another recent Twins pitcher through three seasons:
               ERA     SO/9     BB/9     OAVG
Diamond       4.01      4.5      2.0     .287
Pitcher X     4.14      4.4      1.8     .293
Pitcher X is Nick Blackburn, about whom the same type of things were once said to explain his initial success despite terrible strikeout rates. Now, in fairness the above comparison is way too simplistic--Diamond gets more ground balls than Blackburn, to name one key difference--but you get the idea. Diamond is walking a very thin line right now as he tries to duplicate his unexpected 2012 success and avoid going further down the Blackburn path.
• After two injury wrecked seasons the Twins have been remarkably healthy so far, but their lone significant injury has provided a glimpse into the same question marks that filled 2011 and 2012. Darin Mastroianni injured his ankle late in spring training, but instead of simply placing him on the disabled list to begin the season the Twins kept him on the active roster. He was too limited to actually do much, but they used him as a pinch-runner and defensive replacement.
Then, after appearing in eight games without logging a single plate appearance, the Twins deemed Mastroianni healthy enough to start two games in center field. Shortly after that he was placed on the DL and diagnosed with a stress reaction in his ankle. Initially the Twins said he'd be out three weeks, but that came and went with Mastroianni still in a walking boot and now he's expected to miss the rest of the first half following surgery. I'm no doctor, but that's an awfully familiar story.
• Rafael Perez, who signed a minor-league deal with the Twins in February, was released from Triple-A after failing to impress coming back from shoulder surgery. At the time of the signing the Twins indicated that Perez was close to being full strength and they planned to stretch him out as a starter, but within weeks he'd been shut down. Perez pushed back his May 1 opt-out clause to give the Twins more time to evaluate him, but after four appearances they'd seen enough.
• Rich Harden, like Perez, signed a minor-league deal with the Twins coming back from shoulder surgery and, like Perez, it hasn't gone well. Harden hasn't been released yet because his opt-out clause isn't until July 31, but he's yet to appear in a game and assistant general manager Rob Antony revealed that his progress is going "slow" and "not very well to be honest." Harden has been hurt for basically his entire career, so he was always a long shot.
• There are eight American League starting pitchers with an opponents' batting average of .310 or higher and four of them (Vance Worley, Mike Pelfrey, Diamond, Hernandez) are Twins. Kevin Correia avoids that list, but his .292 mark isn't exactly pretty and in his last four starts he has a total of seven strikeouts and five homers allowed.
• Twins pitchers have allowed an MLB-high 47 runs in the first inning through 41 games. They've allowed 25 or fewer runs in every other inning. And since that will make everyone curious: Brad Radke had a 5.05 ERA in the first inning and a 4.07 ERA in all other innings.
• For a whole lot more about Gibson and Colabello, plus a bunch of other Twins topics, check out this week's "Gleeman and The Geek" episode.
---
This week's blog content is sponsored by Ticket King, a local ticket broker that doesn't charge check-out fees, offers in-store pickup, and specializes in Twins tickets. Please support them for supporting AG.com.