May 28, 2013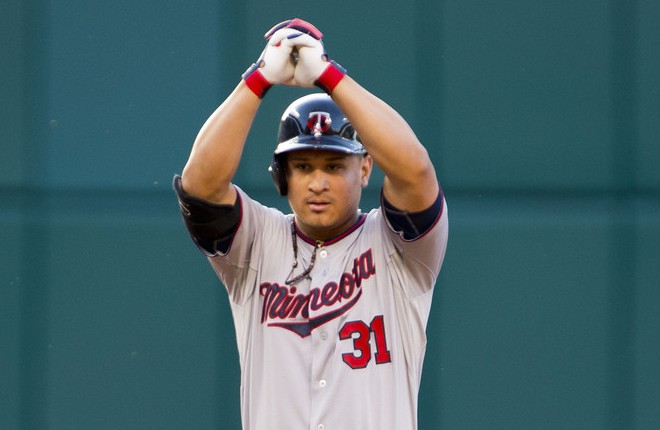 • When the Twins called up Oswaldo Arcia from Triple-A in mid-April they gave him consistent playing time, but as soon as the 22-year-old slumped for the first time those starts dried up. Last week Ron Gardenhire benched Arcia in four straight games, choosing instead to go with Ryan Doumit twice and Chris Parmelee and Chris Colabello once apiece in right field. And then after finally starting Arcia again Friday the Twins demoted him back to Rochester.
Even after his recent slump Arcia was hitting .255/.318/.449 in 30 games overall, which is damn good for a 22-year-old rookie who was rushed to the majors and ranks third on the Twins in OPS behind Joe Mauer and Josh Willingham. In talking about the demotion Gardenhire acted upset, suggesting he may not have agreed with the front office's decision, but the manager choosing to start Doumit, Parmelee, and Colabello over Arcia wasn't helping.
For a 22-year-old's development playing regularly in Rochester is better than playing sparingly in Minnesota, but if they wanted to find room in the lineup for Arcia it's not as if benching Parmelee or sending him back to Triple-A would have been a tough call. For all the focus on Arcia slumping for 30 at-bats, Parmelee is 25 years old and has hit .222/.290/.351 with nine homers and an ugly 88-to-26 strikeout-to-walk ratio in 106 games since last season.
Arcia was Darin Mastroianni's injury replacement and arrived after just 10 games at Triple-A and 79 total games above Single-A, so his heading back down is hardly a tragedy. His plate discipline still needs work, which isn't surprising given his age, hastened timetable, and poor K/BB ratios in the minors. Sending him down now doesn't really jibe with rushing Arcia to the majors in the first place, but it does ensure that he won't burn through a full season of service time in 2013.
• Speaking of service time, bypassing Kyle Gibson twice in favor of Samuel Deduno and P.J. Walters should save the Twins money down the road. Whether that was a factor in keeping him at Triple-A is tough to say, but Gibson is 25 years old and thriving in his first full season back from elbow surgery. In his last four starts he has two complete-game shutouts and another game of eight shutout innings on the way to a 2.82 ERA and 53/17 K/BB ratio in 61 innings overall.
Deduno and Walters are nothing more than replacement-level filler who made a lot more sense last year as emergency options for an injury wrecked rotation. It doesn't speak well for the front office that they're both already back in the rotation following an offseason spent talking about improving the dreadful starting pitching, which has somehow been even worse. Last year they turned to Deduno and Walters because injuries forced them. This year it's their own doing.
• By calling up non-roster players in Deduno, Walters, and Colabello the Twins needed to open three spots on the 40-man roster. Two of those were created by transferring Mastroianni and Tim Wood to the 60-day disabled list and the third was accomplished by waiving someone. There's no shortage of fungible talent on the 40-man roster, which is why it was surprising when they chose Joe Benson and the Rangers claimed him.
Benson has been equal parts injured and awful since the beginning of last season and his stock has plummeted to the point that the 25-year-old former second-round pick is clearly no longer a top prospect. Just a few weeks ago on a "Gleeman and The Geek" episode I actually wondered if Benson was in danger of being trimmed from the 40-man roster, but I was speculating about an offseason move if he continued to struggle all year.
To cut bait now seems short-sighted, especially when the 40-man roster still holds Drew Butera, Cole De Vries, Wilkin Ramirez, Chris Herrmann, Tyler Robertson, and the aforementioned trio of Colabello, Deduno, and Walters. Butera in particular isn't someone to worry about losing. He hit .183 for the Twins after hitting .216 in the minors, and if some team wants to claim his $700,000 contract another bad-hitting, good-fielding catcher isn't difficult to find.
For some organizations losing a struggling former top prospect like Benson is simply the cost of needing to juggle roster spots to provide big-league reinforcements, but in the Twins' case the 40-man roster is full of spare parts and choosing Deduno and Walters as reinforcements when Gibson was already on the 40-man roster essentially cost them Benson. Benson's upside has rapidly deteriorated, but guys like Butera and De Vries have never had any upside.
• Friday night Mauer singled to end Anibal Sanchez's no-hitter with one out in the ninth inning. Mauer previously broke up ninth-inning no-hitters by Gavin Floyd in 2008 and Neftali Feliz in 2010, and doing it three times ties him with former Yankees second baseman Horace Clarke for the most since 1961. I'm not sure if that says more about the Twins' offense or Mauer's hitting.
• Lost in the near no-hitter Friday night is that Parmelee randomly played an inning in center field after Gardenhire pinch-hit Doumit for Aaron Hicks and apparently didn't want to use Ramirez. All of which got me thinking about the least-qualified center fielders in recent Twins history. They've used 23 different center fielders since Gardenhire became manager in 2002, led by Torii Hunter for 814 games and Denard Span for 448 games. Here's the full list:
Torii Hunter     814     Nick Punto         9
Denard Span      448     Wilkin Ramirez     8
Carlos Gomez     283     Craig Monroe       7
Lew Ford         149     Darin Mastroianni  6
Ben Revere       134     Michael Cuddyer    6
Aaron Hicks       41     Michael Ryan       5          
Jason Tyner       37     Denny Hocking      3
Bobby Kielty      36     Erik Komatsu       2
Dustan Mohr       12     Joe Benson         2
Jacque Jones      12     Clete Thomas       1
Jason Repko       11     Alexi Casilla      1
                         Chris Parmelee     1
Quite a few guys on that list had no business in center field, but it's tough to beat Parmelee. Prior to Friday he'd played eight seasons and 838 games as a pro without spending an inning anywhere but first base or an outfield corner.
• On a related note, after homering twice off Kevin Correia yesterday Carlos Gomez is hitting .331/.376/.611 this season and .300/.343/.540 with 24 homers and 35 steals in 123 games since last year's All-Star break. Toss in what has always been strong defense in center field and Gomez has seemingly developed into one of the best all-around players in baseball at age 27.
• Gardenhire's ejection Saturday afternoon was the 64th of his career, which averages out to one ejection per 28.6 games as manager. Bobby Cox has the all-time record with 158 ejections, so at his current pace Gardenhire would have to manage 17 more seasons to top him.
• Justin Morneau has just two homers in 47 games this season and a total of four homers in his last 79 games dating back to last year, with half of them coming in one game. Morneau is hitting .300 and Willingham is hitting .212, but Willingham has a higher OPS by 50 points.
• Mauer has a .433 batting average on balls in play. No other AL hitter is above .400 and Mauer's career mark is .349. Mauer is hitting .339 and the rest of the Twins are hitting a combined .229.
• Since joining the Twins organization Deduno has 88 walks in 143 innings between Triple-A and the majors. In his final three seasons Brad Radke had a total of 81 walks in 583 innings.
• Rafael Perez, who was released by the Twins from Triple-A, signed a minor-league deal with the Red Sox.
• This week's "Gleeman and The Geek" episode was jam-packed with good Twins topics. We broke down all the recent roster moves, tried to figure out their plan for Gibson, weighed the pros and cons for demoting Arcia, and got in depth looking at the Twins' draft options with the No. 4 pick.
---
This week's blog content is sponsored by Ticket King, a local ticket broker that doesn't charge check-out fees, offers in-store pickup, and specializes in Twins tickets. Please support them for supporting AG.com.