June 5, 2013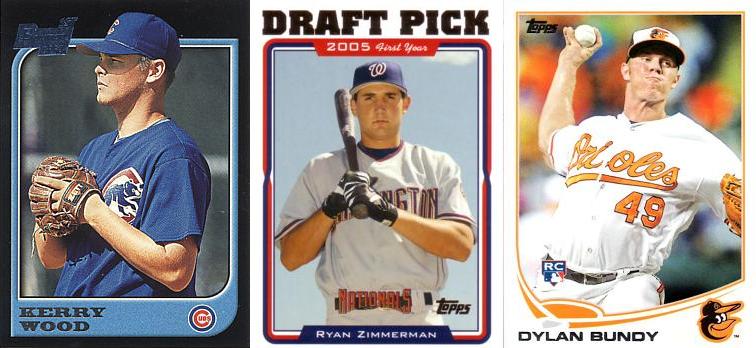 Last week I looked at the nine players most likely to be the Twins' target with the No. 4 pick in this year's draft, so today I thought it would be interesting to examine the history of that spot in the draft. Talent levels vary wildly from draft to draft and trying to draw conclusions based on 48 players spanning 48 years is silly, so this is mostly just an exercise in curiosity. In other words, Dave Winfield being the No. 4 pick in 1973 doesn't mean much for the Twins in 2013.
For the purposes of this little investigation I'm going to focus on the 25-year history of the No. 4 pick from 1983 to 2007, because going back any further seems particularly irrelevant to the Twins' current situation and for the most part the players selected since 2007 haven't really had a chance to establish themselves in the majors yet. So here are the 25 players selected No. 4 overall from 1983 to 2007, along with their career Wins Above Replacement totals:
YEAR   NO. 4 PICK           TEAM           WAR
1983   Eddie Williams       Mets          -1.1
1984   Cory Snyder          Indians        0.7
1985   Barry Larkin         Reds          70.2
1986   Kevin Brown          Rangers       68.3
1987   Mike Harkey          Cubs           6.3
1988   Gregg Olson          Orioles       13.2
1989   Jeff Jackson         Phillies       0.0
1990   Alex Fernandez       White Sox     28.9
1991   Dmitri Young         Cardinals     12.1
1992   Jeffrey Hammonds     Orioles        8.7
1993   Wayne Gomes          Phillies       0.3
1994   Antone Williamson    Brewers       -0.8
1995   Kerry Wood           Cubs          27.7
1996   Billy Koch           Blue Jays      5.6
1997   Jason Grilli         Giants         4.8
1998   Jeff Austin          Royals        -0.7
1999   Corey Myers          Diamondbacks   0.0
2000   Mike Stodolka        Royals         0.0
2001   Gavin Floyd          Phillies      14.9
2002   Adam Loewen          Orioles        0.5
2003   Tim Stauffer         Padres         3.4
2004   Jeff Niemann         Rays           4.1
2005   Ryan Zimmerman       Nationals     30.9
2006   Brad Lincoln         Pirates        0.3
2007   Daniel Moskos        Pirates        0.2
For some Twins-specific context for the above WAR totals, consider that Luis Rivas had -1.5 WAR for his career, Jacque Jones had 11.5 WAR for his career, Roy Smalley had 27.8 WAR for his career, Kent Hrbek had 38.2 WAR for his career, and Rod Carew had 81.2 WAR for his career. There are lots of factors, but basically 0-10 WAR is a role player, 10-20 WAR is a regular, 20-35 WAR is a very good regular, 35-50 WAR is a star, and above 50 WAR is Hall of Fame territory.
As you can see, that list of No. 4 picks isn't exactly packed with Hall of Famers. In fact, of the 25 players selected No. 4 from 1983 to 2007 three failed to reach the big leagues at all, three others produced negative WAR when they did, and a total of 17 didn't crack double-digit WAR. In other words, more than two-thirds of the No. 4 overall picks were no better than role players or, in a few of those cases, very good players who stumbled on the path to sustained stardom.
There's one Hall of Famer on that 25-player list in Barry Larkin, who was selected fourth overall by the Reds out of the University of Michigan in 1985 and went on to become one of the 10 best shortstops in baseball history. Kevin Brown had a Hall of Fame-caliber career even though he'll never get in and Ryan Zimmerman is about halfway through what could potentially be a Hall of Fame-caliber career. And if not for injuries Kerry Wood might have been the best of the bunch.
Alex Fernandez was a really good pitcher before injuries wrecked him, posting all 28.9 of his WAR by age 30. Dmitri Young has a modest 12.1 WAR because he was a negative defensively and health issues ended his career at 34, but Delmon Young's big brother hit .292/.351/.475 in 13 seasons. Not to be confused with the Minnesota-born catcher, Gregg Olson was a Rookie of the Year-winning closer who was once the youngest ever to reach 100 saves.
More recently Dylan Bundy was the No. 4 pick in 2011 and entered this year as the consensus top pitching prospect in all of baseball, but elbow problems have sidelined him at the moment. Last year the Orioles took LSU right-hander Kevin Gausman at No. 4 after the Twins passed on him and other college pitchers in favor of Byron Buxton and he's already reached the majors. Of course, the No. 4 picks in 2009 and 2010, Christian Colon and Tony Sanchez, look like busts.
Overall the crop of No. 4 picks from 1983-2007 is pretty underwhelming, although it's not really any less impressive the No. 3 picks or No. 5 picks in that same time frame. Drafting, even in the top five, is incredibly unpredictable. None of which is to say that there wasn't much more career value available with the No. 4 pick in those 25 years, because almost every draft class during that time included multiple star-caliber players who didn't go in the top three.
For instance, the Pirates had back-to-back No. 4 picks, taking Brad Lincoln in 2006 and Daniel Moskos in 2007. They've both been busts, but some players taken after them in those two drafts include Clayton Kershaw, Tim Lincecum, Giancarlo Stanton, Jason Heyward, Matt Harvey, Matt Wieters, Jordan Zimmermann, Chris Sale, Madison Bumgarner, Craig Kimbrel, Matt Moore, and Max Scherzer. And there are a bunch of other impressive young players on the list.
As for what that all means for the Twins come Thursday ... who knows. This year's draft class is not considered strong in terms of elite-level talent, although the same was said about last year's class and for now at least the Twins are awfully happy with Buxton. History suggests that the No. 4 pick has a one-in-three chance of turning into a quality regular, which isn't exactly encouraging, but then again a 15 percent chance of a Larkin, Brown, Zimmerman, or Wood sounds pretty nice.
---
Interested in sponsoring a week of AG.com and advertising your product, service, local business, or website directly to thousands of readers each day? Click here for details.