June 7, 2013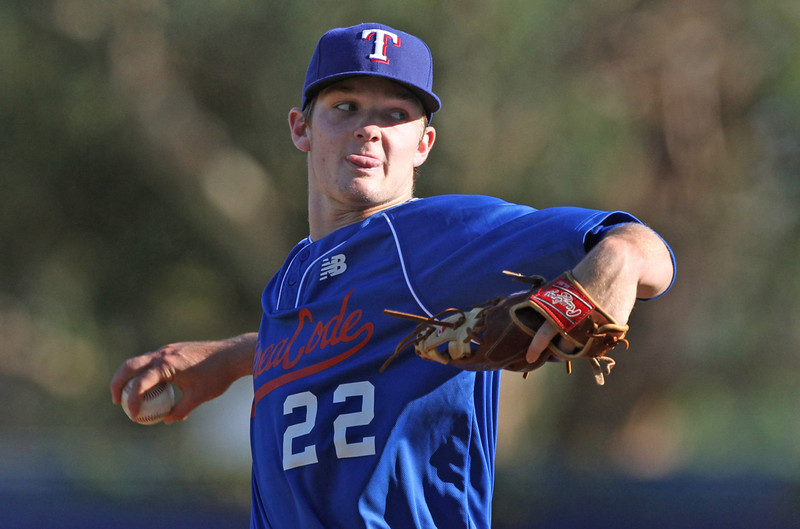 In a draft with three consensus top talents in Mark Appel, Jonathan Gray, and Kris Bryant the Twins picked fourth and you'd have been hard-pressed to find a mock draft that didn't have them taking Texas high school right-hander Kohl Stewart. There was some speculation this week that the Twins would pick Stewart even if one of the top three guys fell to them, but it ended up being a moot point. Appel, Bryant, and Gray went 1-2-3 and the Twins snagged Stewart at No. 4.
None of which means that Stewart is necessarily a consolation prize. His raw talent and long-term upside have frequently been compared favorably to Appel and Gray, but the inherent risk involved in giving millions of dollars to an 18-year-old pitcher dropped him below the pair of proven college aces and the NCAA's premier slugger on just about every public draft board. Stewart has immense potential, but high school arms take a long time to develop and flame out at an incredible rate.
That risk is a big reason why Stewart is just the fourth high school pitcher to be a top-five pick since 2005 and the 13th high high school pitcher to go in the top five during the last 20 years. And the previous 12 include a lot more misses than hits: Kerry Wood, John Patterson, Josh Beckett, Mike Stodolka, Gavin Floyd, Clint Everts, Adam Loewen, Chris Gruler, Mark Rogers, Matt Hobgood, Jameson Taillon, Dylan Bundy.
It's too early to pass judgment on Hobgood (fifth in 2009), Taillon (second in 2010), and Bundy (fourth in 2011), each of whom are still in the minors, but it's certainly worth noting that Bundy and Taillon are currently considered elite prospects. As for the other guys ... it ain't pretty. Gruler, Everts, and Stodolka never even reached the majors, Loewen and Patterson won fewer than 20 career games, and Rogers will struggle to avoid the same fate.
Wood, Beckett, and Floyd are the only real success stories, but Wood finished with 86 wins after injuries derailed a potential Hall of Fame career and Floyd has never developed into more than a mid-rotation starter with just 70 wins at age 30. Beckett developed exactly as hoped and emerged as an elite pitcher, although with his career winding down at age 33 he may not reach 150 wins. Obviously wins aren't a great way to evaluate pitchers, but you get the general idea.
All of which is the bad news. The good news is that Stewart's future isn't dependent on the past and if he does pan out the Twins may have an ace. Not only did Stewart have video game-like numbers as a senior with a 0.18 ERA in eight starts, he's a two-sport star and ESPN ranks him as the sixth-best prep quarterback in the country. He committed to play football at Texas A&M, but Stewart is expected to sign instead of waiting behind Heisman Trophy winner Johnny Manziel.
Baseball America rates Stewart as the draft's fifth-best prospect and quotes one scouting director as saying that "his pure stuff is as good as" Appel and Gray, touting his mid-90s fastball and "a power mid-80s slider" that's considered his best pitch. According to BA his changeup and curveball give Stewart the potential for four above-average pitches and at 6-foot-3 he has "a clean delivery and should get even better once he concentrates solely on baseball."
ESPN rates Stewart as the draft's fourth-best prospect, praising a mid-90s fastball "with good downhill plane" and a slider that "is his best pitch." Within the ESPN scouting report there are questions about Stewart's mechanics and command, but that tends to be the case with teenage pitchers and "even with those issues he's by far the best prep arm in the class." MLB.com rates Stewart as the draft's seventh-best prospect, behind only Appel and Gray among pitchers.
Here's what Twins scouting director Deron Johnson told reporters after making the pick:
He was the best prospect on the board left for us. It just so happened to be a high school right-hander. I think his ceiling is unlimited. I think he has the makeup and attributes to be a front-end starter. I'm not going to sit here and say he's going to be a No. 1, but he has the ability and athleticism to be as good as the guys taken ahead of him.
"It just so happened to be a high school right-hander" is interesting because the Twins have long favored college pitchers and high school hitters in the draft. In fact, from 2005-2012 they used a top-50 pick on seven college pitchers compared to just one high school pitcher, J.O. Berrios at No. 32 last year. For an organization that has shied so heavily away from high school arms to use the fourth overall pick on Stewart suggests they feel he's truly special.
---
Interested in sponsoring a week of AG.com and advertising your product, service, local business, or website directly to thousands of readers each day? Click here for details.