June 11, 2013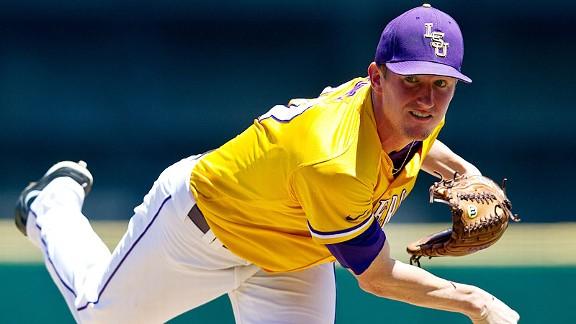 By choosing high school pitcher Kohl Stewart with the fourth overall pick the Twins took a huge risk and veered away from their typical draft strategy, but they went back to normal in the second round. As a college starter with three seasons of major conference experience LSU right-hander Ryan Eades was a prototypical Twins target with the 43rd pick and in fact he's the eighth college pitcher selected by the Twins with a top-50 pick since 2005.
Eades missed his senior season of high school following shoulder surgery, but was injury free for three years at LSU and led the team in starts this season. However, fading down the stretch in both 2012 and 2013 puts his durability in some question and caused ESPN to rate Eades as the draft's No. 59 prospect despite noting that he "looked like a mid-first-rounder for the first seven weeks of the season."
Even after a late-season fade Eades finished with an 8-1 record and 2.81 ERA in 16 starts for one of the best teams in the country, but a .269 opponents' batting average and just 77 strikeouts in 96 innings are underwhelming. And that modest strikeout rate is actually an improvement over last season, when Eades managed just 63 strikeouts in 94 innings while allowing opponents to hit .296. Combined during his final two years Eades averaged 6.6 strikeouts per nine innings.
Eades' bat-missing ability paled in comparison to LSU's aces. Last year it was Kevin Gausman, who was drafted fourth overall by the Orioles, and averaged 9.8 strikeouts per nine innings. This year it was Aaron Nola, who projects as a potential top-10 pick in 2014, and got 9.2 strikeouts per nine innings. Eades obviously isn't on the same level as Gausman and Nola or he wouldn't have been available at No. 43, but the point is that his raw stuff has yet to turn into strikeouts.
With that said, it's good raw stuff. Baseball America rated him 37th in the class, noting that Eades "looks the part of a frontline starter" with "an athletic 6-foot-3, 198-pound frame" and fastball that reaches the mid-90s. According to BA he's "honed his breaking ball into a power curveball" and also works with a two-seam fastball and a changeup, the latter of which may prove to be the key to Eades developing into a successful big-league starter.
In the third round the Twins selected University of Mississippi catcher Stuart Turner, who has a reputation for being a good defender with an iffy bat despite hitting .374/.444/.518 in 62 games this season. Turner played just one season against top-flight competition, transferring to Ole Miss from a junior college, and Baseball America notes that "scouts don't like his swing and question his ability to sting the ball consistently."
There are no such questions behind the plate, as BA calls Turner the best defensive catcher in the class who "combines strength at 6-foot-2, 220 pounds with flexibility, agile feet, and excellent arm strength." ESPN offers similar praise, calling Turner the draft's "best catch-and-throw guy" with "outstanding hands and a plus arm." All of which suggests that he'd project as a backup if the scouts are right to doubt his bat and a good all-around starter if the numbers prove them wrong.
In the fourth round the Twins took another high school pitcher in California left-hander Stephen Gonsalves, who actually rated three spots higher than Turner on BA's list. Their scouting report says he "entered the spring as a potential first-round pick, but his stock has fallen as scouts have been disappointed with his inconsistent velocity and command." When he's going well Gonsalves throws in the low-90s and at 6-foot-5 "is intriguing because of his body and projection."
And he's tiny compared to fifth-round pick Aaron Slegers, a 6-foot-10 right-hander who starred for Indiana after barely pitching before this season due to injuries. Slegers walked just 15 batters in 16 starts and had a 2.16 ERA, but also managed just 54 strikeouts in 97 innings. BA notes that he's capable of reaching the mid-90s, but "got tired as he dealt with a regular workload for the first time" and lacks a consistently effective breaking ball.
In the eighth round the Twins took Slegers' teammate, third baseman Dustin DeMuth, who led Indiana with a .389 batting average but didn't draw many walks or hit for much power. According to BA scouts aren't sure if he'll stick at third base defensively and despite being 6-foot-3 his swing isn't really conducive to power development, but "he makes consistent contact ... with plus speed and arm strength."
Florida high school catcher Brian Navarreto was the sixth-round pick and the Twins took another catcher, New Mexico senior Mitchell Garver, in the ninth round. Based on skills alone Navarreto may have gone 2-3 rounds higher, but his involvement in an ugly on-field brawl likely dropped his stock. Garver had good numbers in a hitter-friendly environment and he's a typical "senior sign" who's already agreed to a below-slot deal that saves the Twins money to use on other picks.
In all the Twins had 10 of the first 300 picks in the draft and used all but one of them on pitchers or catchers, with DeMuth the only exception. Loading up on pitching certainly isn't surprising, but taking catchers in the third, sixth, and ninth rounds stands out as an unexpected strategy. Overall they went for long-term upside in Stewart and Gonsalves, did their standard thing with a bunch of college right-handers, and stocked up on backstops.
It'll be hard for the 2013 draft to look like a good one for the Twins unless Stewart pans out, but in general their approach seems fairly sound and based on pre-draft rankings from BA, ESPN, and MLB.com they didn't really step too far out on a limb with any selections. Last year it was tough not to love the Twins' draft haul because of Buxton at No. 2 and a bunch of extra early picks as compensation for losing free agents, but this year's group has a lot to like too.
For much more on the Twins' draft picks, check out this week's "Gleeman and The Geek" episode.
---
This week's blog content is sponsored by Ticket King, a local ticket broker that doesn't charge check-out fees, offers in-store pickup, and specializes in Twins tickets. Please support them for supporting AG.com.