July 17, 2013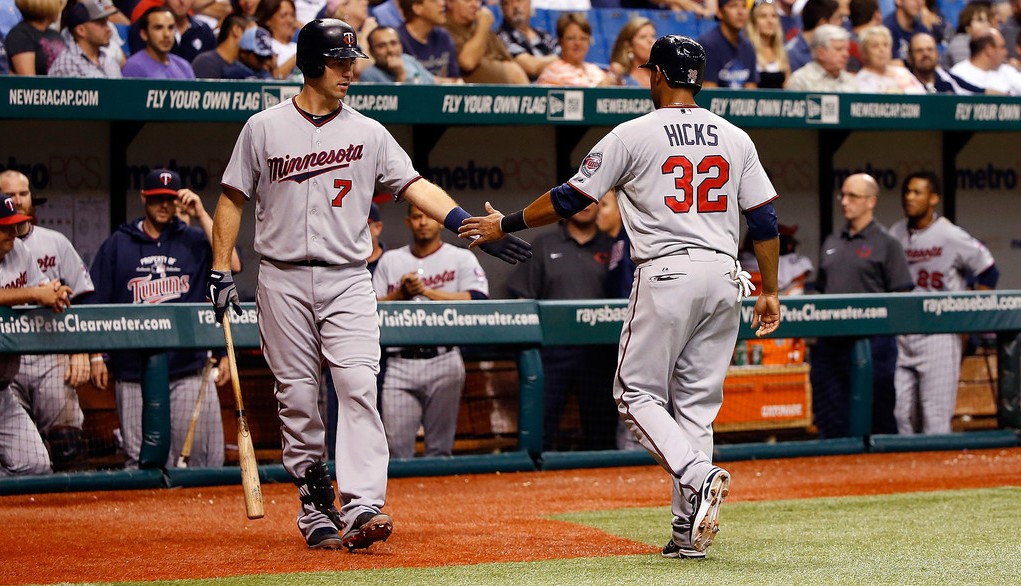 Offense was expected to be a relative strength for the Twins this season, but instead they finished the first half hitting just .245/.316/.386 with the second-fewest homers in the league, rank 10th among AL teams in runs per game with 4.12, and are on pace to score the second-fewest runs of any Twins team during the past 30 years. Before the second half gets underway here's a hitter-by-hitter look at the individual performances ...
• Joe Mauer: .320/.402/.473 in 403 plate appearances
Joe Mauer has done his part following the oft-debated decision to move him into the No. 2 spot, basically matching his career numbers by hitting .320 with a .402 on-base percentage that ranks second in the league. He's scored 32 percent more runs than anyone else on the team despite the guys hitting behind him not exactly thriving, but his RBI chances have dried up because the Twins' leadoff men and No. 9 hitters have combined for a laughable .262 on-base percentage.
Within the standard production is a huge spike in strikeouts, as 75 in 88 games is already the second-most of his career and a 75 percent increase per plate appearance. He's made up for that with career-highs in line drives and batting average on balls play in, leading MLB in both stats, but it's a different path to the usual destination. Defensively he's thrown out an AL-best 46 percent of steal attempts after sagging last year and his all-around value is on pace to surpass $30 million.
• Justin Morneau: .273/.331/.406 in 366 plate appearances
At this point every time Justin Morneau homers fans and media members start talking about how it might be the start of him getting back on track, which is perhaps the surest sign that he's now just a shell of his former self. This season's power outage has been well-documented, but going all the way back to his mid-2010 concussion Morneau has hit just .259/.321/.404 in 289 games and 1,224 plate appearances.
There are 193 hitters with at least 1,000 plate appearances since 2011 and Morneau ranks 128th in batting average, 134th in on-base percentage, 138th in slugging percentage, and 143rd in OPS. He hasn't been even an average first baseman in a long time and at 32 years old with a lengthy injury history in addition to the concussion re-signing the impending free agent just doesn't make sense for the Twins. If they can get any kind of decent return for him a trade, they should.
• Ryan Doumit: .237/.295/.393 in 325 plate appearances
Signed to a two-year, $7 million contract extension midway through last season, Ryan Doumit is having the worst season of his career. He's been particularly awful in 24 starts as the No. 3 hitter, batting .245/.299/.316 with one homer, and for the second straight season Twins pitchers have an ERA above 5.00 throwing to him. Doumit is a poor defensive catcher and very stretched in the outfield, so with an OPS below .700 he's been one of the worst regulars in baseball.
The good news is that his power is in line with his career norms, he's already drawn 25 walks in 81 games after totaling 29 walks in 134 games last season, and Doumit is actually striking out less than usual. His struggles mostly stem from a .256 batting average on balls in play, which is 43 points below his career mark. That suggests Doumit should bounce back in the second half, but whatever chance the Twins had of getting a decent return for him in trade is probably gone.
• Brian Dozier: .235/.310/.386 in 322 plate appearances
After a brutal rookie season shifting from shortstop to second base dramatically changed Brian Dozier's outlook defensively, but through two months he was again bad enough offensively that the Twins were hinting at giving up on the 26-year-old. However, in his final 44 first-half games Dozier hit .270/.372/.493 with seven homers, 12 doubles, and nearly as many walks (20) as strikeouts (24), which is more than enough to buy him some more time.
In the minors Dozier generally controlled the strike zone very well, so that aspect of his recent improvement was particularly encouraging, and even while struggling overall he showed more power than expected. Of course, he's still 26 with a .235/.290/.358 career line in 165 games after hitting even worse than that at Triple-A, so the clock is definitely ticking on Dozier. He benefits from the lack of other MLB-ready middle infielders in the Twins' system.
• Josh Willingham: .224/.356/.398 in 298 plate appearances
Josh Willingham followed up a career-year in 2012 with a big April, but then the 34-year-old's knee started bothering him and he hit .213/.338/.343 in 50 games from May 1 until the Twins finally shut him down in late June. Willingham needed regular days off and cortisone injections to stay in the lineup at what was obviously less than full strength and it didn't do anyone any good anyway, as he stopped hitting and was even worse than usual in the outfield.
It turns out he had a torn meniscus, undergoing surgery that will likely keep him out until at least mid-August and could cost him the rest of the season. Willingham is under contract for $7 million next season, which is reasonable enough, but whatever chance the Twins had of cashing him in for some long-term help in a trade last July or this offseason is long gone and it's hard to know what to expect from a 35-year-old should-be designated hitter coming off knee surgery.
• Chris Parmelee: .223/.303/.372 in 274 plate appearances
Chris Parmelee's defense in right field was the highlight of his first half, which isn't exactly how things were supposed to go. Parmelee had a big September debut in 2011 and destroyed Triple-A pitching for two months last season, but he's hit just .226/.298/.376 in 147 games for the Twins since then. During that span he managed just 13 homers in 484 plate appearances while striking out 118 times versus 40 walks, which is why he was demoted back to Triple-A on Sunday.
Prior to the dominant stretch at Triple-A last season Parmelee's track record in the minors wasn't especially impressive and included a measly .416 slugging percentage in 253 games at Double-A. He's also 25 years old, so in terms of inexperienced hitters struggling Parmelee is much different than some other Twins. There's no need to give up on him yet, but it's looking more and more likely that Parmelee's overall track record is right and he's simply not a starting-caliber hitter.
• Trevor Plouffe: .265/.323/.445 in 264 plate appearances
Last year Trevor Plouffe started slow, hit like Babe Ruth for a month, and then slumped down the stretch while dealing with a thumb injury. This season has been much less extreme, but his .265/.323/.445 overall line is close to his .235/.301/.455 mark last year. Plouffe's transformation from light-hitting shortstop prospect to big-league power hitter looks to be for real, as he's now hit .250 with 20-homer pop for 1,000 plate appearances dating back to 2011.
Unfortunately his defense cancels out most of that offensive value and his putrid .223/.285/.391 mark versus right-handed pitching suggests that Plouffe would be better suited in a platoon role. Plouffe can smack around left-handed pitching and that should keep in the majors for a while, but as an everyday player he's not really an asset and while a move across the diamond to first base would make him less of a defensive liability the standard for offense there is much higher.
• Aaron Hicks: .197/.264/.366 in 263 plate appearances
Despite a brutal 2-for-48 start to his career after jumping from Double-A to an Opening Day job the Twins stuck with Aaron Hicks and he recovered to hit .237/.288/.447 with eight homers in his final 55 first-half games. He's still striking out a ton and Hicks' formerly strong plate discipline has vanished, but his power has been better than expected, he's made a handful of spectacular defensive plays, and now he simply looks like a 23-year-old rookie learning on the job.
Nothing has changed my opinion that he should have started the season at Triple-A, both for his development and service time considerations, but in contrast to their handling of Oswaldo Arcia the Twins have kept Hicks in the majors all season. Hicks has always projected as a low-average hitter, so the key will be rediscovering his ability to draw walks and cleaning up his defense so that the highlight-reel catches and throws aren't mixed in with poor routes and misplays.
• Pedro Florimon: .235/.295/.342 in 261 plate appearances
Pedro Florimon's defense has been as advertised, with very strong overall numbers and plenty of standout plays along with a relatively high error count. Unfortunately his offense has also been as advertised. Florimon's fast start soon gave way to him being terrible at the plate and he's now hit .227/.285/.327 in 124 games as a major leaguer after hitting .250/.319/.352 in 290 games between Double-A and Triple-A.
Every few weeks Florimon unleashes a swing that shows he has plenty of power, but it's resulted in just six homers in 421 career plate appearances. Similarly, his relatively patient approach at the plate has led to just 31 walks versus 91 strikeouts. Florimon's defense is good enough that he's definitely worthy of a big-league job, but in an organization that wasn't so devoid of shortstop options he'd be headed for a utility man role.
• Oswaldo Arcia: .257/.317/.403 in 224 plate appearances
Fast start, slump, demotion. Fast start, slump, demotion. Oswaldo Arcia has gone through that same three-stage cycle twice in his rookie season and now he's back at Triple-A. There's no doubt that Arcia looked brutal during his slumps, but they were 20 or 30 at-bats in length and the Twins have shown a far more patient approach with Hicks' prolonged rough patches. They also pushed Arcia very aggressively through the minors, so growing pains should have been expected.
His overall performance has been right around league-average offensively, which is both far from impressive from a poor defensive corner outfielder and very impressive from a 22-year-old with fewer than 100 games between Double-A and Triple-A. Arcia projects as a middle-of-the-order bat long term, but his plate discipline and ability to handle left-handed pitching are potential stumbling blocks. Remember, though: Arcia is younger than the average player at high Single-A.
• Jamey Carroll: .219/.276/.252 in 164 plate appearances
Last season Jamey Carroll hit .315 in the second half, suggesting he'd have plenty of value this season at age 39, but instead he's struggled in a part-time role. He's made 22 starts at third base and 13 starts at second base compared to two starts at shortstop, which is where he began last season as the starter before giving way to Dozier and then Florimon. Controlling the strike zone has long been Carroll's main strength, but he had 28 strikeouts versus 12 walks in the first half.
Carroll has a $4 million team option or $250,000 buyout for 2014 that becomes a player option if he reaches 401 plate appearances, but with just 164 plate appearances through 92 team games that obviously won't happen. He's not part of the Twins' future plans and looks just about washed up, but it's possible that a contending team could be interested in Carroll as a utility man. If the Twins do find a taker for Carroll they aren't going to get much in return.
• Eduardo Escobar: .214/.268/.328 in 143 plate appearances
Hitting well for a few weeks in April had an awful lot of people excitedly overlooking Eduardo Escobar's terrible track record, but he hit .137 in his final 41 games before being demoted back to Triple-A. Escobar has now hit .216/.273/.294 in 114 games as a big leaguer, which is exactly what you'd expect from someone who hit .267/.312/.348 in the minors. He's a good, versatile defender, but at no point has Escobar's bat looked better than utility man-caliber.
• Clete Thomas: .234/.309/.351 in 123 plate appearances
Clete Thomas got off to a good enough start after being called up from Triple-A in June that he stuck around when Hicks returned from the disabled list, but he quickly came back down to earth by hitting .152 in July. Thomas' overall numbers more or less match his career totals, which is to say they're backup-caliber at most, but he's started 28 of 33 games since his call-up and is in line for continued regular action following the demotions of Arcia and Parmelee.
Note: For a similar first-half review of the Twins' pitchers, click here.
---
This week's blog content is sponsored by the Twins Daily light rail pub crawl/Twins game, where you can join Aaron Gleeman, John Bonnes, Parker Hageman, Nick Nelson, and Seth Stohs for a day of bar-hopping and baseball on September 14. Space is limited, so book your spot.