October 23, 2013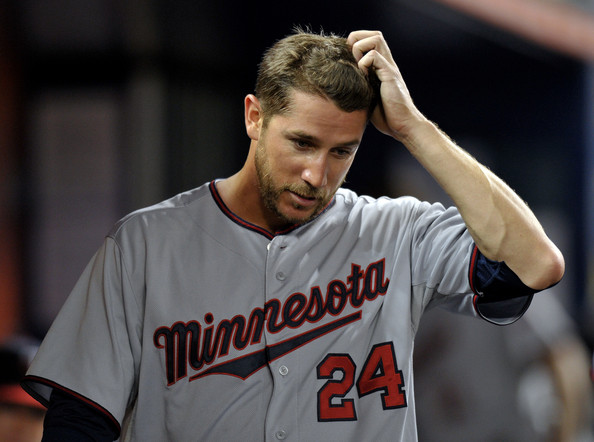 Trevor Plouffe spent seven years in the minors as a light-hitting shortstop, never cracking a .750 OPS in a season, but then in 2011 during his first extended big-league opportunity it turned out he couldn't actually handle shortstop defensively. He shifted to third base in 2012 and got everyone's attention with a midseason power surge, which along with two months of power hitting at Triple-A in 2011 had people questioning if "light-hitting" was just as inaccurate as "shortstop."
Plouffe was handed the third base job with little in the way of potential competition and stayed in the starting lineup all year except for a disabled list stint for a strained calf. He started 126 of 140 games when not on the DL, logging 522 plate appearances and 1,036 innings defensively. And he was terrible. For all the power potential Plouffe showed in 2011 he managed just 14 homers and 22 doubles and his plate discipline remained ugly with 112 strikeouts versus 34 walks.
He also continued to look awful defensively and the numbers backed up that view for the second straight year, as Ultimate Zone Rating pegged Plouffe as 8.6 runs below average per 150 games. In a season when MLB third basemen as a whole hit .260/.324/.412, he hit .254/.309/.392 with poor defense to essentially rate as a replacement-level player. And at age 27, with 1,351 plate appearances in the majors, there's little reason to think Plouffe is likely to improve.
As a former first-round draft pick who took six years to reach the big leagues, almost immediately proved incapable of handling the position he'd played nearly that entire time, and showed flashes of turning into a completely different hitter Plouffe's journey to the majors was certainly an odd one. Ultimately, though, his .240/.300/.411 line in 351 games for the Twins is nearly identical to his .258/.320/.405 line in 839 games as a minor leaguer.
Plouffe simply isn't a starting-caliber player, offensively or defensively. That doesn't make him useless, but unfortunately the Twins' longstanding unwillingness to give flawed hitters a better chance to succeed by platooning them really hurts Plouffe. He's a career .278/.346/.495 hitter versus left-handers, which is enough production to have a place on most rosters. But he's also a career .227/.284/.382 hitter versus right-handers, which should be nowhere near the lineup.
If a team limited Plouffe's weakness offensively by playing him almost exclusively against lefties and limited his weakness defensively by using him strictly as a corner outfielder, first baseman, and designated hitter he could carve out a solid role as a part-timer. However, when asked to hit every day regardless of pitcher handedness and field a position he can't handle Plouffe becomes a liability. Given his track record, if that continues don't blame Plouffe, blame the Twins.
So where does that leave him for 2014? There are several left-handed hitters with whom Plouffe could platoon, but expecting that from Ron Gardenhire is wishful thinking. It's possible that the Twins could look to trade Plouffe or even non-tender him rather than hand out a small raise via arbitration, but more likely is that he'll remain atop the third base depth chart until stud prospect Miguel Sano is deemed ready to take over, which might be as soon as Opening Day.
---
This week's blog content is sponsored by Twins Daily's new "2014 Offseason Handbook" featuring everything you need to prepare for the Twins' winter moves for just $6.95. Please support them for supporting AG.com.