January 29, 2014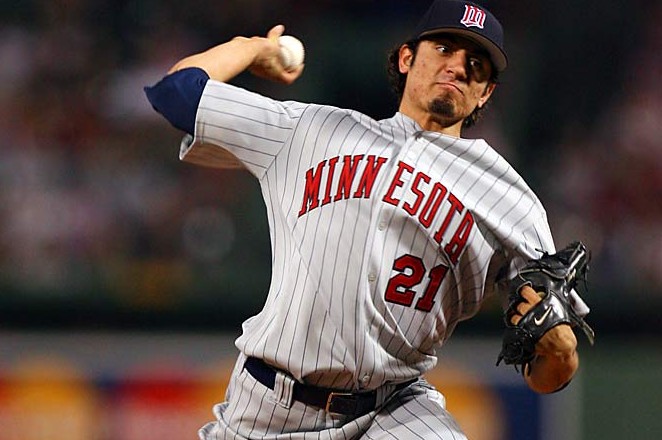 • In moving quickly to sign Ricky Nolasco and Phil Hughes early in the offseason the Twins seemingly signaled two things: One is that they really liked Nolasco and Hughes, believing they both represented good value within the context of this offseason's free agent starters. Beyond that, it also suggested that they felt the consensus top-tier starters from the class weren't worth parting with a draft pick to sign or would end up being out of their price range. Or both.
And yet two months after signing Nolasco to a four-year, $49 million contract the Twins watched as Matt Garza--considered by most people to be a more desirable free agent target--signed with the Brewers for a nearly identical four-year, $50 million deal. Garza, like Nolasco, didn't require forfeiting a draft pick to sign and at age 30 he's a year younger. But who's actually the better pitcher? Here are their numbers from the past three seasons:
           GS     IP     ERA    SO/9    BB/9    OAVG     GB%    xFIP     MPH
Garza      73    457    3.62     8.4     2.7    .245    43.8    3.46    93.5
Nolasco    97    596    4.29     6.6     2.1    .279    44.9    3.76    90.1
Garza missed some time with arm problems in 2012 and 2013, so Nolasco has a large innings edge from 2011-2013, but in terms of actually preventing runs Garza was much better. During that three-year span Garza posted a 3.62 ERA, compared to 4.29 for Nolasco, and within that he struck out 27 percent more batters while holding opponents to a batting average 34 points lower in less pitcher-friendly environments. His fastball velocity was also 3.4 miles per hour higher.
However, a lot of Nolasco's somewhat bloated ERA during that time stems from a .314 batting average on balls in play, which was the second-highest among all 84 pitchers to throw at least 400 innings from 2011-2013. By comparison Garza had a .293 batting average on balls in play during that same time, which was right in the middle of the pack. If you assume that the defense behind Nolasco was mostly to blame for all those extra hits falling in the two pitchers look much closer.
Expected Fielding Independent Pitching (xFIP) attempts to remove luck from the mix by focusing on the factors a pitcher can control and Garza had a 3.46 xFIP from 2011-2013, compared to 3.76 for Nolasco. In other words Garza was still clearly better than Nolasco during the past three years, but it wasn't as large of a gap as their ERAs suggested and the gap shrinks even further once you account for durability. With that said, for the same price tag I'd rather have Garza than Nolasco.
• When the Twins signed Kurt Suzuki to a one-year, $2.75 million deal I noted that the biggest worry was Ron Gardenhire falling in love with the veteran and choosing to play him far more often than his performance warrants. Turns out it may not even take Gardenhire falling in love with Suzuki for that to happen, as Terry Ryan has already gone from hinting that Suzuki rather than Josmil Pinto will be the starting catcher to basically saying Suzuki has the job locked up.
Pinto may prove incapable of being a decent defensive catcher, but his offensive upside is sizable and at age 25 there's a chance that he could develop into a good all-around catcher. Meanwhile, in the past three seasons Suzuki hit .235/.290/.353 while throwing out just 25 percent of stolen base attempts and rating very poorly in pitch-framing analysis. Suzuki hasn't been a starting-caliber catcher since 2009 and the Twins are likely to be mediocre at best, so why not let Pinto play?
• This week MLB.com, Baseball Prospectus, and ESPN.com all published their annual top 100 prospect rankings and Byron Buxton holds the top spot on each list. Buxton will also soon be named the No. 1 prospect by Baseball America when their list comes out. My annual series ranking and profiling the Twins' top 40 prospects kicks off next week, covering five prospects each day in countdown form.
• This week's "Gleeman and The Geek" episode was recorded live in front of a 300-person crowd at Twins Daily's inaugural "Winter Meltdown" event, with special guests Twins president Dave St. Peter, former Cy Young runner-up Scott Erickson, and Miguel Sano documentary filmmaker Jon Paley. Come for St. Peter getting laughs at my expense and stay for Erickson telling dirty stories.