May 7, 2014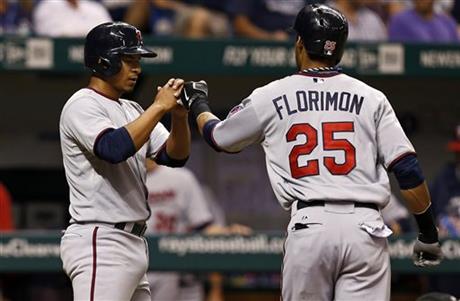 Pedro Florimon started 127 games at shortstop for the Twins last season and began this season in the same role, but now the 27-year-old defensive specialist finds himself mostly on the bench in favor of Eduardo Escobar. Ron Gardenhire has said that he plans to mix and match, but with Florimon hitting .109 and Escobar hitting .348 it seems safe to assume that Escobar will get an extended opportunity to claim the gig as his own.
Florimon was always ill-suited to be an everyday player because he just can't hit and his defense, while very good, is not at the elite level needed to cancel out his lack of offense. For his career he's hit .208/.268/.306 in 678 plate appearances as a big leaguer and .250/.317/.352 in 1,150 plate appearances at Double-A and Triple-A. For some context, consider that bad-hit, good-glove role model Nick Punto's career OPS is 73 points higher than Florimon's mark in the majors.
On defense Florimon makes lots of slick-looking plays, but he also botches his fair share of routine plays and overall Ultimate Zone Rating pegs him as 3.4 runs above average per 150 games. That's good but not great and when combined with a terrible bat makes him a utility man-caliber player being pushed into a larger role because the Twins lack other decent options. Or do they? Escobar is hitting .348 and delivered a game-winning homer Monday night, after all.
Of course, even with his good work in a small sample of action this season Escobar is still a career .244/.295/.335 hitter in 383 plate appearances as a big leaguer. He also hit just .266/.312/.376 in 875 plate appearances at Triple-A, which is basically what Florimon did with slightly more power. However, it's worth noting that Escobar is a couple years younger than Florimon and has recently shown some actual signs of improvement offensively.
In addition to hitting .348/.380/.522 in 53 plate appearances for the Twins this season Escobar also hit .307/.380/.500 in 188 plate appearances at Triple-A last season. That's still far too small of a sample to get particularly excited about, especially when the good overall production comes along with poor strike zone control, but unlike with Florimon there's at least a little something on which to base some level of optimism for Escobar's bat.
Defensively he's logged a grand total of just 375 innings at shortstop in the majors, so it's tough to make any real judgments, but Ultimate Zone Rating shows Escobar as 11.3 runs above average there per 150 games. Toss in the consistent praise he received defensively in the minors and it seems fairly safe to say that Escobar probably has at least an above-average glove there. So he's younger than Florimon, can't be any worse offensively, and may be as good defensively.
That's enough to convince me Escobar should be above Florimon on the shortstop depth chart, but then again they aren't the only two options. Eduardo Nunez, who was claimed off waivers from the Yankees last month, has plenty of experience as a starting shortstop in the majors subbing for Derek Jeter and the Twins seem convinced that he has offensive potential at age 26. Sadly, his defensive numbers are historically awful and there's little evidence that he's not a terrible hitter.
For his career Nunez has hit .268/.314/.379 in the majors and .272/.315/.365 in the minors, including .275/.318/.360 in 716 plate appearances at Triple-A. He's a better hitter than Florimon and might be a slightly better hitter than Escobar, but Ultimate Zone Rating pegs Nunez as 33.9 runs below average per 150 games at shortstop. Even if you give him the benefit of the doubt and cut that number in half Nunez isn't so much a shortstop as a guy who has played shortstop.
And then there's Danny Santana, a 23-year-old prospect called up from Triple-A way ahead of schedule because injuries left the Twins short-handed. Santana has gotten a surprising amount of prospect hype for someone who hasn't actually done much to deserve it. He's posted some decent batting averages in the minors, which along with good speed and athleticism tend to get lots of people excited, but he's also never cracked a .750 OPS in a season and makes a ton of errors.
Last season at Double-A he hit .297 with 30 steals in 137 games, but he also managed just two homers and 24 walks in 587 plate appearances. This season at Triple-A prior to being called up Santana hit .268/.311/.381 with zero homers and a 28-to-6 strikeout-to-walk ratio in 24 games. He's clearly not close to being MLB ready and there's plenty of reason to question whether he'll ever be ready to contribute as more than a utility man.
In the short term Escobar over Florimon seems like a fairly easy choice for Gardenhire and in the slightly longer term perhaps Santana will emerge as a viable option late this season or next, but as has been the case for more than a decade now the Twins lack long-term shortstop options that look capable of being assets both offensively and defensively. Their next good shortstop probably isn't in the organization, assuming such a person has even been born yet or will ever exist.
---
Advertise your product, service, business, or website to thousands of people each day and support the free content on AG.com by becoming a Sponsor of the Week.