July 18, 2014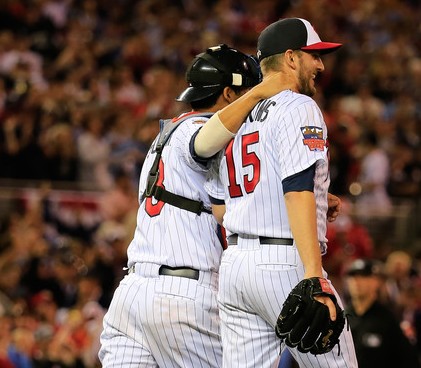 For all the talk about and money spent on improving their starting pitching the Twins' rotation ranks 28th in ERA among the 30 teams. Last year they ranked 30th. Two years ago they ranked 29th. Three years ago they ranked 26th. And even with some pretty good relief work included the Twins' pitching staff has the fewest strikeouts in baseball for the fourth consecutive season. Before the second half gets underway here's a pitcher-by-pitcher look at the individual performances ...
• Phil Hughes: .283/.297/.410 in 501 plate appearances
When the Twins signed Phil Hughes to a three-year, $24 million contract this offseason the idea was that getting him away from homer-inflating Yankee Stadium would fix his biggest problem of serving up long balls. That's played out exactly as hoped, with Hughes allowing just nine homers in 122 first-half innings after averaging 19 homers per 122 innings from 2010-2013. Beyond that there was also another big but unexpected change: He stopped walking anyone.
Hughes has always had mediocre control, averaging nearly 3.0 walks per nine innings for his Yankees career, but this season under Rick Anderson's coaching his walk rate is a miniscule 0.8 per nine innings. Not only is that the second-lowest rate in all of baseball--sandwiched between Hisashi Iwakuma and Clayton Kershaw--it's the second-lowest walk rate in Twins history behind only Carlos Silva's ridiculous 0.4 per nine innings in 2004.
Hughes' velocity and strikeout rate remain nearly identical to his Yankees days and he's still one of MLB's most extreme fly-ball pitchers, but switching home ballparks has made those fly balls less of a weakness and refusing to walk anyone has turned him into a different pitcher. He walked zero or one batter in 17 of 19 first-half starts (89 percent) after doing so in 61 of 132 starts (46 percent) for the Yankees. He's been a souped-up version of the Twins' long-preferred pitching mold.
• Kevin Correia: .292/.335/.439 in 478 plate appearances
Kevin Correia got off to a horrendous start, put together a nice stretch heading into the All-Star break, and just like last year finished the first half as one of baseball's worst starters. Offensive levels dropping across MLB have kept his numbers from being as gag-inducing as bad pitchers from 5-10 years ago, but among the 93 qualified starters this season Correia ranks dead last in strikeout rate, second-to-last in xFIP, and 84th in ERA. He also leads MLB with 11 losses.
Last year when Correia tossed 185 innings with the league's second-worst strikeout rate and seventh-worst ERA the Twins portrayed it as successful, but that was spin and now with several good prospects knocking on the door to the majors there's little value to be had in letting Correia finish out his two-year, $10 million contract. Since the beginning of last season the only two MLB pitchers with more innings and a higher ERA than Correia are Kyle Kendrick and ...
• Ricky Nolasco: .330/.368/.538 in 459 plate appearances
Signed to a four-year, $49 million deal this offseason to front the Twins' rotation, Ricky Nolasco was the worst starter in the league for three months and then revealed that he'd been pitching through an elbow injury since spring training. Within his terrible performance was some poor luck on balls in play, even by Nolasco's often "unlucky" standards, but his velocity, strikeout rate, and walk rate were also all worse than the 31-year-old's career norms.
Based on secondary numbers Nolasco performed more like a 4.50 ERA pitcher than a 5.90 ERA pitcher, but that's still awful in a year when the average starter has a 4.05 ERA. Justin Morneau hit .321/.375/.559 in his MVP-winning 2006 season. This year opponents have hit .330/.368/.538 off Nolasco. Thankfully for the Twins adding Hughes to the rotation has worked out well, because the decisions to sign Nolasco and re-sign Mike Pelfrey have gone about as poorly as possible.
• Kyle Gibson: .251/.303/.356 in 423 plate appearances
Kyle Gibson returned from Tommy John elbow surgery without bat-missing raw stuff, generating just 4.7 strikeouts per nine innings since going under the knife. That limits his upside and means he'll always be in danger of a rapid collapse, but his ability to induce grounders has remained with the rebuilt elbow and his ground-ball rate of 54.6 percent ranks seventh among all MLB starters. And after some early control problems he issued just nine walks in his final 10 first-half starts.
Throwing strikes and keeping the ball on the ground is a recipe for success, but without strikeouts that success likely tops out in the middle of the rotation. Which is fine, of course. The last Twins starter to log 150 innings with a higher ground-ball rate than Gibson's current mark was ... no one, at least not since 2002 when the data begins. Still, fewer than 5.0 strikeouts per nine innings is Silva, Nick Blackburn, and Scott Diamond territory, which is a dangerous place to be.
• Sam Deduno: .260/.344/.370 in 305 plate appearances
Once presumed to be a member of the rotation, Sam Deduno began the season in the bullpen before shifting into starter mode to replace the injured Pelfrey in May. After an ugly June 14 start he moved back to the bullpen, where he finished the first half by throwing 13 scoreless innings. His sample size of relief work is too small to draw any conclusions, but with a 4.51 ERA and 4.5 walks per nine innings in 41 career starts there's no need to see more of Deduno in the rotation.
• Anthony Swarzak: .265/.323/.359 in 198 plate appearances
Nearly all of the gains Anthony Swarzak made last season have vanished this year, as his strikeout and walk rates have regressed to the pre-2013 levels that made him look like a marginal big leaguer. His durability has value in a bullpen-saving role, but Swarzak is now 28 years old with a 3.69 ERA and just 5.8 strikeouts per nine innings in 132 career relief appearances. He doesn't miss enough bats or throw enough strikes.
• Glen Perkins: .230/.264/.375 in 163 plate appearances
I'm not sure people fully appreciate just how good Glen Perkins has been since moving to the bullpen full time in 2011. During that four-year span he's posted a 2.54 ERA in 235 appearances, compiling 269 strikeouts compared to 49 non-intentional walks in 234 innings. And since taking over for Matt Capps as closer in mid-2012 he's converted 74 saves at an 89 percent success rate. By comparison, Mariano Rivera converted 89 percent of his career save chances.
Among all MLB relievers with at least 200 innings since 2011 he ranks seventh in strikeout-to-walk ratio, eighth in average fastball velocity, and ninth in Win Probability Added and xFIP. He's been one of the 10 best relievers in baseball since becoming a reliever and Perkins is actually getting better, as this year's 49/7 K/BB ratio in 39 innings represents the best strikeout and walk rates of his career. He's the third-best reliever in Twins history behind Joe Nathan and Rick Aguilera.
• Jared Burton: .236/.306/.396 in 160 plate appearances
It'd be easy to point to his 3.34 ERA in 35 appearances since back-to-back ugly April outings as proof that Jared Burton has been his old self of late, but the truth is that a 3.34 ERA isn't even much better than this season's MLB average of 3.60 for relievers and his 24/10 K/BB ratio in 32 innings during that span is hardly vintage Burton. His velocity and strikeouts are down, his walks and fly-ball rate are up, and after a helluva run for the Twins he's in decline mode at age 33.
• Casey Fien: .215/.242/.347 in 155 plate appearances
Extreme fly-ball pitchers always make for tricky late-inning relievers and Casey Fien has had a few home run-based blowups, but he's also got a 2.95 ERA and fantastic 137/27 K/BB ratio in 137 innings since the Twins signed him as a minor-league free agent in 2012 and then called him up with zero expectations that July. During that three-year span Fien has been superior to Burton in strikeout rate, walk rate, opponents' average, ERA, and xFIP. He's the Twins' best setup man.
• Brian Duensing: .260/.327/.382 in 148 plate appearances
Compared to last season his ERA looks much better, but Brian Duensing's secondary numbers are actually much worse and in particular he's managed a poor 21/13 K/BB ratio in 36 innings. Duensing continues to be decent versus left-handed hitters, but he's walked more righties (10) than he's struck out (9). For his career righties have hit .297/.356/.462 off Duensing and he's not nearly dominant enough against lefties to make up for it.
• Mike Pelfrey: .305/.419/.505 in 119 plate appearances
Pelfrey was terrible in 2013, going 5-13 with a 5.19 ERA in 29 starts, but for some reason the Twins felt compelled to give him a two-year, $11 million contract. He went 0-3 with a 7.99 ERA in five starts, got shut down with a dubious groin injury, and later underwent elbow surgery. He's probably done for the season, but Pelfrey will be back in the mix for a rotation spot next season because he's still owed another $5.5 million.
• Caleb Thielbar: .231/.271/.413 in 118 plate appearances
Last season Caleb Thielbar came out of nowhere to emerge as the Twins' secondary left-handed setup man and he's filled the same role relatively well this year. At age 27 the former independent leaguer lacks long-term upside, but through 76 innings as a big leaguer he's got a 2.23 ERA and 60/22 K/BB ratio without extreme platoon splits. He's been used in low-leverage situations, but that could change in the second half if the Twins start auditioning him for Duensing's gig.
• Matt Guerrier: .245/.295/.324 in 113 plate appearances
Signed to a minor-league deal and then promoted to Minnesota one day before the mid-May opt-out clause in his contract, Matt Guerrier has posted a nice-looking 2.67 ERA with just one homer allowed in 20 appearances. He hasn't quite been his old self, however, with just 12 strikeouts in 27 innings and an average fastball velocity of 89 miles per hour. At age 35 he's a low-leverage reliever, which is exactly how the Twins have used the former setup man.
---
This week's blog content is sponsored by Uber, which is offering a free ride to first-time users who sign up with the promo code "UberGleeman."