July 23, 2014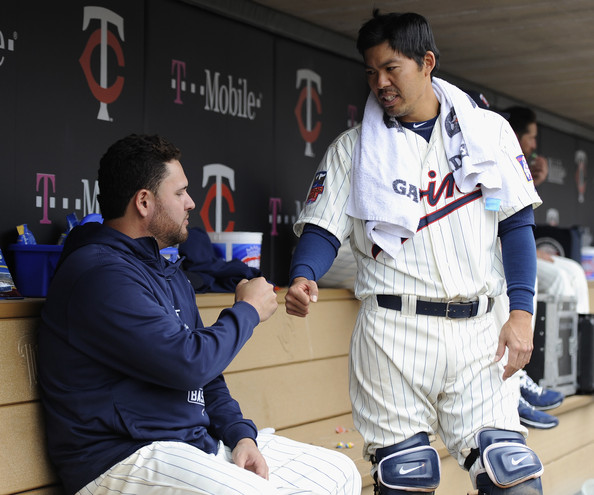 As the Twins stumble toward a fourth consecutive losing season next week's trade deadline is an opportunity to acquire young talent to aid the ongoing rebuilding effort. But will any of the Twins' obvious trade candidates be in enough demand to actually fetch significant long-term help? And does it make sense for the Twins to shop some not-so-obvious veterans in an effort to make a bigger splash? Here's my view of the players they might deal between now and July 31.
---
Kurt Suzuki: Signed for $2.75 million to, in theory, split time behind the plate with Josmil Pinto and mentor the rookie, Suzuki instead immediately became the primary catcher and then decided to have the best season of his career at age 30. If you trust pitch-framing numbers and/or simply look at the pitching staff's overall ineffectiveness his impact hasn't been quite as profound as the Twins would have you believe, but either way Suzuki has been fantastic.
Of course, the reason he was available so cheaply is that Suzuki hit .237/.294/.357 in 477 games from 2010-2013, and in general investing in catchers on the wrong side of 30 is iffy. Signing him to a contract extension would be the Twins' style, but unless Suzuki is willing to accept similarly inexpensive terms on another deal it would make sense to cash him in for a decent prospect if that's a possibility. One good half-season and a useful prospect for $2.75 million would be ideal.
---
Josh Willingham: I've been suggesting the Twins shop Willingham since the middle of his first season in Minnesota, when he was a 33-year-old having a career-year and seemed to have a decent trade market among contending teams. Two years later he's a struggling 35-year-old impending free agent who's looked so washed up of late that he might not even have a place in the Twins' lineup, let alone anything resembling trade value.
He can still draw walks and smack the occasional homer, but Willingham has zero business seeing the field defensively and has been one of the worst hitters in baseball since mid-June. Going back even further, since the beginning of last season he's hit just .211/.349/.384 in 163 games. He has $3 million left on a three-year, $21 million deal and while the money saved probably wouldn't be re-invested in the team anyway his at-bats could go to someone with a future in Minnesota.
---
Kendrys Morales: Signed for $7.5 million two months into the season because the Twins thought they were close to contending and assumed he'd be a sizable upgrade over Pinto, but instead their thoughts of relevance quickly vanished and Morales has been terrible. It's possible that once he shakes off more of the rust Morales will be his usual self, but it's also possible that he won't and either way it won't really do the Twins much good.
Pinto looks capable of being as good or better than Morales right now and at age 25 certainly has a brighter future even if the Twins determine he's purely a designated hitter. Why give playing time to a 33-year-old impending free agent when you can give those at-bats to a 25-year-old who might be better anyway? If any of the teams that wanted Morales in June still want him now the Twins should take whatever they can get and chalk the whole experience up to a misguided flier.
---
Trevor Plouffe: Coming into the season it seemed likely that the Twins would have parted ways with Plouffe by now and handed his job to stud prospect Miguel Sano, but instead Sano is out for the year following Tommy John surgery and Plouffe has been a decent starting third baseman. And because Sano's future at third base is now very much in question, keeping Plouffe around for next season now seems like a reasonable option.
Plus, it's not like Plouffe is going to fetch much in a trade anyway. He's a 28-year-old career .241/.303/.412 hitter who should probably be platooned and is at best not-horrible defensively at third base. He'd be a decent fit for a lot of teams in a part-time role, knocking around lefties at a few different positions, but teams don't give up significant prospects for those types of players and Plouffe could always fill a similar role for the Twins in 2015 if Sano makes a flawless comeback.
---
Glen Perkins: In theory trading a closer is almost always a good idea if there's good value to be had because they tend to be overrated. This is a much more complicated case, because Perkins has been one of the dozen or so best relievers in baseball since moving to the bullpen full time in 2011, he's a lifelong Minnesotan beloved by the fan base, and he just signed a contract extension through 2018 in which he'll never make more than $7 million in a season.
Would it make sense to trade a really good 70-inning pitcher for a top prospect or two and try to re-start the whole cycle by replacing him in the closer role with a different former starter or setup man? Sure. But the Twins will never do that and Perkins is good enough and cheap enough that moving him for prospects is hardly guaranteed to look smart a few years down the road anyway. This isn't a Matt Capps situation. Perkins is a legitimately elite reliever, closer or otherwise.
---
Ricky Nolasco: This offseason there was presumably enough interest in Nolasco as a free agent that the Twins had to pay $49 million to sign him. A half-season later the Twins would surely be thrilled to hand the remainder of his contract over to another team and would probably pay a big chunk of the 2015-2017 bill just to wash their hands of the situation. It's a moot point because he's on the disabled list with an elbow injury that's apparently been present since spring training.
---
Jared Burton: Whatever trade value Burton had peaked in 2012, but much like Willingham the Twins stuck with him and now there isn't really anything left to trade. His velocity, strikeout rate, and walk rate have all declined to the point that Burton now profiles as a run of the mill middle reliever rather than an elite setup man, and at age 33 exercising the $3.6 million team option for 2015 no longer even looks like a no-brainer decision.
---
Brian Duensing: He stood out as a potential non-tender candidate this offseason, but the Twins brought back Duensing for $2 million via arbitration and he's been his usual self. Which is to say not good enough versus lefties to be a southpaw specialist and far too weak versus righties to be a trustworthy setup man. He has a nice-looking ERA and one more year of team control, so if the Twins can squeeze a mid-level prospect out of some team for Duensing they should jump at it.
---
Kevin Correia: One of MLB's worst starters since the Twins gave him a two-year contract last offseason, Correia's durability and innings-eating only appear to be strengths because he's on one of the few teams that wouldn't have dumped him from the rotation by now. He's close to being a replacement-level starter and giving that type of player $10 million and two full seasons worth of starts would be replacement-level decision-making. His rotation spot is more valuable than he is.
---
This week's blog content is sponsored by Uber, which is offering a free ride to first-time users who sign up with the promo code "UberGleeman."