September 3, 2014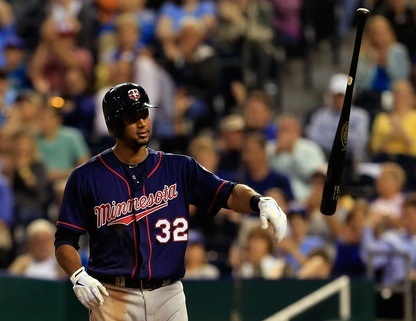 September 1 roster expansion means an assortment of new and sort-of-new players added to the Twins' roster for the final month of the season, so here's a look at the call-ups:
• Aaron Hicks, 24-year-old outfielder
Hicks has been bad enough in 129 games for the Twins--hitting .194 with poor defense--that his status as a top-100 prospect as recently as last season is easy to forget, but there's still a decent chance he becomes a useful regular. Whether that comes in Minnesota or elsewhere is unclear, because Byron Buxton's presence means the window for someone else to play center field is a small one and Hicks hitting enough to be an asset as a corner outfielder is a stretch.
Hicks' primary strength as a hitter has always been plate discipline, but he's been more passive than patient in the majors and even in the minors as a prospect he struck out a lot and posted mediocre batting averages. Demoted to Double-A in mid-June and once again a switch-hitter, he batted .297/.404/.466 with more walks (28) than strikeouts (27) in 43 games and then batted .278/.349/.389 in 24 games at Triple-A following an August promotion.
Overall between the two levels Hicks hit .291/.387/.441, which is plenty solid for a 24-year-old and nearly identical to his .286/.384/.460 line at Double-A in 2012 that wrongly convinced the Twins he was ready for the big leagues. Obviously his stock has plummeted since then, but they'd be smart to give Hicks another extended opportunity down the stretch. His skill set is such that he can provide reasonable value hitting .240 and as awful as he's looked that's still doable.
• Josmil Pinto, 25-year-old catcher/designated hitter
By signing Kurt Suzuki to a two-year, $12 million contract extension the Twins made it clear they don't think Pinto's defense is good enough to be a starting catcher. He can still provide plenty of value as a part-time catcher and part-time designated hitter, but his upside in that role would be considerably lower and the emergence of Kennys Vargas means Pinto's future at DH could be cloudy as well.
Pinto's month-long slump led to the Twins casting him aside for Kendrys Morales in mid-June, which was questionable at the time based on their respective track records and proved to be a horrendous move when Morales hit like a backup shortstop for six weeks. Pinto has been in the minors since then, hitting .279/.376/.457 in 60 games at Triple-A after hitting .309/.400/.482 between Double-A and Triple-A last season.
It might take Vargas slumping for Pinto to get another extended opportunity, but a 25-year-old with a .265/.349/.464 line through 64 games in the majors to go along with a strong track record in the minors deserves a much longer leash than he's received so far. Pinto has plenty of power potential, he can draw walks, and his OPS in the majors (.813) is nearly the same as Vargas' (.830) right now. He just needs a chance to show the slump was merely a slump.
• Michael Tonkin, 24-year-old right-hander
After pitching well in an 11-inning Twins debut last season Tonkin seemed likely to have a sizable role at some point this season, but instead the bullpen in Minnesota was rarely a big problem and he spent most of the year in Rochester. Combined between this year and last year Tonkin has a 3.48 ERA and 82 strikeouts in 78 innings at Triple-A, and unlike most hard-throwers his control has actually been good with only 16 non-intentional walks.
Tonkin struggled in a month-long stint with the Twins this season, but the 6-foot-7 right-hander has averaged 94 miles per hour with his fastball in the majors and has the minor-league track record to match. He throws strikes and misses bats with quality raw stuff and should emerge as a late-inning bullpen option in 2015. Counting the minors and majors Tonkin has 228 strikeouts in 195 innings since moving to the bullpen full time in 2012.
• Lester Oliveros, 26-year-old right-hander
Oliveros was acquired from the Tigers in the 2011 trade for Delmon Young and missed most of 2013 recovering from Tommy John surgery. He returned better than ever, starting the season at Double-A before moving up to Triple-A. Overall he threw 66 innings with a 1.64 ERA, including 12.1 strikeouts per nine innings and a .187 opponents' batting average with zero homers in 272 plate appearances. (Naturally he allowed a homer to the first MLB batter he faced Tuesday.)
Oliveras has always had a big fastball, averaging 94 miles per hour as a big leaguer in limited pre-surgery action. He's also always had iffy control, with nearly four walks per nine innings in the minors. His rebuilt elbow can still reach the mid-90s consistently and Oliveros made some minor strides with his control when a lot of pitchers see their walk rate rise after surgery. At age 26 he looks like an intriguing 2015 bullpen option.
• A.J. Achter, 26-year-old right-hander
Achter was a 46th-round draft pick out of Michigan State in 2010 and posted a 4.52 ERA in 2011 as a starter at low Single-A, but he shifted to the bullpen in 2012 and has a combined 2.10 ERA in 213 innings as a reliever since then. That includes a 2.17 ERA and 80-to-25 strikeout-to-walk ratio in 79 innings between Double-A and Triple-A this season, which was enough to get him added to the 40-man roster for September.
However, his shiny ERAs come with good but not exceptional strikeout rates and Achter's control is mediocre. He's done an amazing job limiting hits, including a .173 opponents' batting average this season, but that was driven by an unsustainably great .228 batting average on balls in play. Toss in underwhelming velocity and his odds of sticking in the majors don't seem particularly good, but at age 26 he warrants a "why not?" look.
• Aaron Thompson, 27-year-old left-hander
Not technically a September call-up, Thompson was added to the roster on August 31 when the Twins lost Sam Deduno on waivers to the Astros. Ron Gardenhire talked up Thompson's work against left-handed hitters in Rochester and sure enough he held them to a .186 batting average, but a 13/7 K/BB ratio hardly displayed dominance and last season, also in Rochester, he allowed lefties to hit .267 compared to .265 by righties. In other words, it looks like a fluke.
Thompson is a 27-year-old journeyman with a 4.33 ERA in a decade as a minor leaguer, including a 3.52 ERA and thoroughly mediocre 107-to-51 strikeout-to-walk ratio in 120 innings at Triple-A. He's a former first-round draft pick, but that no longer matters much considering it was the same year (2005) the Twins selected Matt Garza three picks later. Deduno is certainly no big loss, but he has higher odds than Thompson of being a valuable reliever for the Twins.
• Logan Darnell, 25-year-old left-hander
Darnell fared well at Double-A to begin last season, but has a 3.82 ERA in 172 innings at Triple-A along with a poor strikeout rate and mediocre control. He got knocked around in a brief stint with the Twins earlier this season while averaging just 90.3 miles per hour with his fastball and looks unlikely to be stick as a starting pitcher thanks to an inability to hold right-handed bats in check. Like most competent lefty starters he could have a future in the bullpen as a southpaw specialist.
• Chris Herrmann, 26-year-old catcher/outfielder
In theory Herrmann brings versatility to the bench, but he's really a catcher in name only and doesn't hit enough for a corner outfielder. In fact, among all Twins hitters with at least 200 plate appearances in the Gardenhire era of 2002-2014 he has the third-worst OPS ahead of only Drew Butera and Tsuyoshi Nishioka. He actually hit well in 60 games at Triple-A this season, but he's 26 years old with a sub-.400 slugging percentage between Double-A and Triple-A.
• Doug Bernier, 34-year-old infielder
Bernier spent the second half of last season with the Twins in a utility infielder role, logging just 64 plate appearances in two-plus months. He was dropped from the 40-man roster, re-signed on a minor-league contract, and has now been added back to the 40-man roster for a September stint. Presumably the 34-year-old journeyman will be dropped again after the season, but Bernier can play all over the diamond defensively and had a solid season at Triple-A hitting .280/.348/.396.
---
For a lot more about the Twins' plans for September and what their offseason shopping list may look like, check out this week's "Gleeman and The Geek" episode.