May 20, 2015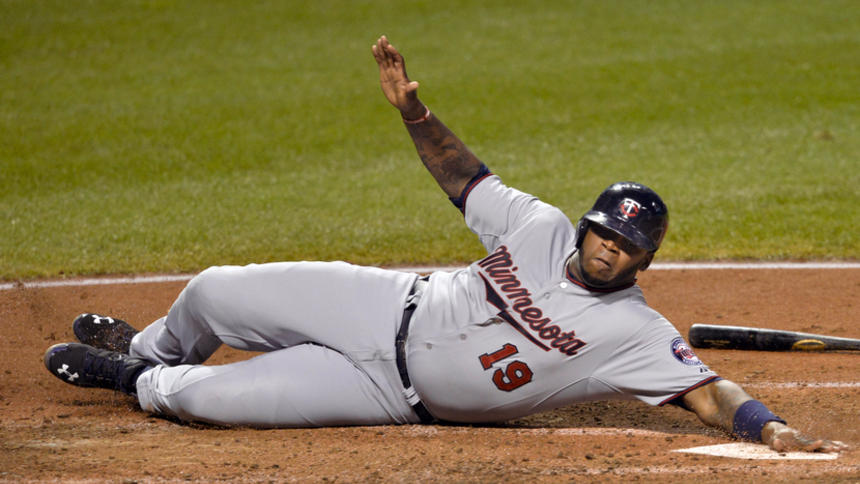 Last season when the Twins dumped Kendrys Morales and his remaining salary on the Mariners in late July they called up Kennys Vargas to replace him as the starting designated hitter. It was an unexpected move because Vargas was a good but not great prospect putting up good but not great numbers at Double-A as a 23-year-old. Vargas arrived with a hot bat, hitting .330 with four homers, seven doubles, and an .875 OPS in his first 25 games despite an ugly 29/4 K/BB ratio.
Vargas then cooled off considerably by hitting .223/.276/.402 with 34 strikeouts in his final 28 games, but he finished the season with solid overall numbers and faced little competition for the Opening Day designated hitter job this spring. He got off to a brutal start this year, hitting .172 in April, but the Twins stuck with Vargas and he hit .366 with two homers, two doubles, and a .956 OPS through a dozen May games ... at which point they demoted him to Triple-A.
There was some writing on the wall, as manager Paul Molitor repeatedly benched Vargas during his hot streak, but demoting a player in the midst of a productive stretch following an extended slump is odd timing to say the least. Odder yet, Vargas' good stretch came immediately after the Twins worked with him to adjust his swing mechanics. It paid off, as Vargas notched 14 hits in 10 starts this month and also delivered a pinch-hit homer. And now he's in Rochester.
Vargas' strike zone control absolutely needs improvement after striking out 93 times compared to just 17 non-intentional walks in 82 games for the Twins and further developing that skill against minor-league competition could be a good idea. Which is why it was surprising when the Twins promoted Vargas from Double-A to majors last year and why the timing of this year's demotion, rather than the demotion itself, is what stands out now.
What also stands out now is the Twins' lack of other appealing designated hitter options. Several times Molitor benched Vargas in favor of Eduardo Nunez and Eduardo Escobar, a pair of utility infielders who each have a career OPS below .700 in the majors and the minors. Now that Vargas is out of the mix Nunez and Escobar figure to see even more action as left fielders and designated hitters, which is a weird thing to do intentionally.
Here's how Vargas, Nunez, and Escobar have hit in their respective Twins careers:
                    AVG      OBP      SLG      OPS
Kennys Vargas      .266     .309     .425     .734
Eduardo Nunez      .265     .291     .403     .694
Eduardo Escobar    .260     .300     .379     .679
In performing poorly enough to get demoted back to the minors Vargas still easily out-produced Nunez and Escobar. And unlike either Nunez or Escobar, there's actually evidence within Vargas' track record as a minor leaguer to suggest he's capable of producing more. Torii Hunter spending more time at DH is also likely in Molitor's plans, but that mostly just opens up an outfield spot for Eddie Rosario and there's little to indicate he's ready to out-produce Vargas either.
It'd be one thing if the Twins demoted Vargas and replaced him with another young hitter with DH-caliber potential like Josmil Pinto or if Oswaldo Arcia was due to return from the disabled list shortly and they wanted to work him back into the lineup at DH. But to demote Vargas now, when he was seemingly getting on track, and to give his at-bats to a pair of utility infielders and Rosario is a thought process begging to be questioned.
---
For a lengthy discussion of the Twins' decision to demote Vargas, plus talk about how long Aaron Hicks might stick around, check out this week's "Gleeman and The Geek" episode.