May 8, 2013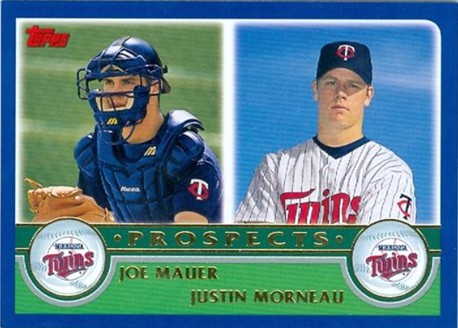 Coming into the season the Twins were universally regarded as having one of the truly elite farm systems in baseball, boasting plenty of star-level talent and impressive depth. I called it the best crop of Twins prospects in my decade-plus writing about the team and nothing has changed since then, as consensus top-25 prospects Miguel Sano and Byron Buxton are off to amazing starts and most of system's other significant prospects have played well.
I've written plenty about the Twins' prospects as part of my annual rankings, so there's no sense in revisiting everything a month into the season, but I thought it would be interesting to examine the recent history of Twins prospects. This year the Twins had six prospects in Baseball America's top 100 list, including Sano and Buxton in the top 10 and Oswaldo Arcia in the top 50, but what exactly has it meant to be a Twins prospect in the Baseball America top 100?
I wanted to focus on how prospects were perceived nationally at the time, rather than local hype or how I personally viewed them or how they actually turned out--no Johan Santana, in other words--so I relied on BA's list. On a season-to-season basis prospect crops vary wildly, so not all rankings are created equal, but below you'll find my best estimate of the highest-rated and/or most-hyped Twins prospects since 2000 (minus current prospects) and where they stand now.
---
1. Joe Mauer: #7 in 2002, #4 in 2003, #1 in 2004, #1 in 2005
Joe Mauer was basically as good as prospects get. He was a multi-sport superstar in high school, got drafted No. 1 overall, had immediate success hitting .400 at rookie-ball, thrived at every stop in the minors despite being young for the level of competition, was named Baseball America minor league player of the year, and reached the majors two weeks before his 21st birthday. Mauer was arguably the best MLB prospect of the 2000s and has obviously lived up to the hype.
---
2. Francisco Liriano: #83 in 2003, #6 in 2006
When the Giants traded Francisco Liriano to the Twins he was a former top 100 prospect who'd fallen off the list due to arm problems in the low minors, but two years later he re-emerged as the best pitching prospect in baseball. He showed why with one of the most dominant rookie seasons ever, but that was cut short by elbow surgery. Liriano has found some post-surgery success, but he was never the same and is a prime example of the volatile nature of pitching prospects.
---
3. Justin Morneau: #21 in 2002, #14 in 2003, #16 in 2004
Coming up in the same farm system at the same time as Mauer made Justin Morneau somewhat overshadowed, but he was definitely an elite prospect. Not only did Morneau rank among Baseball America's top 25 prospects in three straight seasons, he put up big numbers at every level in the minors and debuted in the majors a month after his 22nd birthday. Injuries have unfortunately kept Morneau from realizing his full potential, but he obviously lived up to the hype.
---
4. Michael Cuddyer: #36 in 1999, #18 in 2000, #55 in 2001, #27 in 2002, #17 in 2003
Michael Cuddyer was the ninth overall pick out of high school and cracked Baseball America's top 50 a remarkable five times, peaking at No. 17 the same year Mauer was No. 4 and Morneau was No. 14. He doesn't have an MVP, but Cuddyer has played 13 seasons as an above-average corner outfielder and occasional infielder, hitting .272/.342/.457. Everyone should be thrilled if similarly hyped prospects turned out as well as Cuddyer.
---
5. Jason Kubel: #17 in 2005, #58 in 2006
Oh, what could have been. Jason Kubel hit .352/.414/.590 with 16 steals between Double-A and Triple-A at age 22, hit .300 in a 23-game September debut, and ranked 17th on BA's list. Then a gruesome collision destroyed his knee, knocked him out for an entire year, and turned Kubel from an athletic, high-average hitter with good speed to a plodding slugger. And yet Kubel has still managed a decade-long career as an above-average corner outfielder not far off from Cuddyer.
---
6. Matt Garza: #21 in 2007
Matt Garza made just one Baseball America top 100, but that's because he went from first-round pick to the big leagues in one year. After some initial struggles Garza made 15 starts with a 3.69 ERA as a 23-year-old, at which point the Twins traded him for Delmon Young. Young is one of the biggest prospect busts of the 2000s whereas Garza had a five-season run as a solid No. 2 starter, but injuries have derailed him at age 29.
---
7. Michael Restovich: #50 in 1999, #26 in 2000, #63 in 2002, #37 in 2003
Drafted in the second round out of a Minnesota high school, Michael Restovich was a 6-foot-6 slugger who put up big power numbers in the minors and ranked among Baseball America's top 100 prospects four times. He debuted with the Twins at age 23 after hitting .286/.353/.542 at Triple-A, but never got an extended chance despite generally faring pretty well. He was lost on waivers in 2005, bounced around a ton, and ended up with just 297 career plate appearances.
---
8. Carlos Gomez: #60 in 2007, #52 in 2008
Carlos Gomez twice cracked Baseball America's top 100 in the Mets' system and was arguably the centerpiece of the Twins' haul for Santana. He debuted at age 21 and was the Twins' starting center fielder at 22, but rushing Gomez through the minors left him as mostly a mess offensively. Traded to the Brewers for J.J. Hardy after the 2009 season and now 27, he's finally becoming an impact hitter to go along with what was always excellent defense.
---
9. Adam Johnson: #41 in 2002, #85 in 2002
Adam Johnson was the No. 2 pick in 2000 draft out of Cal-State Fullerton, but Baseball America projected him as a mid-first rounder and the Twins were criticized for making a "signability pick." Johnson predictably fared well in the low minors against less experienced competition and cracked the top 50 in 2002, but things fell apart once he advanced past Single-A. He posted a 10.25 ERA in 26 innings as a major leaguer, washing out at age 23.
---
10. Luis Rivas: #70 in 1997, #55 in 1998, #63 in 1999, #86 in 2000, #93 in 2001
Luis Rivas ranked as a top 100 prospect in five straight seasons, but in the early days of this blog I wrote often about how his actual performance never matched the hype. He never hit well in the minors, yet the Twins made him their starting second baseman at age 21 and stuck with him as a regular for five seasons despite a .262/.307/.383 mark and iffy defense. He played 565 games for the Twins through age 25, but totaled just 83 more games after they finally let him go.
---
11. Wilson Ramos: #71 in 2009, #58 in 2010, #96 in 2011
While never quite an elite prospect Wilson Ramos typically ranked among the top five catchers and was a good enough prospect for long enough to create questions about how the Twins could make room for him and Mauer in their long-term plans. Ramos was a top 100 prospect three times and debuted with the Twins at age 22, but was traded to the Nationals for Matt Capps later that season. He's still just 25, but looks headed for a lengthy career as an above-average catcher.
---
12. Glen Perkins: #91 in 2006, #66 in 2007
Glen Perkins starred for the Gophers, made the top 100 twice, and debuted for the Twins two years after they made him a first-round pick. He was billed as a mid-rotation starter and looked the part as a 25-year-old rookie, but then struggled for two seasons as injuries derailed him. Perkins was demoted to the minors at age 27 and returned as a reliever, throwing harder than ever and quickly moving into the closer role.
---
13. J.D Durbin: #66 in 2004, #70 in 2005
J.D. Durbin threw hard and talked a good game, nicknaming himself "The Real Deal." He debuted in 2004 with all kinds of promise at age 22, but didn't make it back to the majors until 2007 and all that prospect shine had worn off by then. His strikeout rates and overall numbers in the minors never quite matched his hype and once he got to Triple-A poor control further did him in. Last year Durbin spent his 13th season in the minors, compared to 73 total innings in the majors.
---
14. Deolis Guerra: #35 in 2008
Deolis Guerra is technically still a prospect in that he's only 24 years old and hasn't reached the majors, but between his on-field struggles and recent health problems he's looking like a long shot to have a big-league career. Once upon a time many people felt that Guerra, not Gomez, was the best prospect in the Santana package, but like Gomez he wasn't helped by being rushed through the minors in the Mets' system and has had little success above Single-A.
---
15. Matthew LeCroy: #44 in 2000
Matthew LeCroy was a first-round pick out of college and crushed minor-league pitching while moving quickly through the Twins' system, debuting as their Opening Day catcher in his third pro season. He struggled offensively and proved to be a liability behind the plate, but after a demotion back to the minors he returned as a good platoon bat versus left-handed pitching at designated hitter, first base, and occasionally catcher.
---
16. Kevin Slowey: #71 in 2007
Kevin Slowey was an oft-debated prospect because his ridiculously great numbers in the minors didn't match his underwhelming raw stuff. Baseball America tends to skew heavily toward stuff over stats, so the fact that Slowey still made the top 100 shows just how silly his numbers were. He debuted at age 23 after posting a 2.28 ERA and 159-to-31 strikeout-to-walk ratio between Double-A and Triple-A, and split the difference by becoming a decent mid-rotation starter.
---
17. Ben Revere: #59 in 2009
Ben Revere was viewed as a reach in the first round of the 2007 draft, but started to get some prospect hype after he hit .379 at low Single-A in 2008. That was his only year appearing in the top 100, which isn't surprising considering prospect rankings are all about upside and Revere's complete lack of power and arm strength limited that even in optimistic scenarios. He's more or less become the flawed but useful player his minor-league track record suggested.
---
18. Jesse Crain: #89 in 2004, #63 in 2005
Jesse Crain was a college reliever and second-round pick who moved quickly through the Twins' system, debuting at age 23 after 162 innings in the minors. While the shape of his performance has changed over the years, Crain was a good setup man immediately and has remained so for a decade with a 3.18 ERA that includes just two seasons above 3.60. Relievers are rarely considered elite prospects, but Crain's career has gone almost exactly as hoped.
---
19. Matt Moses: #81 in 2004, #75 in 2006
Billed as a "pure hitter" coming out of high school as a first-round pick, Matt Moses got by on that reputation for quite a while before everyone finally realized that he couldn't actually hit. He cracked Baseball America's top 100 twice, peaking at No. 75 on a 2006 list that had Jay Bruce, Dustin Pedroia, and Kendry Morales in the next three spots, but never advanced beyond Double-A and hit just .249/.304/.374 in the minors overall before washing out at age 24.
---
20. Nick Blackburn: #56 in 2008
I disagreed so much with Baseball America ranking Nick Blackburn as the Twins' top prospect in 2008 that I made a bet with the magazine's editor, John Manuel, that Blackburn wouldn't get 70 career wins. I'm feeling pretty safe about the bet now with Blackburn stuck on 43 wins and his career at a crossroads, although in retrospect he did turn out better than I expected even if 819 innings of a 4.85 ERA is nothing special.
---
This week's blog content is sponsored by Curt's Salsa, a locally owned salsa company that believes in fresh ingredients and rooting for the little guy. Please support them for supporting AG.com.