September 27, 2013
• This exact same thing happened to me on the Stearns County Party Bus back in June.
• Speaking of things that have happened to me, former Vikings receiver Nate Burleson crashed his car and broke his arm because he was distracted by pizza.
• I think I've finally found a religion that I can get behind.
• Sarah Silverman had pretty good mechanics throwing out the first pitch in Toronto and I hope MLB adopts those boots as part of the uniform.
• Al Michaels reminds everyone why he's the best and I'm definitely one of "his people."
• On this week's "Gleeman and The Geek" episode we got free beer delivered to us as we talked, discussed all-time great butts, and complained about being hassled by the cops.
• My favorite movie of all-time hit theaters this week in 1995:
Someone worked very hard on that preview to make it look like a cookie-cutter movie.
• Luckily for me (and the Gophers) dropping out means I've still got some eligibility remaining.
• Having experienced No. 164 in person many times I honestly think it could out-draw the Twins.
• Last weekend's Jon Jones-Alex Gustafsson fight was one of the best in UFC history and the photo Gustafsson posted afterward was equally good.
• My birthday is three months away, so it's never too early to start shopping.
• "Blue Valentine" director Derek Cianfrance is in talks to direct a movie about ESPN, so there's a decent chance Ryan Gosling plays Chris Berman.
• I'm studying this to prep for Parker Hageman's wedding even though I haven't been invited.
• I didn't realize Dana Wessel is writing for How About We, but the John Mayer part is accurate.
• Speaking of which, I read this every week even though I don't understand any of it.
• Last month I linked to fake movie posters from "Seinfeld" and now there's a second batch.
• Who wore it better?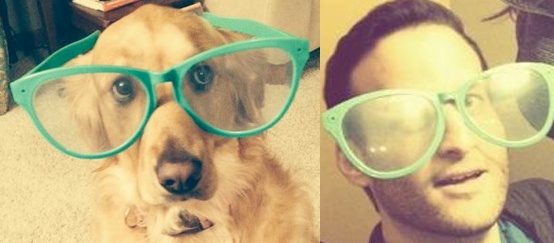 And be honest.
• Justin Morneau, his mustache, and his wife are headed to the playoffs with the Pirates.
• Carlos Gomez hit his 23rd homer of the season Wednesday and then all hell broke loose.
• This is how I felt while witnessing a Target Field wedding proposal at Wednesday night's game.
• And then Thursday night I was there to see Dick Bremer smooch Bert Blyleven on Kiss Cam.
• If the goal was to get a bunch of people to never buy your pasta again ... mission accomplished.
• I'd really love to see Mariano Rivera play center field this weekend.
• I stumbled across this 2007 photo of me at Busch Stadium and it really captures my essence.
• I'm more offended by her dating Ashton Kutcher, but Mila Kunis photobombing 81-year-old Steelers owner Dan Rooney isn't so great either.
• As always, I'm committed to posting any and all Lizzy Caplan videos:
Caplan also had a good chat with my favorite television writer, Alan Sepinwall.
• It's a flawed movie, but "Don't Stop Believin': Everyman's Journey" tells the fascinating story of how Filipino cover band singer Arnel Pineda became the new front man for Journey.
• I really enjoyed Jesse Thorn's lengthy chat with "The Office" co-creator Stephen Merchant.
• Probably the only thing better than Amy Poehler is Amy Poehler's laugh, both of which are on full display in a surprisingly dirty "Comedy Bang Bang" episode.
• Two great tastes that taste great together: Alison Agosti was a guest on Jonah Keri's podcast.
• Some of this week's weird and random search engine queries that brought people here:
- "What does concussion mean?"
- "How did Joe Meyer get a concussion?"
- "David Gray baseball"
- "David Simon baseball"
- "Andre Braugher weight gain"
- "Chelsea Peretti nude"
- "Proven closer t-shirt"
- "Gerald Laird hair"
- "Cory Cove food weird"
- "Lean Cuisine success stories"
• Finally, because I hadn't heard it in 15 years and still sang a flawless duet of it over the weekend this week's AG.com-approved music video is "Too Close" by Next:
---
Interested in sponsoring a week of AG.com and advertising your product, service, local business, or website directly to thousands of readers each day? Click here for details.