July 25, 2011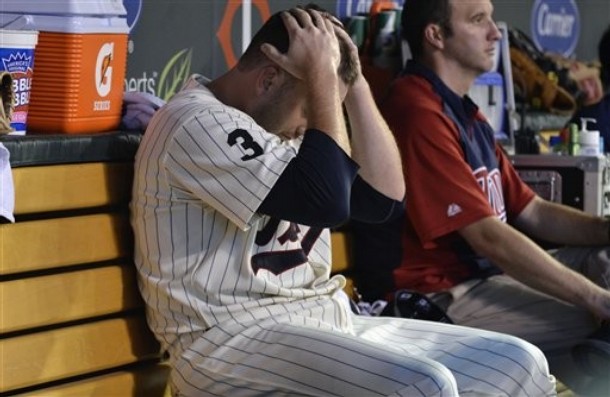 • Yesterday marked the two-thirds point of the 18-day, 19-game stretch that figured to define the Twins' season leading right up to the July 31 trade deadline. So far they're 6-6 and seven games out of first place, which is a half-game further back than the start of the stretch and the same deficit as a month ago. For all their getting healthy and turning things around the Twins have basically tread water for a month, leaving only 61 games to close a seven-game gap.
At this stage various playoff odds put the Twins less than five percent to win the division, but a) they're presumably better than the overall record shows, b) the rest of the AL Central is far worse than an average division, and c) memories of what happened down the stretch in 2006 make many people reject the idea of becoming sellers regardless of the odds. Tough decisions need to be made this week, the impact of which extends well beyond August and September.
• Dan Connolly of the Baltimore Sun reports that the Twins are "eyeing" Orioles reliever Koji Uehara, who's quietly been one of the most dominant pitchers in baseball since moving to the bullpen full time last season. Uehara was a solid but injury prone mid-rotation starter, but as a reliever he has a 2.35 ERA and ridiculous 113-to-13 strikeout-to-walk ratio in 88 innings while holding opponents to a .187 batting average.
It doesn't get much better than that and sure enough his 2.51 xFIP since the beginning of last season ranks third among all relievers with at least 80 innings. Uehara isn't a household name and as a 36-year-old with injury baggage he'd come with some risk, but if healthy he's an elite reliever and has a reasonable $4 million option for 2012. Connolly writes that the Orioles "are looking for major league-ready starting pitching," which makes Kevin Slowey a possible fit.
• Slowey has actually been linked to quite a few teams as rumors swirl leading up to Sunday's trade deadline. Jon Paul Morosi of FOXSports.com reports that the Blue Jays scouted him at Triple-A, which makes sense given that they showed interest in Slowey during spring training. Toronto is believed to be shopping various veteran relievers, including old friend Jon Rauch, so that seems like a natural fit. At this point I'd be very surprised if Slowey isn't traded.
• Joe Christensen of the Minneapolis Star Tribune reported last week that the Twins won't deal impending free agent Michael Cuddyer, but apparently that didn't stop at least one team from trying to change their mind. According to Andrew Baggarly of the San Jose Mercury News the Giants expressed interest in Cuddyer with the intention of using him at second base, but were rebuffed and quickly moved on to acquire Jeff Keppinger from the Astros for two prospects.
• Danny Valencia is putting together one of the most polarizing seasons by any hitter in Twins history, piling up memorable hits and RBIs while hitting terribly overall. Valencia is hitting just .236/.286/.391 overall, yet leads the team with 53 RBIs and many of them have come in key spots. Talk of Valencia's ability to come through in the "clutch" has already become prevalent, but he's actually been awful in situations normally associated with that concept.
With runners on base Valencia has hit .253/.303/.374. With runners in scoring position he's hit .247/.308/.381. And in "close and late" situations he's hit .206/.260/.235. So if he's not thriving with runners on base or in key late-inning spots, how does Valencia have so many RBIs and big hits? Because he's come to the plate with 269 runners on base, which leads the Twins and ranks 10th in the league. RBIs are a function of opportunity as much as performance.
• Glen Perkins has shown no sign of slowing down, allowing one run in his last 15 games with a 17-to-2 strikeout-to-walk ratio in 13 innings. His overall ERA is down to 1.63, with zero home runs and 43 strikeouts in 39 innings. Vic Albury is the only Twins pitcher to allow zero homers in more than 39 innings, tossing 50 homer-less frames in 1976, and Joe Nathan (four times) is the only Twins pitcher with a sub-2.00 ERA and more strikeouts than innings. Perkins is unreal.
• Scott Baker looked good in his return from the disabled list Saturday, shutting out the Tigers for five innings. He was on a pitch count after missing two weeks with a sore elbow, but Baker had good velocity and recorded five strikeouts while allowing just three singles and one walk. In beating Detroit he sliced his ERA to 2.88, which is ninth in the American League and would be the lowest mark posted by any Twins starter other than Johan Santana since 1991.
• Brian Duensing struggled Friday against the Tigers' right-handed-heavy lineup, coughing up seven runs in 4.2 innings. He's allowed right-handed hitters to bat .306 with a .486 slugging percentage off him, which is one of the reasons why I thought the Twins should have left him in the bullpen to begin the season. Early on the decision to pick Duensing over Slowey looked smart, but since May 1 he has a 5.22 ERA and 56-to-28 strikeout-to-walk ratio in 79 innings.
• Luke Hughes got an unexpected demotion to Triple-A over the weekend as the Twins opted to stick with 13 pitchers and 12 position players for a while. Finding enough consistent work to go around is very difficult with a 12-man staff, so carrying 13 pitchers is absurd. With that said, Hughes didn't exactly make himself indispensable by hitting .237/.293/.322 with 46 strikeouts in 193 plate appearances. At best he's a 26-year-old platoon bat with limited defensive value.
• Assuming the Twins don't trade an outfielder it's tough to imagine Ben Revere staying in the lineup or perhaps even the majors once Denard Span returns from his concussion. Revere has looked very good tracking down fly balls in center field, but the initial excitement created by his singles and speed has predictably faded at the plate. His overall line is down to .249/.287/.284 in 62 games as the obvious limitations shown by his track record have been on full display.
• Kelsie Smith covered her final game as the Twins beat reporter for the St. Paul Pioneer Press yesterday, announcing that she's leaving the newspaper to move to Canada and have a baby next month. Smith doesn't like me much--which puts her in some pretty good company--but I always thought she did quality work and linked to her stuff often here despite the perpetual difficulties of navigating the Pioneer Press website. Her coverage will definitely be missed.
• Steve Singleton quickly signed a minor-league deal with the Phillies after the Twins released him from Triple-A last week due to reported "off-the-field issues."
• And last but not least: Bert Blyleven took his rightful place in the Hall of Fame yesterday.
This week's content is sponsored by the Minnesota baseball apparel maker DiamondCentric, whose "Thome Is My Homey" t-shirt I wear proudly.