December 23, 2011
• You'll have to wait until Monday morning for my analysis of the Twins signing Jason Marquis, but in honor of today being Festivus this week's Link-O-Rama is super-sized ...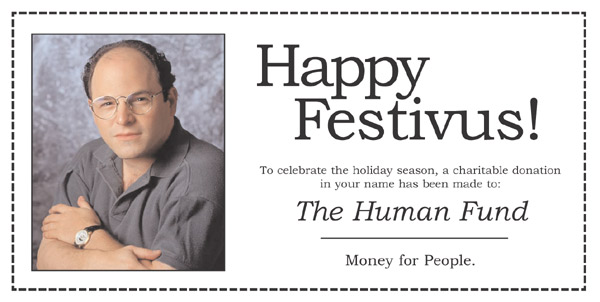 And here's a little more about my favorite holiday:
Coincidentally, today is also the 100,000th time Seinfeld has been referenced on this blog.
• I'm only into Minka Kelly for her memorabilia collection anyway.
• "Survey finds most people go online for no particular reason" explains my entire career/life.
• If you've seen Pulp Fiction as many times as me you'll love watching it in chronological order.
• Albert Pujols made headlines, but this was by far the best moment of the winter meetings.
• I've been getting into Johnnie Walker black label lately, and that was before seeing their new advertising campaign.
• Whomever suggested White Castle should sell beer and wine is a genius. An evil genius.
• Headline of the week: "Man eats cocaine from brother's butt, dies."
• Louis CK skipped the middle man and sold his new comedy special on his website for $5. Not only was it great and easy to buy, the numbers should encourage others to follow suit and he donated $280,000 to charity.
• CK also called himself the Orlando Hernandez of stand-up comedy and was a great guest on Bill Simmons' podcast, although ESPN had trouble deciding which bad words to bleep out.
• Terry Ryan's taste in sweaters is similar to his taste in proven closers.
• As this intense video clearly shows, taekwondo is no joke:
My favorite was the spinning back kick.
• Chris Ison is a Pulitzer Prize winner and was one of my favorite teachers at the University of Minnesota, so his writing about my career path for the journalism school magazine is surreal.
• I used to dislike Bill Conlin as a columnist, but now that couldn't matter less. Yuck.
• David Brauer of MinnPost notes that Judd Zulgad and Joe Anderson quadrupled the ratings on 1500-ESPN after replacing Colin Cowherd.
• Hopefully throat surgery will at least allow Adele enough time to get into a relationship and have an angry breakup she can use for material. And if not I'll just try to break this record.
• If a judge sentenced me to 30 days of house arrest I'd laugh maniacally like Roberto DeNiro in Cape Fear and then take a nap.
• Probably the best (or least bad) thing Nickelback has ever done.
• Reminder: Official Fantasy Girl of AG.com candidate Kate Beckinsale is a 38-year-old mother.
• As an NBC employee and longtime Howard Stern fan this shouldn't make me so sad.
• Tony Levine, who used to referee my JCC basketball games, has replaced Kevin Sumlin as the University of Houston's new football coach.
• Amare Stoudemire was on Sesame Street teaching Hebrew. Obviously:
He probably would have been pretty decent in that JCC basketball league.
• Al Jefferson has a 38-year-old girlfriend and she got arrested for allegedly biting him.
• My online love affair with Chantel Kendall from Baseball Wives was fun while it lasted, but all good things must come to an end.
• Not to be outdone by Jacque Jones becoming the Padres' new Single-A hitting coach, Doug Mientkiewicz is the Dodgers' new rookie-ball hitting coach. Luis Rivas is still out of work.
• My favorite quote from Anthony Bourdain's predictably terrific appearance on Marc Maron's podcast: "I was regularly vomiting publicly and happy about it."
• Paz de la Huerta should be at the top of most lists, but this one in particular makes sense.
• Anyone wanna back me for this poker tournament?
• My childhood gets super confused looking at a 44-year-old Pamela Anderson.
• Local reporter Jon Krawcynski and the Associated Press reached a settlement with the NBA.
• On this week's "Gleeman and The Geek" podcast we discussed what the Twins' lineup looks like with Josh Willingham and Ryan Doumit replacing Michael Cuddyer and Jason Kubel, the difference between Christmas and Hanukkah, and first impressions of Ricky Rubio after seeing him in person. We also recapped one of my rare party-going experiences, as shown here: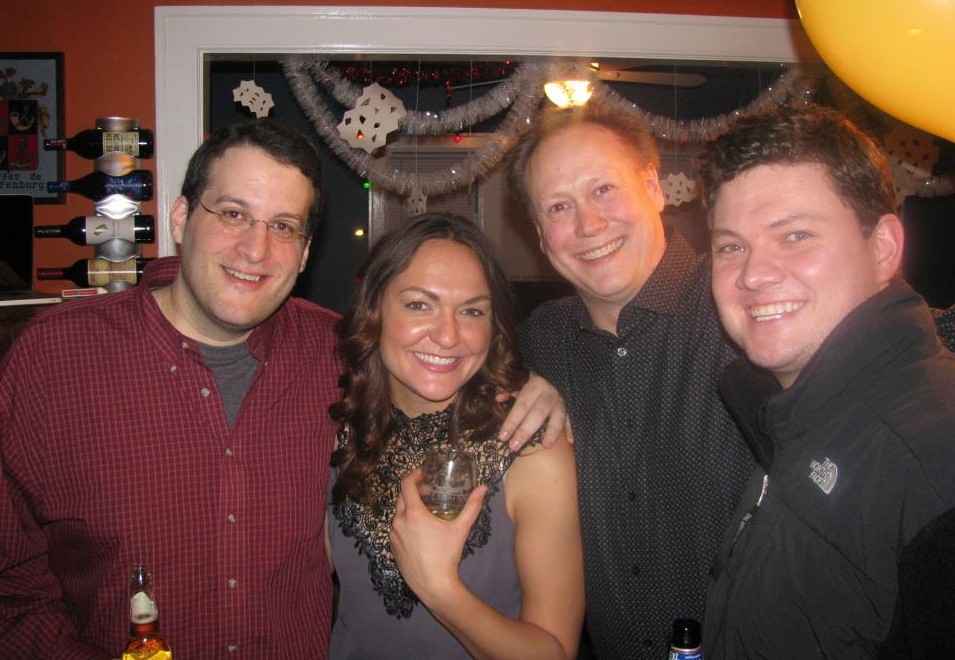 From left to right that's me, Lindsay Guentzel, John Bonnes, and Parker Hageman.
• There's also photographic evidence of Bonnes dominating at quarters. Made a co-host proud.
• Sports Business Journal named my boss as the most influential person in sports business.
• So far so good with the Minneapolis Star Tribune's switch to a metered paywall.
• It turns out no one wants to read about actual baseball on a baseball blog.
• From now on I'll be referring to Kelly Oxford as a co-worker.
• Hey girl, how about some drunk history?
• Brandon Roy's too-short basketball career got the eulogy it deserved from Jason Quick.
• Melanie Laurent in Beginners might be the most attractive person ever. Good movie, too.
• On a related note, I carry around this list in my pocket, just in case.
• Finally, this week's AG.com-approved music video--as quoted in Monday's post--is "Yesterday Was Hard On All Of Us" by Fink: