June 6, 2011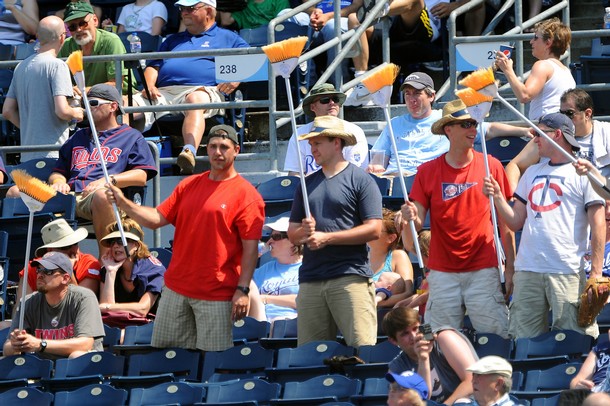 Some notes while being thankful that the Royals are still the Royals, at least for a bit longer ...
• Trevor Plouffe may have set a record for the shortest time between replacing someone who was in the doghouse to being buried so deep in the same doghouse that the original guy was freed. Called up from Triple-A on May 3 when the Twins had seen enough of Alexi Casilla as a starting shortstop, Plouffe went 2-for-4 with a homer in his first game to get everyone's hopes up about his strong start at Rochester taking precedence over seven seasons of mediocrity.
Three weeks later he was benched and then sent back to Triple-A after hitting .200/.310/.383 with a varied assortment of defensive miscues. Plouffe struggled on both sides of the ball, but ultimately .200/.310/.383 is almost exactly the type of production you'd expect from someone with a .255/.306/.430 career mark in 307 games at Triple-A and his defense at shortstop has always drawn mixed reviews at best. He played like he should have been expected to play.
Based on Plouffe's track record he projected as a utility man, which is why he ranked just 32nd on my annual list of the Twins' prospects. That his predictable struggles when thrust into the lineup as a starting shortstop resulted in heavy public criticism from Ron Gardenhire and harsh words from the mainstream media shows just how desperate the Twins were for middle infield help and how willing people were to overlook years of mediocrity because of a good month.
• Meanwhile, after hitting .167 in April to lose his starting job Casilla has batted .329/.409/.447 in 29 games since May. Apparently he was worried that people might cease referring to him an enigma. Not only did Casilla escape from the doghouse and move back into the starting lineup, Gardenhire reversed course and resumed playing him at shortstop even when Matt Tolbert is also in the lineup.
Unfortunately we've seen hot stretches like this from Casilla before and, much like with Plouffe, there's a long enough track record of mediocrity that one strong month shouldn't change his long-term outlook. Casilla was a career .249/.306/.327 hitter going into this year and he's now hitting .262/.335/.352 this season. His recent play and the Twins' lack of alternatives certainly makes turning back to Casilla a worthwhile move, but he's still not a quality everyday player.
• To replace Plouffe on the roster the Twins called up Brian Dinkelman from Triple-A, which is interesting because in doing so they had to place him on the 40-man roster for the first time at age 27 and bypass a superior left-handed-hitting prospect in Rene Tosoni. Perhaps the Twins weren't impressed with Tosoni during his previous 13-game debut or maybe they wanted the added versatility Dinkelman has as a part-time infielder, but either way it's a surprising move.
Dinkelman has shown some flashes of potential since being a sixth-round pick in 2006, ranking 39th on my list of the Twins' prospects in 2008, but he's always been a marginal prospect and was left unprotected for multiple Rule 5 drafts. He has enough bat to possibly be an asset at second base, but his glove likely isn't good enough to play there regularly and about half of his action in the minors during the past three seasons has come as a corner outfielder.
He got the call-up after batting .296/.374/.402 in 50 games at Triple-A, but Dinkelman hit just .265/.336/.379 in 137 games at Triple-A last season and also hit just .282/.359/.413 in 181 games at Double-A. If he can play passable defense at second base and third base Dinkelman could be a moderately useful left-handed bench bat, but if he's more of a corner outfielder with emergency infield skills the odds of him hitting well enough to justify a roster spot are slim.
• Joe Mauer and Tsuyoshi Nishioka are finally nearing returns to the Twins' lineup, but in the meantime Jason Kubel and Jim Thome are the latest in a long line of regulars to land on the disabled list. Neither injury is believed to be serious, but then again initial recovery timetables have lost all meaning by now. Kubel and Thome are the only hitters on the team with an OPS above .760, which turns an awful lineup into one that might not even lead Triple-A in scoring.
Ben Revere should get a chance to play nearly every day with Kubel and Thome out, which will go a long way toward improving the outfield defense, especially if Gardenhire can talk Delmon Young into accepting starts at designated hitter. Revere's bat is a question mark, but this can give the Twins a chance to evaluate his readiness for a possible starting job in 2012. Because of his defense Revere won't have to hit a ton to be an asset while making the minimum salary.
• Overlooked in the Twins' struggles is that the never-ending injuries have sapped Rochester's depth, so they acquired Jeremy Reed from the Brewers for "future considerations" that will be about as valuable as a bucket of baseballs (give or take the bucket). Hardly huge news, but once upon a time Reed was an elite prospect. He was the White Sox's second rounder in 2002 and hit .373 with twice as many walks (70) as strikeouts (36) and 45 steals in his first full year.
Baseball America ranked Reed as the game's 25th-best prospect in 2004 and that June he was traded to the Mariners along with Miguel Olivo and Mike Morse for Freddy Garcia and Ben Davis. Reed made his MLB debut in September, hitting .397 in 18 games as a 23-year-old, and Seattle made him the Opening Day center fielder in 2005. And he hasn't hit since, batting just .245/.301/.348 in 465 games with the Mariners, Mets, Blue Jays, and Brewers.
Reed's power never developed, his speed failed to translate to base-stealing, and his contact skills were good rather than great, leaving a typical fifth outfielder. And even that's optimistic at this point, as Reed has hit just .263/.330/.390 in 123 games at Triple-A since last season. I've always liked Reed, ranking him higher than most as a prospect and suggesting in 2007 that the Twins consider him as a low-cost Torii Hunter replacement, but now he's just filler.
• Speaking of injuries sapping minor-league depth, two of the Twins' best prospects recently went under the knife. Joe Benson, who was playing well at Double-A after ranking sixth on my list, will miss a month following left knee surgery. Angel Morales' luck is even worse, as the outfielder who ranked 11th on my list won't play at all this season and could miss a chunk of 2012 after Tommy John elbow surgery that he initially tried to avoid with rest and rehab.
Benson and Morales join Aaron Hicks, Alex Wimmers, Oswaldo Arcia, and David Bromberg (plus Nishioka, technically) as preseason top-15 prospects to miss time already, which would be pretty remarkable if not for Nishioka, Kubel, Thome, Young, Mauer, Francisco Liriano, Joe Nathan, Glen Perkins, Kevin Slowey, Jose Mijares, and Jason Repko each spending time on the big-league disabled list. And we're only two months into a six-month season. Crazy.
• This year's draft is a three-day event, starting tonight with the first round and compensation round. By virtue of last season's 94-68 record the Twins' first selection is 30th overall and then they also pick 50th as compensation for losing Orlando Hudson and 55th as compensation for losing Jesse Crain. As usual I'm expecting the Twins to pick high school outfielders and college pitchers while hoping for a college middle infielder. Check back tomorrow for some analysis.
This week's content is sponsored by the Minnesota law firm Snyder Gislason Frasier LLC, so please help support AG.com by considering them for your legal needs.