November 21, 2011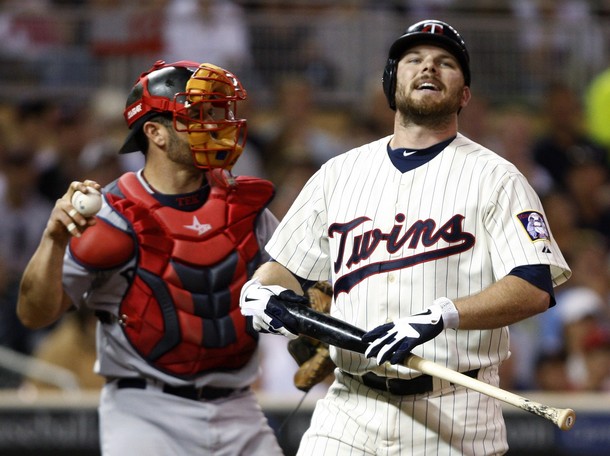 • Jamey Carroll's deal was initially reported as two years and $7 million, but the actual details are slightly different. Carroll will get $2.75 million in 2012 and $3.75 million in 2013, and there's also a $2 million team option or $250,000 buyout for 2014 that becomes a player option with no buyout if he tops 400 plate appearances in 2013. Most likely it'll wind up being a two-year, $6.75 million deal, but it could become a three-year, $8.5 million contract.
Obviously committing multiple seasons to a 38-year-old middle infielder isn't ideal, but Carroll's deal seemed like a fair one to me at the time and looks even better now compared to a pair of middle infielder signings that followed. Mark Ellis got two years and $8.75 million to basically replace Carroll on the Dodgers. They're similar players, but Ellis hasn't played shortstop since 2005 and is coming off a career-worst season that saw him hit just .248/.288/.346 at age 34.
Clint Barmes got two years and $11 million from the Pirates, who'll use him as their everyday shortstop. All things being equal Barmes might be a better choice than Carroll for the next two seasons because he's five years younger and an elite defender with 15-homer power, but the money isn't close to equal and Barmes has also hit just .230/.275/.360 away from Colorado. Even with Coors Field included his .302 on-base percentage is 54 points below Carroll's mark.
• Reported changes in the soon-to-be-signed collective bargaining agreement would eliminate compensation for Type B free agents, meaning the Twins would receive nothing if Jason Kubel signs elsewhere. Getting rid of the Type B free agent designation and lessening the number of Type A free agents qualified for compensation seems like bad news for the Twins long term, as they lose more free agents than they sign and rely heavily on the extra draft picks.
Not trading Kubel was a questionable decision when the Twins assumed they'd be receiving a supplemental first-round pick if he left as a free agent, but if that compensation for Kubel and other Type B players is eliminated they'll obviously regret the non-move. Instead of cashing him in for a decent prospect or two they'd get nothing, although certainly you can't blame the Twins for not being able to predict the future of collective bargaining changes.
• Phil Dumatrait re-signed with the Twins on a minor-league deal after being trimmed off the 40-man roster. Dumatrait's track record shows that even his limited success involved pitching way over his head, but as Triple-A depth he's fine. Along with Dumatrait (and Brian Dinkelman and Jared Burton, who signed last week) the Twins also inked minor-league deals with Jason Bulger, Brendan Wise, Matt Carson, Wilkin Ramirez, Samuel Deduno, and Luis Perdomo.
When the Angels acquired Bulger from the Diamondbacks for Alberto Callaspo in 2006 he was a potential late-inning reliever, but injuries and control problems have held him back and now he's 32 years old with just 133 career innings in the majors. On the other hand he has a 4.33 ERA and 138 strikeouts in those 133 innings and throws in the low-90s with a good curveball, so the right-hander could be a midseason bullpen option.
Perdomo throws hard and spent 2009 in the Padres' bullpen with a 4.80 ERA and 55/34 K/BB ratio in 60 innings, but the 27-year-old righty has been mediocre at Triple-A since then and mostly just adds to the sudden collection of relievers with big velocity and little else. Wise and Deduno don't fit that mold, topping out in the low-90s. Wise's pretty ERA at Triple-A hides poor secondary numbers and Deduno is a ground-ball guy who doesn't miss bats or throw strikes.
Carson and Ramirez are both journeyman outfielders with brief stints in the majors who'll add some speed and right-handed pop to Rochester's lineup. Carson has hit .280/.343/.515 in 378 games at Triple-A, including .279/.337/.533 with 24 homers and 11 steals in 112 games this year at age 29. Ramirez is 27 years old and has hit .247/.308/.431 in 270 games at Triple-A, including .267/.307/.458 with 11 homers and 19 steals in 81 games this season.
• Bulger, Burton, Dumatrait, Dinkelman, and Carson are examples of the type of guys available on minor-league deals every offseason, which is why it's so confusing that the Twins decided to give 40-man roster spots to similarly mediocre talent like Matt Maloney and Jeff Gray. They can always drop Maloney and Gray from the 40-man roster, of course, but in the meantime the deadline to add prospects newly eligible for the Rule 5 draft came and went.
Oswaldo Arcia, Carlos Gutierrez, and Tyler Robertson were the three additions, protecting them from being selected in next month's draft, but the Twins also left decent prospects Angel Morales, Manuel Soliman, and Tom Stuifbergen unprotected and changed David Bromberg from protected to unprotected by outrighting him off the 40-man roster. Odds are that none of those four will be Rule 5 picks, but it certainly wouldn't be shocking if the Twins lost someone.
Bromberg was named Twins minor league pitcher of the year in 2009, but saw his stock drop with the jump to Double-A and Triple-A in 2010 and missed most of this year after a line drive broke his forearm in May. He ranked No. 13 on my list of the Twins' best prospects coming into this season and will probably drop into the 20-30 range for 2012, which is also where Morales, Stuifbergen, and Soliman will likely end up if they remain in the organization.
• Delmon Young's postseason power surge caused some people to overreact about the Twins dumping him in mid-August, but now Jon Paul Morosi of FOXSports.com writes that the Tigers are trying to deal him because they're "concerned about his defense." They apparently offered Young to the Braves for Martin Prado, but were turned down. And if the Tigers keep Young for 2012 they'll likely be paying him at least $7 million in his final season before free agency.