April 18, 2012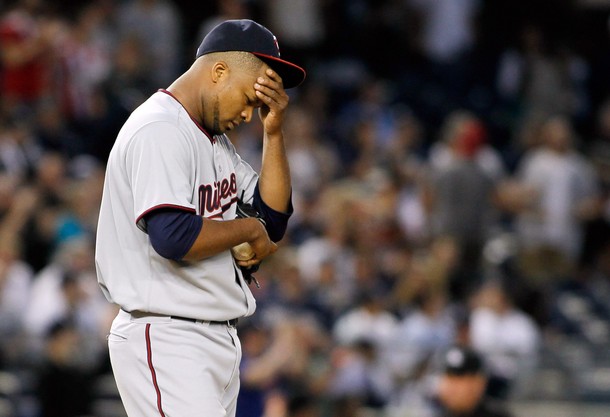 • As expected Scott Baker underwent surgery yesterday to repair the flexor pronator tendon in his elbow, but while he was under the knife Dr. David Altchek discovered ulnar collateral ligament damage and performed Tommy John surgery as well. Apparently the torn UCL didn't show up on the initial MRI exam or last week's follow-up version, so instead of a six-month recovery timetable Baker will likely be out for 12 months.
So in the span of two weeks Baker went from having an MRI exam that the Twins described as "good news" to needing "cleanup" surgery to undergoing Tommy John surgery. I'm of the opinion that there was never any chance of the Twins exercising his $9.25 million option for 2013, but now that isn't even a consideration. And at this point any injured Twins player who doesn't seek a second opinion from someone outside the organization is an idiot.
• Francisco Liriano turned in his third straight clunker last night, failing to make it out of the third inning. Through three starts he has an 11.91 ERA and .407 opponents' batting average while throwing 138 strikes and 103 balls. It's become increasingly popular to say that Liriano's struggles are mental and I'm sure there's plenty of truth to that narrative, but it's also worth noting that his raw stuff is simply nowhere near as good as it was in 2010, let alone in 2006.
As a rookie Liriano's average fastball was 94.7 miles per hour and in 2010 it was 93.7 mph, but since the start of last season it's 91.6 mph. It certainly isn't shocking that a one-time power pitcher would lose confidence as his velocity vanishes and his fastball becomes far more hittable. Perhaps it's a chicken-or-egg scenario and there's no doubt that he's failed to make adjustments, but to suggest that his collapse is entirely mental seems way too simplistic.
• Glen Perkins hopefully won't follow Baker's progression from optimistic diagnosis to career-altering surgery, but he underwent an MRI exam on his forearm after coughing up the lead Sunday. No structural damage was found and he's avoided the disabled list ... so far. Dating back to his final 20 appearances of last season Perkins has a 5.56 ERA in his last 23 innings, although that includes 24 strikeouts and his velocity hasn't dipped.
• Miguel Sano is off to a huge start at low Single-A, homering yesterday for the fifth time in 12 games. Despite being the sixth-youngest player in the entire Midwest League and not turning 19 years old until next month Sano is hitting .256/.408/.692 and has already drawn nine walks after a total of just 23 walks in 66 games last season. Kevin Goldstein of Baseball Prospectus recently got a first-hand look at Sano and came away very impressed.
Baseball Prospectus subscribers can read the full scouting report, but the short version is that Goldstein was surprised by the vastly improved patience Sano showed at the plate and was awed by the exceptional power as "his bat goes through the zone violently with plenty of explosion from his mid-section and hips." Goldstein even described Sano's defense at third base as better than expected, although that meant "merely bad" instead of "laughably awful."
• Josh Willingham, like Sano, also hit his fifth homer yesterday, taking over the AL lead and joining Kirby Puckett in 1987, Kent Hrbek in 1982, and Bobby Darwin in 1972 as the only Twins hitters with five homers through the first 11 games of a season. So far at least the Willingham signing looks every bit as good as it did at the time, although as a left fielder he makes a good designated hitter.
• Alexi Casilla is off to another slow start, which is an annual tradition at this point, and while looking over his career numbers with the Twins this comparison to a similarly disappointing middle infielder popped into my head:
                         G      AVG      OBP      SLG      OPS     SB
Casilla with Twins     418     .251     .309     .336     .645     51
Player X with Twins    565     .262     .307     .383     .690     78
Longtime readers of AG.com may recognize "Player X" as Luis Rivas, who was without question the player who received the most criticism during the first four years of this blog's existence. Rivas was released by the Twins at age 25 and was out of the majors for good at age 28, which is how old Casilla will be in two months. It's time to stop treating him like some sort of prospect with impressive upside.
• Trevor Plouffe has now committed 13 errors in 465 innings as a big-league shortstop, which is the equivalent of around 40 errors per full season and a startling number for someone who was a shortstop for 680 games in the minors. That includes 242 games as a Triple-A shortstop, during which time Plouffe made 47 errors. In other words, at this point Plouffe is a shortstop like Michael Cuddyer was a second baseman. He needs to start mashing left-handers.
• Last season Twins pitchers ranked dead last among MLB teams in strikeouts by a wide margin and they're back in 30th place again this season with just 54 strikeouts through 11 games. By comparison, Nationals pitchers lead baseball with 117 strikeouts in 12 games. And not surprisingly the combination of the fewest strikeouts in baseball and a sub par defense has added up to MLB's fourth-worst ERA.
• In addition to his hitting .293/.383/.415 through 11 games another positive sign for Joe Mauer is that he stole a base Monday night after a grand total of one steal in 219 games during the past two seasons. On the other hand nearly 60 percent of his balls in play have been on the ground, which is a disturbingly high total even considering he's always been a ground-ball hitter.
• Mauer isn't alone in his worm-killing, as Twins hitters collectively lead baseball with a ground-ball rate of 55.1 percent. No other team is above 51.6 percent and only two other teams are above 50 percent. And because it's really hard to hit a ground ball over the fence everyone not named Willingham has combined for four homers in 358 plate appearances.
• Matthew Bashore, the 2009 first-round pick who was released by the Twins last month after injuries derailed his career, has signed with the Yankees.
• "Gleeman and The Geek" made its radio debut this week with 70 minutes of non-stop Twins talk, so give it a listen if you haven't already. We'll be live on KFAN again Sunday at 4:00.
This week's blog content is sponsored by PickPointz, where you can make predictions, pick games, and win prizes for free. Please support them for supporting AG.com.