July 11, 2013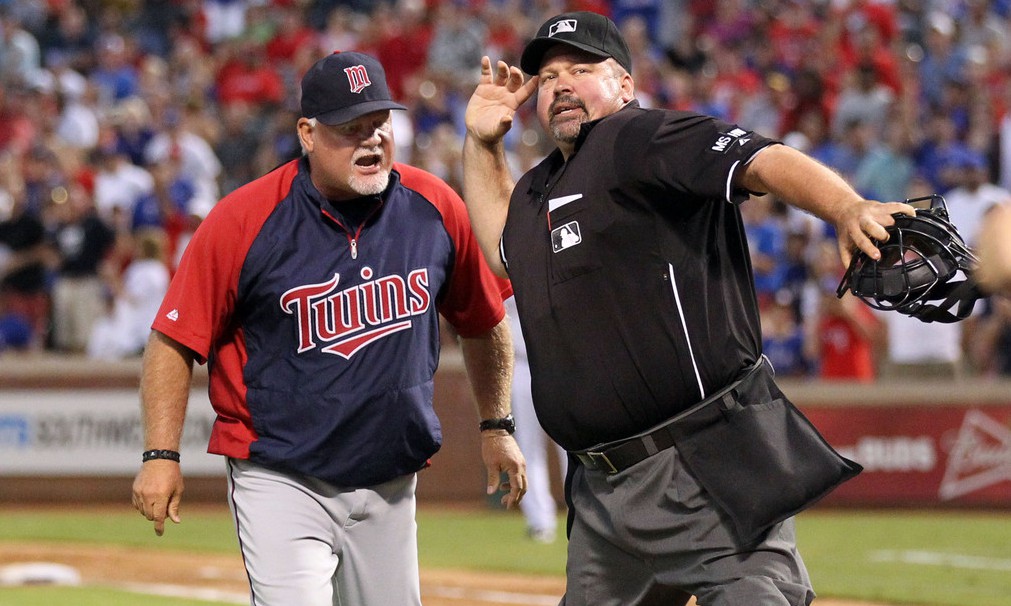 • With the Twins free-falling toward a third straight 90-loss season and Ron Gardenhire's job security becoming a popular topic locally I wondered how many managers in baseball history have avoided being fired after three consecutive 90-loss seasons. I knew there was at least one in Tom Kelly, but Jacob Pomrenke of SABR looked up the data for me and found that it's happened a total of eight times since 1945:
Larry Rothschild     Rays       1998-2000
Felipe Alou          Expos      1998-2000
Tom Kelly            Twins      1997-2000
Joe Torre            Mets       1978-1980
Darrell Johnson      Mariners   1977-1979
Preston Gomez        Padres     1969-1971
Casey Stengel        Mets       1962-1964
Zack Taylor          Browns     1948-1951
Four of the eight managers who kept their jobs after three consecutive 90-loss seasons were from expansion teams, so tons of losing was expected/accepted. And five of the eight managers who stuck around after three straight 90-loss seasons were fired by the middle of the next year. Kelly managed the Twins to four 90-loss seasons in a row from 1997-2000 and then went 85-77 in 2001, at which point he stepped down from the job at age 50 and was replaced by Gardenhire.
• After a solid debut Kyle Gibson has struggled in back-to-back starts, leaving him with a 7.27 ERA and 10-to-5 strikeout-to-walk ratio in 17 innings. Among all pitchers in Twins history through three career starts Gibson allowed the most hits (23) and second-most earned runs (14). LaTroy Hawkins is the only Twins pitcher to allow more earned runs in his first three starts and he's had a 19-year career, although all of his success came after shifting to the bullpen.
It's silly to analyze three starts too much, but Gibson has been done in by a .377 batting average on balls in play and nearly half the runners he's put on base coming around to score. Fortunately neither of those rates are sustainable and the good news is that he's averaged 92.5 miles per hour with his fastball while inducing 54 percent ground balls and has yet to allow a homer. And despite a modest strikeout total his swinging strike percentage is slightly above average.
• Caleb Thielbar going on bereavement leave means Michael Tonkin will be getting his first taste of the majors at age 23. Early on Tonkin's biggest claim to fame was being Jason Kubel's brother-in-law, but since shifting to the bullpen in 2011 the 6-foot-7 right-hander has emerged as a high-upside reliever with dominant numbers to match his mid-90s fastball. Dating back to last season Tonkin has a 2.17 ERA and 143 strikeouts in 99 innings.
That includes a 1.85 ERA with zero homers allowed and a 46-to-11 strikeout-to-walk ratio in 39 innings between Double-A and Triple-A this year, so if Tonkin makes a good first impression the Twins may decide to keep him around at the expense of someone else in the bullpen. Either way, Tonkin is one of the most promising reliever prospects the Twins have had in a long time and it's easy to imagine him setting up for Glen Perkins at some point next season.
• As a follow-up to Perkins encouraging the Twins to use him more often in non-save situations, just 40 percent of his batters faced this season have come in "high leverage" situations compared to 43 percent in "low leverage" situations. By holding him back for save situations that often never materialize the Twins limit Perkins' overall workload, forcing lesser relievers into crucial spots, and end up using him in unimportant spots just to keep him from getting rusty.
But apparently they haven't started listening to Perkins yet. Last night the Twins lost a 13-inning game to the Rays in which they used six different relievers, but not their All-Star closer. Rule 5 pick Ryan Pressly, who's served as a mop-up man for most of the season, took the loss while Perkins went unused because it wasn't a so-called "save situation." Of the seven relievers who've been with the Twins all season Perkins has thrown the fewest innings. Saves are a helluva drug.
• Justin Morneau has finally started to show a little power with four homers in 11 games after totaling six homers in his previous 115 games dating back to last year, but his overall production hasn't improved. It's hard to imagine there being much of a trade market for the impending free agent, but getting a compensatory draft pick if he signs elsewhere this winter is also no longer really an option for the Twins because he'd probably just accept the $15 million qualifying offer.
It's possible that Morneau would be willing to take a major pay cut to remain in Minnesota beyond this season, but do the Twins really want to block various young, cheap hitters with a 32-year-old first baseman who's hit just .259 with a .321 on-base percentage and .405 slugging percentage in 285 games since 2011? That's a harsh reality considering his decline began with a concussion, but even at half of his current $14 million salary Morneau just doesn't make much sense to retain.
• If the Twins do trade Morneau before he walks as a free agent Chris Colabello deserves a long look in his place. After a so-so season at Double-A last year Colabello has crushed Triple-A this season, hitting .357/.435/.656 with 23 homers, 22 doubles, and 41 walks in 81 games. Colabello is 29 years old and was signed out of an independent league, so he's hardly a top prospect, but he leads the International League in batting average, slugging percentage, OPS, and homers.
Maybe that won't translate to the big leagues, but one of the only benefits to being a bad team is that the Twins are in a position to find out. At worst Colabello struggles and gets written off as a Triple-A player as the Twins continue their march toward another 90-loss season, but he might also prove to be a decent stop-gap first baseman while making just $500,000. And if nothing else he'd give them a right-handed bat to help balance a very left-handed lineup.
• Josh Willingham limped around on a bum knee for a month before finally being placed on the disabled list amid reports that he planned to avoid surgery and return after the minimum 15 days. Instead literally the next day it was announced that he'd undergo surgery and miss 4-6 weeks, which is definitely on the optimistic side for a torn meniscus. And sadly all of that has become a pretty standard injury progression for the Twins during the past three seasons.
Willingham hit just .250/.337/.325 in June with even worse defense than usual, making him one of the worst all-around players in baseball. Allowing him to play at what was clearly less than full strength hurt the team, hurt Willingham, and now leaves the Twins with little chance to trade him. We may never know what they could have gotten in exchange for him last July or this offseason, but as someone who implored the Twins to shop Willingham around it's a question that looms.
• Aaron Hicks' season totals still look awful, but that's what happens when you start 2-for-48. Since then he's hit .249/.301/.462 with seven homers in 50 games, which is actually pretty damn impressive for a 23-year-old center fielder. He continues to strike out a ton and Hicks has stopped walking, but here's a list of all the 23-year-old center fielders to slug .450 or higher in the last 10 years: Colby Rasmus, Adam Jones, Matt Kemp, Chris Young, Grady Sizemore.
I still think it was a mistake to hand Hicks the Opening Day job without any experience at Triple-A and it's a shame that he's going to burn through an entire season of service time when that wasn't necessary, but that shouldn't take away from the fact that he's turned things around following one of the most brutal starts to a career you'll ever see. Even his defense has graded out much better recently and he's done some nice work as a baserunner.
• P.J. Walters is a 28-year-old with a 6.28 ERA in the big leagues and a 4.45 ERA at Triple-A, so he predictably passed through waivers unclaimed after being designated for assignment to make room for Gibson's arrival and Mike Pelfrey's return. Walters accepted the assignment, so he'll stay with the Twins at Triple-A while no longer being on the 40-man roster. This is the second time in two years none of the other 29 teams claimed Walters off waivers.
• Since being called up from Triple-A in July of last year Casey Fien has thrown 71 innings with a 2.67 ERA and 71-to-16 strikeout-to-walk ratio while holding opponents to a .187 batting average. Last offseason the Twins signed Fien to a minor-league deal and based on his track record in the minors he looked like a potentially useful middle reliever, but the 29-year-old right-hander been a whole lot more than that so far.
• After last night's loss the Twins are 37-51, which puts them on pace to go 68-94. At this same point in the season they were 36-52 in 2012 and 40-48 in 2011, so not much has changed.
• Brian Dozier since June 1: .264/.386/.500 with six homers, eight doubles and as many walks (19) as strikeouts (19) in 35 games. Six weeks are six weeks, but it's a sign of life.
• Twins Daily blogger and "Gleeman and The Geek" regular Parker Hageman wrote a good guest column for Baseball Prospectus about how the Twins develop their prospects.
• For a lot more about Willingham's injury situation, Walters' exit, Dozier's nice run, and the many former Twins on the All-Star team check out this week's "Gleeman and The Geek" episode.
---
This week's blog content is sponsored by Curt's Salsa, a locally owned salsa company that believes in fresh ingredients and rooting for the little guy. Please support them for supporting AG.com.