March 14, 2011
• Lucas Apostoleris of Beyond the Box Score broke down some numbers on which individual pitches produced the most swinging strikes last season. For instance, Cole Hamels' changeup led baseball by generating a whiff on 48.0 percent of swings, compared to the MLB average of 20.8 percent. Hamels' changeup was followed by Carlos Marmol's slider at 46.5 percent, Clay Buchholz's changeup at 46.2 percent, and Francisco Liriano's slider at 44.8 percent.
Liriano's stressful mechanics and reliance on his slider were primarily blamed for his past elbow problems and upon returning from Tommy John surgery in mid-2008 he altered his delivery and cut way back on his slider usage. However, after throwing his slider 26.9 percent of the time in 2009 while struggling with a 5.80 ERA he threw the pitch 33.8 percent of the time last season and thrived again.
Even last season's 33.8 percent sliders represents a 10.1 percent decrease compared to how often Liriano used the pitch prior to surgery, but only Ervin Santana (36.9 percent) and Ryan Dempster (35.1 percent) threw their sliders more often in 2010. Prior to surgery Liriano threw his slider more than anyone in baseball, whereas since surgery he's merely been among the leaders in slider usage.
I have no idea whether throwing 10 percent fewer sliders has a meaningful impact on Liriano's chances of staying healthy, but I do know that the pitch is dominant enough--and his fastball has been hittable enough since returning from surgery--that it's awfully tough to ask him to throw significantly fewer sliders. Not only is it Liriano's best pitch, it's one of the best pitches in baseball. His changeup is improved and his fastball is still pretty good, but the slider is special.
• Ben Lindbergh of Baseball Prospectus did some very interesting research about how rapidly teams move their prospects up the minor-league ladder, finding huge differences between the slowest-moving teams and fastest-moving teams. For position player prospects the Twins are by far MLB's slowest-moving organization, allowing hitters to accumulate an average of 2,600 plate appearances in the minors before making their big-league debuts.
Not only is the Twins' average of 2,600 pre-debut plate appearances about 200 more than the next-slowest Angels, it's 1,000 more than the fastest-moving team, the Mets. That means the average Twins hitter debuts with two more full seasons' worth of plate appearances than the average Mets hitter. We saw that exact dichotomy in action with Carlos Gomez, as the Mets rushed him to the majors at age 21 and the Twins then kept him there at age 22.
For pitchers the Twins aren't quite as slow-moving, but still allow prospects to accumulate the third-most innings before their debuts behind only the Rays and Nationals. Again the Mets are the fastest-moving team with pitchers, which came in to play when the Twins acquired Deolis Guerra along with Gomez as part of the Johan Santana trade. Because the Mets had already pushed Guerra to high Single-A at age 18 he reached Triple-A as an overmatched 21-year-old.
All of which hammers home two points that everyone pretty much already understood, which are that Twins prospects generally have extremely conservative promotion timetables and the Mets were an organizational mess under former general manager Omar Minaya. Because of the Santana trade those two approaches collided and it certainly played a part in Gomez and Guerra (so far) failing to pan out as the Twins hoped. Conservative makes a lot more sense.
• If you've ever wondered what Steelers safety and reigning NFL defensive player of the year Troy Polamulu would look like wearing a Twins uniform, this is your lucky day: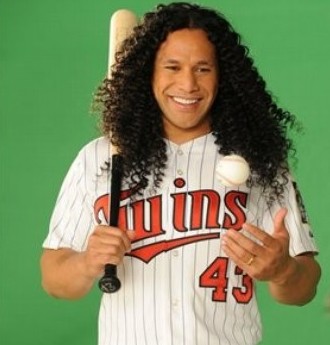 Polamulu was apparently shooting a Head and Shoulders commercial with Joe Mauer.
• Peter Gammons posted this note on Twitter last week:
Astros' first choice for a catcher to replace Jason Castro was Drew Butera, but Twins won't trade him. Outstanding catch-and-throw guy.
Drew Butera has such marginal value that the Twins should definitely be willing to trade him, but the odds of the Astros or any other team actually offering something of value in return are pretty slim and after trading both Wilson Ramos and Jose Morales the upper-minors catching cupboard is bare. Butera is a replacement-level player and ranks as perhaps the worst hitter in baseball, but the Twins love his defense and don't really have a better option behind Mauer.
• Speaking of Twitter, for some reason Ron Gardenhire is becoming increasingly annoyed with how quickly and efficiently reporters are able to relay his words to the Twins-loving public due to technology. Here's an amusing note from Joe Christensen of the Minneapolis Star Tribune:
When manager Ron Gardenhire announced Saturday that Nick Blackburn had made the rotation, it caused a mild stir in the Twins clubhouse.

"All you guys ... tweeted and blogged and all those things," Gardenhire told reporters Monday. "Before I could get back on the field, it was already back in here that we have a fourth starter.  So [the other pitchers] went right to [pitching coach Rick Anderson]. It's under control, Andy's talked to them. We knew going in that they were fighting for a job."

Gardenhire seems less than thrilled with how fast news travels these days, but he's keeping his sense of humor. When asked if Matt Tolbert, Trevor Plouffe and Luke Hughes were on equal footing in their battle for a utility spot, the manager said: "Yes, equal footing. You can tweet that. Just tweet it. You don't even have to write it. Just fire it through the Internet."
Gardenhire also got angry when he told a room of people about Justin Morneau's doctor visit and the news was actually reported by reporters. It used to take a day for news to be printed in a newspaper. Then it took an hour for news to be posted on a blog. Now it takes a minute for news to be tweeted. Like many 53-year-olds Gardenhire isn't embracing Twitter, but media reporting what he says about the team they cover hasn't changed. It's just a new method.
With that said, "just fire it through the internet" is comedy gold. Put it on a t-shirt, someone.
• Follow me on Twitter. Gardenhire would want it that way and I'm constantly just firing things through the internet on there.
• Patrick Reusse of 1500ESPN.com wrote an interesting piece about whether the Twins know "the difference between an annoyance and a bad guy" as it relates to Kevin Slowey now and Matt Garza a few years ago (with plenty of other examples coming to mind as well).
• Anthony Slama was already facing an uphill battle to claim an Opening Day bullpen spot, but elbow problems make it all but certain he'll begin the season back at Triple-A.
• Today the Twins are expected to trim the players on their spring training roster from 59 to 45 and No. 1 prospect Kyle Gibson will be included in the first batch of cuts. Gibson will begin the season at Triple-A, where he's made just three starts. Add another data point to the Twins not rushing prospects.