April 4, 2011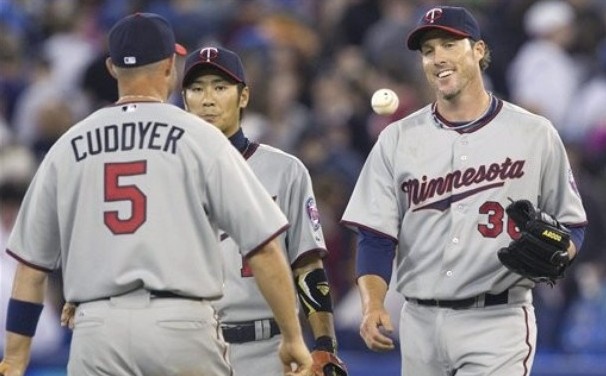 • My offseason-long worries about the new middle infield defensively looked legitimate as both Alexi Casilla and Tsuyoshi Nishioka made several mistakes in the field. Nishioka in particular committed two obvious errors--booting a ground ball and making an errant throw to first base after coming in on a chopper--and also botched a run-down situation. If nothing else all those Twins-fed, end-of-spring articles touting Nishioka as a Gold Glove candidate seem sort of silly.
• Justin Morneau was 1-for-10 in the series, but started all three games while striking out just once and made three or four loud outs on hard-hit balls to the outfield, including a near-double caught in the left-center field gap and a near-homer hauled in at the warning track. To me his durability and overall health remain far bigger question marks than his bat. If he's able to stay in the lineup consistently, he'll hit.
• Joe Nathan successfully converted a two-run save in his first appearance since 2009, but it wasn't pretty. He threw just 15 of 31 pitches for strikes and allowed a run on two hits and two walks, with his first out coming on a long fly ball that nearly tied the game. More importantly, as was the case throughout spring training Nathan's velocity was way down. His slider wasn't sharp and his fastball clocked in at 88-91 miles per hour compared to 93-95 mph pre-surgery.
• While not quite as "off" as Nathan's velocity, Francisco Liriano's fastball was a few miles per hour lower than last season and his command was a mess. He walked five versus just three strikeouts, couldn't make it out of the fifth inning, and served up two homers after allowing more than one long ball in just two of 31 starts last season. Of course, next to Carl Pavano's eight-run, three-homer Opening Day outing Liriano's start looked downright impressive.
• Nick Blackburn's start was a gem compared to Pavano and Liriano. He couldn't complete six innings, yet kept everyone but the reigning home run champ in the park and looked way more like the mid-rotation starter from 2008/2009 than the batting practice pitcher from most of last year. Blackburn did get away with some crushable pitches, as at least three outs were drilled to center field, but he induced 11 ground balls and his beard was also in midseason form.
• I'll avoid criticizing Ron Gardenhire too much for trotting out his usual "getaway day" lineup in the third game of the season, since presumably he wants to establish a consistent pattern of rest for the regulars, but some lineup decisions left me shaking my head. For instance Jason Kubel, a left-handed hitter with an awful .236/.313/.352 career line off left-handed pitchers, started both games versus a lefty while sitting out the one game against a righty.
• Kubel and Jim Thome each have no business being in the lineup regularly against lefties, yet the lack of a decent right-handed bat on the bench means at least one of them will usually be in there unless Gardenhire gives Jason Repko a rare start. However, to sit Kubel in favor of Michael Cuddyer in the one game started by a righty is just odd. Kubel's only real value is his ability to hit righties and Cuddyer hit just .261/.319/.423 off righties from 2008 to 2010.
• While the spring training debate centered on Luke Hughes versus Matt Tolbert for the utility infielder role, Tolbert winning that job was no shock given his ability to play shortstop and the fact that Gardenhire started him there over Casilla in Game 3. However, we've already seen how Hughes could still come in plenty handy as a righty-hitting alternative to Kubel (or Thome) against lefties. Unfortunately the decision to carry seven relievers leaves no room for him.
• Denard Span's ability to bounce back offensively is a big key this season and he looked good at the plate, going 5-for-11 with a homer and two walks while seeing a ton of pitches. Span and Danny Valencia were the only Twins to homer in the series, whereas the Blue Jays went deep a total of seven times while out-scoring the good guys 22 to 8. Dating back to last year Twins pitchers have now allowed 32 homers in 12 games against the Blue Jays.
• Yesterday's bullpen usage was interesting, as Gardenhire turned to Jose Mijares in the sixth inning and then used Glen Perkins for the eighth frame. Not exactly the assumed lefty pecking order and showing that much faith in Perkins is ... well, let's say surprising. Also of note is that Matt Capps worked the seventh inning for the first since 2007 after Mijares had back-to-back walks leading off the frame. In general less rigid bullpen roles are a positive, but I'm skeptical.
• New third base coach Steve Liddle made a Scott Ullger-like mistake getting Valencia thrown out at the plate in the fifth inning when holding him up would have kept the Twins in a bases-loaded, no-out situation with a 2-1 lead and the top of the lineup potentially breaking things wide open. Not every out at the plate comes from a third base coach's error and Valencia may have been safe if not for a great throw, but that's a spot where taking a risk isn't needed.
• In the first inning of Saturday's game rookie Kyle Drabek struck out the side as Nishioka and Morneau complained about umpire Angel Hernandez's spacious strike zone. Meanwhile, amid the whiffing and moaning Joe Mauer drew a four-pitch walk. Drabek, who was acquired from the Phillies in the Roy Halladay trade and is the 23-year-old son of former Cy Young winner Doug Drabek, threw seven one-hit innings in his fourth career start and his cutter was nasty.
• Next up: Four games against the Yankees in New York. No big deal or anything.