February 16, 2012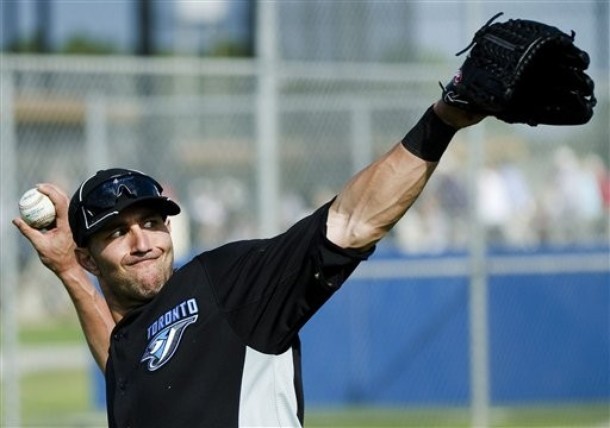 • Darin Mastroianni is the Twins' latest waiver claim, as they snagged the 26-year-old outfielder after the Blue Jays designated him for assignment to make 40-man roster room for Francisco Cordero. Mastroianni is too old to be a prospect and lacks the skill set to have big upside, but he's potentially a useful role player and could be a solid fit on the Twins' roster as a right-handed hitter with speed and on-base skills who can play all three outfield spots.
Mastroianni's patience and strike-zone control are great for a player with almost zero power, as he's drawn 82 walks per 150 games in the minors despite pitchers never being afraid to throw him strikes. He managed just four homers and a measly .379 slugging percentage in 325 games between Double-A and Triple-A, but also hit .283 with a .368 on-base percentage and nearly as many walks as strikeouts while averaging 54 steals per 150 games.
Ultimately most of his value depends on defense and in asking around about Mastroianni's range I've gotten mixed reviews, which along with about half of his action last season coming as a left fielder suggests he's probably not an elite center fielder. However, even if he's merely average in center field and above average in the corners Mastroianni looks capable of being a worthwhile backup behind two lefty-swinging outfielders in Denard Span and Ben Revere.
• To make room for Mastroianni on the 40-man roster the Twins designated reliever Esmerling Vasquez for assignment after claiming him off waivers from the Diamondbacks in early October. Vasquez has a mid-90s fastball, but it comes with awful control and not surprisingly he passed through waivers unclaimed. That means the Twins were able outright him to Triple-A, keeping the 28-year-old right-hander in the organization without taking up a 40-man roster spot.
• Alexi Casilla and the Twins avoided arbitration by agreeing to a one-year, $1.38 million deal. He filed for $1.75 million and they countered at $1.065 million, settling just below the midpoint. Casilla will be arbitration eligible again in 2013, but keeping him around for a decent-sized raise would be tough to justify unless he can finally stay healthy and consistently productive. He's never played 100 games in a season and is a 27-year-old career .252/.310/.327 hitter.
• MLB Trade Rumors put together a list of players on 40-man rosters with less than five years of MLB experience and no minor-league options, and the Twins' contingent is Casilla, Glen Perkins, Anthony Swarzak, Trevor Plouffe, Luke Hughes, Matt Maloney, and Jeff Gray. Perkins, Casilla, Swarzak, and Plouffe are locks to make the team and Hughes is a near-lock if the sprained shoulder he suffered playing winter ball in Australia doesn't ruin his chances.
Gray and Maloney lacking options is part of why the Twins claiming them off waivers back in October never made sense to me, with the other reason being that they simply aren't much good. Both pitchers are marginal big leaguers without any sort of real upside, so if the Twins need to trim any more players from the 40-man roster they'd seemingly be atop the list. And if not expect to see them both placed on waivers at some point between now and Opening Day.
• Jeff Passan of Yahoo! Sports calculates MLB's average payroll at $98 million, which is exactly where the Twins stand after choosing not to spend $1 million on one of many decent relievers available. Obviously having an average payroll is much better than the Twins' spending during the Metrodome years, but if they're already merely average in Target Field's third year and have shed $15 million from last season's payroll falling below average soon seems inevitable.
• Keith Law of ESPN.com ranked the Twins' farm system 14th among all MLB teams, pegging the strengths as "interesting high school bats and high-impact Latin American prospects."
• I answered some questions about the Twins over at Razzball.
• On this week's "Gleeman and The Geek" episode John Bonnes and I went through the roster for a player-by-player look at each hitter, from Joe Mauer and Justin Morneau to Drew Butera and Tsuyoshi Nishioka, discussing where they each stand heading into 2012.