June 1, 2012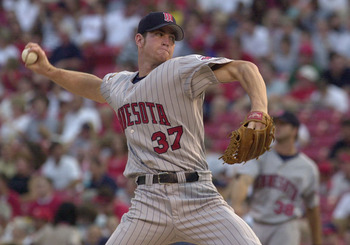 Last time the Twins held the draft's No. 2 overall pick was 2000 and they took a college pitcher, right-hander Adam Johnson from Cal-State Fullerton, who led Division I in strikeouts and won Big West Conference pitcher of the year honors. It was actually the second time the Twins had drafted Johnson, as they originally picked him in the 25th round out of high school in 1997 and he opted for school rather than signing.
At the time Johnson was highly touted within a draft class that, much like this year's version, was considered relatively lacking in elite-level prospects, but he was not viewed as a top-five talent and the Twins selecting him No. 2 overall was largely seen as a "signability pick" for a franchise with a reputation for pinching pennies. In fact, Baseball America's pre-draft scouting report on Johnson projected him to go in the middle of the first round:
He has command of three solid pitches, including a dynamite 85-86 mph slider that has a late, hard break. Scouts aren't sold on his 6-foot-2, 200-pound frame or his maximum-effort delivery, but he has won them over with his pitching savvy, bulldog approach, and ability to hold his velocity deep into games. He projects to the middle of the first round, though a team near the top of the draft may take him earlier and try to cut a deal.
And that's more or less exactly what happened, as the Twins bypassed various higher-upside prospects to pick Johnson and then signed him for a $2.5 million bonus that was lower than five players selected after him. Mike Radcliff, who was then the Twins' scouting director and is now the Twins' vice president of player personnel, offered this scouting report on Johnson immediately after the draft:
He had an outstanding year and he owns a solid arsenal of pitches. He has strikeout ability and shows the durability to be a starter. He is emotional and aggressive and has the potential to progress more quickly than most of this year's crop of pitchers.
Big, hard-throwing college starter with great numbers and the ability to move through the minors quickly, which could also be said about three of the five players likely being targeted by the Twins this year. As for 2000, top pick Adrian Gonzalez has gone on to have a great career, but it turns out that the Twins were probably doomed no matter who they snagged in the No. 2 spot because nearly every other top-ranked prospect in the draft class went bust.
That year five of the top 10 picks and 14 of the top 30 picks failed to even reach the majors, including No. 4 pick Mike Stodolka and No. 7 pick Matt Harrington. And most of the first-round picks who did make it to the majors failed to have an impact. No. 3 pick Luis Montanez hit .223 in 135 games. No. 5 pick Justin Wayne threw 62 innings with a 6.13 ERA. And even No. 6 pick Rocco Baldelli was derailed by health problems after initially looking like a potential star.
Along with Gonzalez the only other 2000 first-rounders to have a significant impact are No. 15 pick Chase Utley and No. 29 pick Adam Wainwright, although stars like Cliff Lee, Grady Sizemore, Brandon Webb, and Ian Kinsler were selected in later rounds. Obviously the Twins would have been better off selecting any of those players instead of Johnson, but none were projected as top-10 picks and everyone who was projected as a top-10 pick flopped.
And for a brief time Johnson actually looked very promising. As a big, hard-throwing pitcher with a great track record versus quality college competition he skipped rookie-ball and low Single-A after signing, jumping directly to high Single-A and thriving. He debuted with 12 starts for Fort Myers, throwing 69 innings with a 2.47 ERA and 92-to-20 strikeout-to-walk ratio while allowing just 45 hits, and that winter Baseball America rated him as their 41st-best prospect.
One spot ahead of Johnson on that same list? Jake Peavy. And one spot below Johnson on that same list? Albert Pujols. He moved up to Double-A in 2001 and continued to pitch well with a 3.82 ERA and 110-to-29 strikeout-to-walk ratio in 113 innings, at which point the Twins called him up a month shy of his 22nd birthday. Johnson tossed a Quality Start in his debut, but allowed 14 runs in 15 innings over his next three starts and was demoted to Triple-A.
He kept scuffling there and then got knocked around with the Twins again working out of the bullpen as a September call-up, dropping to No. 85 on Baseball America's list that winter. And then it all fell apart. Johnson failed to make the team out of spring training in 2002, famously ripping up his assignment paperwork and storming out of first-year manager Ron Gardenhire's office. Talk of Johnson being "emotional and aggressive" suddenly wasn't such a good thing.
Johnson began 2002 back at Triple-A again and posted a 5.47 ERA in 27 starts, with a 112-to-55 strikeout-to-walk ratio in 151 innings and 25 homers among 181 total hits allowed. He didn't pitch in the majors that year and didn't appear on any prospect lists that winter. Johnson underwent hernia surgery prior to spring training in 2003 and once healthy coughed up 13 runs in six innings to ensure that he didn't make the team.
He was optioned to Triple-A again, missed time with a shoulder injury, and was eventually yanked from Rochester's rotation after going 3-11 with a 6.75 ERA. Johnson found success in the Triple-A bullpen, posting a sub-2.00 ERA for six weeks, but struggled when reinserted into the rotation. He finished the 2003 season with a 5.35 ERA and terrible 78-to-48 strikeout-to-walk ratio in 114 innings at Triple-A, but the Twins called him up in September anyway.
Johnson made just two relief appearances. He allowed two runs in the first outing and then faced the Tigers in the final game of the season, coming into a 2-2 game and giving up six runs while recording one out. And that was the last time Johnson pitched in the majors. He was dropped from the 40-man roster after clearing waivers in early 2004 and spent that season posting a 6.07 ERA in Rochester's bullpen before the Twins released him at age 25.
After a brief stint for an independent league team back home in California he signed a minor-league deal with the A's and spent two seasons getting clobbered in their farm system. In all Johnson finished his pro career with a 6.08 ERA in 434 innings at Triple-A and a 10.25 ERA in 26 innings in the majors, ranking as one of the worst No. 2 picks in the 47-year history of the draft and showing why dominant college pitchers aren't always the safest way to avoid a bust.
This week's blog content is sponsored by ... no one. If you'd like to become an AG.com sponsor, click here for details and availability.