August 10, 2012
• Eric Chavez throwing the ball back to an unsuspecting Cody Eppley is GIF magic.
• Nicolas Batum's nut-punching above replacement level is off the charts, which is no doubt why the Timberwolves made such a strong run at him this offseason.
• See, now they're just taunting me. Might be time to evaluate some other candidates.
• In honor of Usain Bolt's latest gold medal the New York Times created a fascinating video showing the evolution of the 100-meter dash at the Olympics. Humans are pretty amazing.
• I'm pretty sure Google has been listening to Gleeman and The Geek and is now inventing things specifically for me.
• Sid Hartman's recent Minneapolis Star Tribune column includes a note saying that "it's unlikely 1500-AM will carry Twins broadcasts beyond this season."
• For anyone interested in local radio ratings, my MinnPost colleague David Brauer has the latest numbers and analysis. Short version: KFAN continues to dominate.
• Update on my all-Chinese food diet: I ate hunan chicken from Yangtze almost literally every day for an entire month and gained 10 pounds. I'm not sure what was accomplished, other than learning I'm still capable of being a fastso, but now I'm back on the low-calorie wagon.
• Behold, the worst play of the season:
On a related note, for as awful as the Twins have been since the beginning of 2011 they've got 20 more wins than the Astros during that time. Seriously: 112-162 compared to 92-182.
• Ricky Gervais is the latest comedian to ride in Jerry Seinfeld's car and go for coffee.
• Amelia Rayno of the Minneapolis Star Tribune wrote an excellent article about Corey Koskie's life after a concussion ruined his baseball career.
• Tim Allen, who blogged excellently and creatively about the Timberwolves at Canis Hoopis since 2009, committed suicide at age 29.
• Turner Broadcasting bought Bleacher Report for $175 million.
• Frank Viola's daughter, Brittany Viola, finished 15th in the Olympic diving semi-finals.
• Carson Cistulli put together some good advice for how to become an internet baseball writer, although he oddly left out "be incredibly handsome."
• As always my favorite podcast guest, Chelsea Peretti, was great on Doug Loves Movies with Doug Benson, Sarah Silverman and Anthony Jeselnik. And my friend and former Rotoworld colleague Gregg Rosenthal was actually in the audience.
• Speaking of Peretti, she makes a cameo appearance in this amusing compilation video of all the times Louis C.K. has said "I'm sorry" on Louie:
Also: Joan Rivers.
• Freakonomics Radio explains why getting a college degree isn't always so valuable.
• On the other hand, things are looking up for journalism school graduates these days.
• Old school Orioles catcher Gus Triandos had a very memorable place in The Wire world, but the show had plenty of other sports-related story lines too.
• It turns out the Minneapolis Star Tribune headline about "weed dating" was a false alarm.
• Tuesday morning I was getting tweets saying stuff like "do you really wear tuxedo t-shirts?" and "what's with a polka dot fanny pack?" and "uh, you may want to turn on KFAN." I listened to the podcast later and heard Paul Allen and Marney Gellner discuss "Girls Gone Gleeman" without me even being present, including Gellner replying "I follow him on Twitter and his mom is a sweetheart" when asked if she knew me. Which, really, should be on my tombstone.
• I was in-studio to defend my honor yesterday and PA threw a curveball by actually wanting to talk Twins for a while. We eventually got to the "Girls Gone Gleeman" situation, which now includes at least one legitimate applicant. And if you listen to the podcast you can hear PA's reaction when I strip down to reveal an actual tuxedo t-shirt that was shipped overnight via Amazon.com just for the occasion. In other words, things are getting very serious.
• And because KFAN clearly hadn't devoted enough airtime to my love life this week, two hours later PA cold-called me at home live on the air to deliver some breaking "Girls Gone Gleeman" news. FSN sideline reporter Robby Incmikoski was in-studio at the time, so we became pals again and at some point I agreed to let him serve as a special guest judge for the dating game-style show we're planning at the state fair. He seems excited about it, at least.
• I've been on Twitter for three years and this is by far my most successful use of the medium: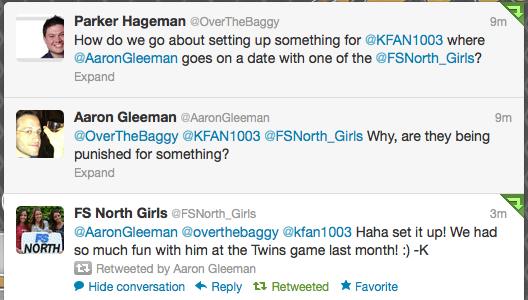 It turns out running your fingers through my hair can be very addicting.
• On a related note, looks like we'll be doing a live Gleeman and The Geek show from the KFAN booth at the state fair on August 26. My guess is we'll take lots of audience questions, so if you've ever wanted to see John Bonnes arguing with me in person this is your big chance.
• Your weekly reminder that Vin Scully is the best.
• Jon Weisman is right: This picture made me smile.
• For some reason my rush-delivered tuxedo t-shirt did not come with any huge guns.
• What music would you listen to if you'd been deaf for your entire life and could finally hear?
• In which I sing a Beyonce song to Danny Valencia.
• If you look up "hero" in the dictionary ... well, you'll see a definition. Also, this Julie Klausner story is pretty great.
• If you're into basketball, sports betting, poker, or (like me) all of the above Jay Caspian Kang's podcast interview with longtime AG.com favorite Haralabos Voulgaris is a must-listen.
• Back by popular demand, this week's most amusing, weird, and random search engine queries that brought people here:
- "Bert Blyleven fart"
- "Boof Bonser salary"
- "Brian Dinkelman salary"
- "J.J. Hardy wife"
- "Can a catcher also play outfield"
- "Ben Revere throwing arm"
- "Michelle Beadle twinkie"
- "Chelsea Peretti drugs"
- "Parker Posey weight"
- "Dirty slide slow pitch softball"
- "Joe Thurston ex-girlfriend"
- "Tsuyoshi Nishioka error"
- "Christopher Nolan baseball"
- "Fat man stuffing his face"
• Finally, this week's AG.com-approved music video is the album version of "Where We Gonna Go From Here" by Mat Kearney:
This week's blog content is sponsored by DiamondCentric's new "Walks Will Haunt" t-shirt, which looks good on any Twins fan. Please support them for supporting AG.com.