October 22, 2014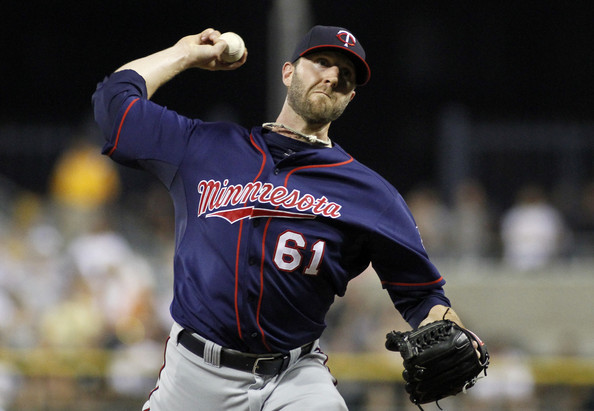 Rather than keep right-hander Jared Burton around for next season at a cost of $3.6 million the Twins declined his 2015 option and paid him a $200,000 buyout, making the 33-year-old reliever a free agent. Burton was a great scrap-heap pickup for the Twins after his career was derailed by injuries with the Reds and not so long ago his 2015 option looked like it might be a bargain, but his performance and raw stuff both slipped this season.
Burton debuted for the Reds in 2007 as a 26-year-old and posted a 3.47 ERA in 161 innings from 2007-2009, but then arm problems caused him to miss most of 2010 and 2011. Cut loose by the Reds in November of 2011, he signed a minor-league contract with the Twins two weeks later and made the Opening Day roster out of spring training. He was an elite setup man in 2012 and much of 2013 before fading down the stretch, and those struggles continued this season.
If the Twins felt Burton was a decent bet to bounce back next season $3.6 million certainly isn't a crazy price tag for a late-inning reliever, but he has a 5.12 ERA and 50/28 K/BB ratio in 72 innings since August of 2013 and averaged just 91 miles per hour on his fastball while being overtaken as Glen Perkins' primary setup man by Casey Fien. Plus, if the Twins are planning to have a payroll below $90 million again there's hardly any room under their self-imposed spending limit.
Six relievers appeared in 30 or more games for the Twins this season and their bullpen could look much different in 2015. Perkins is signed through at least 2017 and Fien is a lock to be retained via arbitration, but rising salaries and underwhelming performances make the arbitration-eligible duo of Brian Duensing and Anthony Swarzak non-tender candidates. That would leave Perkins, Fien, and low-leverage lefty Caleb Thielbar as the bullpen holdovers.
It would also clear the path for less experienced relievers like Michael Tonkin, Ryan Pressly, and Lester Oliveros to take bigger roles and the Twins still have Mike Pelfrey and his one-pitch repertoire under contract for $5.5 million. Factor in starter prospects who could benefit from being worked into the mix as relievers, plus various intriguing bullpen arms in the minors, and the Twins may be able to get both cheaper and better by overhauling the bullpen around Perkins and Fien.
---
For a lot more about the Twins' payroll plans and Terry Ryan's comments about the team's lack of spending, check out this week's "Gleeman and The Geek" episode.