January 26, 2015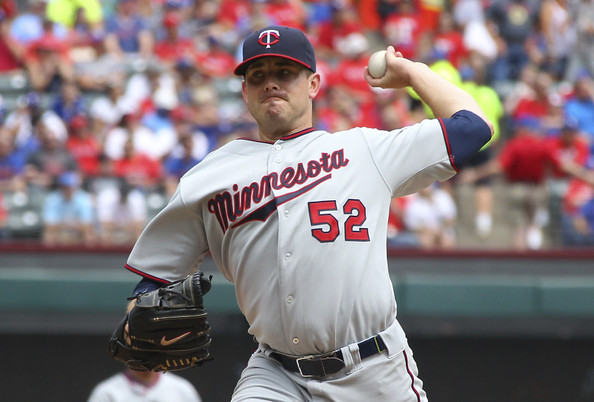 Last time the Twins actually completed an arbitration hearing with a player was Kyle Lohse in 2005 and 2006, so not surprisingly they reached pre-hearing settlements with six of their seven arbitration-eligible players and released the seventh, Anthony Swarzak. They'll pay a total of $14.225 million to Trevor Plouffe, Tommy Milone, Brian Duensing, Jordan Schafer, Casey Fien, and Eduardo Nunez, bringing their projected 2015 payroll to around $106 million.
That slots in between their franchise-record $113 million payroll in 2011 and $100 million payroll in 2012, representing a sizable increase from the sub-$90 million payrolls of 2013 and 2014. After back-to-back seasons in which general manager Terry Ryan declined to spend big chunks of the allotted payroll space approved by ownership it's a positive step, although there's room to quibble with the value of dropping about $17 million on Torii Hunter, Duensing, Milone, and Nunez.
With revenues across MLB skyrocketing past $9 billion in 2014 and the Twins trying to avoid a fifth straight 90-loss season amid plummeting fan interest it's at least nice to see ownership spending a reasonable amount of their revenue instead of simply pocketing it while giving the "we don't want to spend money just to spend money" excuse. And thanks largely to long-term contracts handed out to veteran starting pitchers they already have $70 million committed to six players for 2016.
In addition to pushing the payroll past $100 million the six arbitration settlements also put into focus the likely Opening Day roster, although there are definitely a few places where the Twins could surprise. Below is my best current guess at the 25-man roster, with the caveat that they're able to release any of the arbitration-eligible players during spring training while being on the hook for only 30 percent of their salary. First, the position players:
   LINEUP
C  Kurt Suzuki
1B Joe Mauer
2B Brian Dozier
SS Danny Santana
3B Trevor Plouffe
LF Oswaldo Arcia
CF Aaron Hicks
RF Torii Hunter
DH Kennys Vargas

   BENCH
C  Josmil Pinto
IF Eduardo Escobar
IF Eduardo Nunez
OF Jordan Schafer
New manager Paul Molitor has made it clear that he views Danny Santana as a shortstop and not as a center fielder, and since it's hard to imagine the Twins benching Santana or demoting him back to the minors after he hit .319 as a rookie that means he's the favorite to supplant Eduardo Escobar at shortstop. Based on his 2014 performance alone Escobar certainly doesn't deserve to lose the job, but his track record suggests a part-time role might be a better fit anyway.
Escobar slotting into a utility man role makes retaining Nunez look even iffier, but they seem to think all the evidence showing him as a poor hitter and poor fielder are wrong. Schafer played his way into the 2015 plans with a good 41-game stint after being claimed him off waivers and using him in center field is possible if they pull the plug on Aaron Hicks. Josmil Pinto is the presumed backup catcher, but they bailed on him in that role quickly in 2014. Now the pitchers:
   ROTATION
SP Phil Hughes
SP Ervin Santana
SP Ricky Nolasco
SP Kyle Gibson
SP Tommy Milone

   BULLPEN
CL Glen Perkins
RH Casey Fien
RH Tim Stauffer
RH Ryan Pressly
RH Mike Pelfrey
LH Brian Duensing
LH Caleb Thielbar
Milone is signed for $2.775 million when the Twins had the option to non-tender him and Mike Pelfrey is under contract for $6 million, so my assumption is they'll fight for the final rotation spot and the loser will wind up in the bullpen. Trevor May and Alex Meyer are higher-upside options for the rotation or bullpen, and in general there are no shortage of alternative bullpen options including Michael Tonkin, Blaine Boyer, Lester Oliveros, and Rule 5 pick J.R. Graham.
---
This week's blog content is sponsored by Uber, which is offering a free ride to first-time users who sign up with the promo code "UberGleeman."