July 14, 2015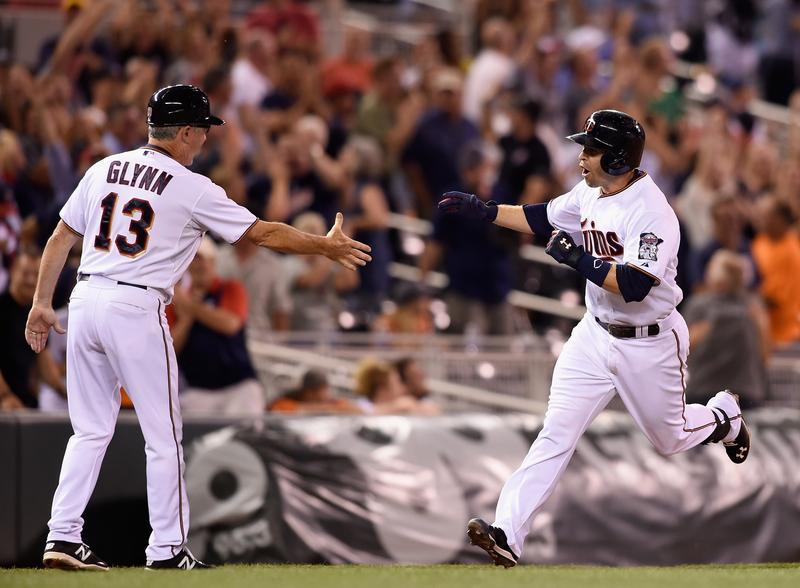 Last season the Twins ranked fifth among AL teams in both OPS and runs scored, but the lineup has taken a step backward. They've hit .254/.307/.399 to rank 11th out of 15 teams in OPS, but the offense has out-performed those overall numbers to rank seventh in runs scored thanks to hitting .283 with runners in scoring position and .241 without runners in scoring position. Before the second half gets underway here's a hitter-by-hitter look at the individual performances ...
• Brian Dozier: .256/.328/.513 in 393 plate appearances
Two seasons ago Brian Dozier dramatically altered the trajectory of his career at age 26, going from light-hitting fringe shortstop prospect to starting-caliber second baseman. Last year he made another big jump, emerging as one of MLB's best all-around second basemen by combining power, patience, speed, and defense. This season he's again taken a huge leap, ranking among the best dozen players in the entire league during the first half.
Dozier is often overlooked, in part because his turning into a star came as such a surprise and in part because many people still misguidedly focus on batting average. But make no mistake: He had a spectacular first half. Dozier played 88 of 89 games, leading the league in extra-base hits (48) and ranking second in runs scored (67), third in doubles (26), seventh in homers (19), and 10th in slugging percentage (.513) while grading right around average defensively.
He's developed into one of the best power hitters in the league, which is amazing for a 5-foot-11 middle infielder who had a grand total of 16 homers in 365 games as a minor leaguer. In addition to crushing high fastballs Dozier draws walks, steals bases, and plays good defense at an up-the-middle position, which is why FanGraphs pegs him as the eighth-best all-around position player in the league at 3.3 Wins Above Replacement. He was, without question, the Twins' first-half MVP.
• Joe Mauer: .271/.336/.387 in 366 plate appearances
Joe Mauer had a solid April, slumped badly from May 1 through mid-June, and finished the first half by hitting .320 with four homers in his final 25 games. The end result is an underwhelming .271/.336/.387 line that looks much like his underwhelming .277/.361/.371 line last year and has me wondering whether the .320-hitting on-base percentage vanished the moment he suffered a concussion in August of 2013.
His strong recent play puts those thoughts on hold for now and Mauer's actual impact out-paced his raw numbers thanks to hitting .380 with runners in scoring position and .400 in high-leverage spots. Mauer leads Twins hitters in Win Probability Added by a wide margin because he was great in game-changing situations even while being mediocre overall. Counting on that to continue is optimistic to say the least and Mauer was a below-average first baseman in the first half.
• Trevor Plouffe: .259/.320/.449 in 354 plate appearances
Because he went from light-hitting shortstop prospect to good-hitting third baseman, whenever Trevor Plouffe puts together a good stretch offensively many people are quick to expect further development. Instead he's been remarkably consistent since becoming an everyday player and this season's production (.769 OPS) is very close to his numbers in 2012 (.751 OPS) and 2014 (.756 OPS). He's basically been a .250/.315/.440 hitter now for four years.
What has changed is that Plouffe went from being very rough defensively at third base to being solidly above average at the position, which is perhaps what should have been expected from a career-long shortstop making the transition in the majors. This season, like last season, Plouffe has been above average offensively and defensively to rank as one of the dozen best all-around third basemen in baseball. He was the Twins' second-best position player in the first half.
• Torii Hunter: .257/.312/.444 in 333 plate appearances
Torii Hunter continues to hold off father time, putting together the same type of season for the Twins at age 39 that he had for the Tigers last year. He's been slightly above average offensively, making up for a 30-point drop in batting average with increased power and more walks (24) than he drew all of last season (23). Hunter has been extremely streaky, with a handful of huge games surrounded by mediocrity, but a .750 OPS at age 39 is as good as anyone should have expected.
Defensively he's rated somewhere between mediocre and poor, but either is a huge upgrade over the awful numbers he had as the Tigers' right fielder. Paul Molitor has also given Hunter plenty of time off from fielding with 11 starts at designated hitter. Slightly above average offensively and slightly below average defensively equals an average all-around player. That doesn't come close to matching the Hunter-as-savior hype train, but it certainly tops my modest expectations.
• Kurt Suzuki: .235/.291/.313 in 271 plate appearances
Kurt Suzuki parlayed a good first half last season into his first career All-Star appearance and a two-year, $12 million contract extension from the Twins, at which point the magic wore off and he resumed not hitting. Suzuki has played 112 games since signing the deal, hitting .240/.291/.333 to basically match his .237/.294/.357 mark from 2010-2013, and this season his .604 OPS ranks 22nd among the 25 catchers with 200 or more plate appearances.
Suzuki's defensive reputation has always been excellent, but his defensive numbers have always been terrible and this season is no exception. He's thrown out 20 percent of stolen base attempts, his pitch-framing rates below average, and while he's been charged with few passed balls Twins pitchers have racked up tons of wild pitches with him behind the plate. Add it all up and Suzuki has been one of the league's worst regulars.
• Danny Santana: .225/.245/.313 in 239 plate appearances
Danny Santana's great, out-of-nowhere rookie season carried with it several red flags, including a bad strikeout-to-walk ratio, unsustainably high batting average on balls in play, and iffy track record in the minors, but no one could have expected this type of collapse. His batting average is down 100 points, his power has been sliced in half, and his strike zone control has gone from bad to horrendous with 59 strikeouts and four walks. He's been one of the five worst hitters in MLB.
And he's been nearly as bad defensively despite moving back to his natural position of shortstop after being forced into action as a center fielder last year. Santana has committed 13 errors in 58 games at shortstop and Ultimate Zone Rating, Defensive Runs Saved, and Plus/Minus agree that he's been 5-10 runs below average. Santana made lots of errors and hit .274/.317/.397 with bad K/BB ratios in the minors and that's no longer masked by a shockingly good rookie campaign.
• Eduardo Escobar: .254/.285/.403 in 216 plate appearances
Eduardo Escobar is a good-fielding shortstop with a decent bat for the position, but he's been asked to play mostly left field and designated hitter with predictably poor results. He's made 33 starts at left field/DH compared to 17 at shortstop, which has changed the perception of Escobar's value. Playing shortstop while hitting .254/.285/.403 would make Escobar an average regular, but a sub-.700 OPS looks totally different in left field and his outfield defense isn't pretty either.
Escobar is held back by terrible plate discipline, which includes a 48/8 K/BB ratio this season, but the bar for offense at shortstop is low enough that hitting .250 with gap power and non-existent strike zone control is perfectly reasonable when combined with solid defense. It makes no sense to play Escobar at a position where his bat and glove are both weaknesses, especially when Santana has been a mess at shortstop. Escobar is who he is. His team needs to utilize his skills better.
• Eddie Rosario: .284/.310/.418 in 205 plate appearances
Molitor and the Twins were convinced that Eddie Rosario was more ready for the majors at age 23 than his mediocre numbers in the minors suggested and through 55 games his .284/.310/.418 line narrowly tops his .255/.300/.400 line at Double-A and Triple-A. His inability to control the strike zone in the minors has carried over with an ugly 47/8 K/BB ratio, but thanks to the smooth swing that Molitor and company rave about he's still been able to hit .284 with decent power.
Offensively he's been below average and more Triple-A time to work on plate discipline and trying to hit left-handed pitching might make sense, but Rosario has held his own enough to avoid being a weakness. And he's been very good defensively, showing plus range and a strong arm shifting between left field and right field. Rosario has plenty of rough edges to smooth out if he's going to become a great player, but he's already pretty close to being a good one.
• Kennys Vargas: .245/.277/.365 in 166 plate appearances
Kennys Vargas was handed the Opening Day designated hitter job, lost it, reclaimed it, lost it again, and got demoted to Triple-A and then to Double-A, all within three months. In between he hit .245/.277/.365 with a hideous 48/7 K/BB ratio in 47 games to lose the Twins' faith. As a rookie his 63/12 K/BB ratio in 53 games wasn't much better, but no one seemed to care because he hit .274 with plus power. He has a lot to prove if he's going to re-enter the Twins' long-term plans.
• Aaron Hicks: .266/.333/.387 in 138 plate appearances
After horrible rookie and sophomore seasons the Twins overhauled Aaron Hicks' approach at the plate and sent him to Triple-A. He thrived there to earn another chance and the results have been a mixed bag. Hicks looks like a different hitter--less patient, more aggressive--and his production is up recently, but he continues to be a switch-hitter with an extreme platoon split. His defense and baserunning have improved, but it's still unclear if he's a good part-time or a starter.
• Shane Robinson: .243/.296/.304 in 126 plate appearances
Signed to a minor-league contract after a decade in the Cardinals organization, Shane Robinson made the team out of spring training and has played a bigger role than expected while starting 30 games. He hit .343 in April, but quickly turned back into a pumpkin and has hit .195 since May 1. Robinson's overall numbers match his underwhelming career marks and there's no reason for him to be starting games as a corner outfielder for a team struggling to score runs.
• Eduardo Nunez: .290/.330/.477 in 116 plate appearances
Eduardo Nunez has hit and fielded better than ever, posting the second-best OPS on the team and even rating as a neutral shortstop after previously having some of the worst numbers at the position in baseball. His limited playing time means viewing all of that skeptically and the Twins still don't seem to trust him as an appealing shortstop option. Nunez may finally be taking a step forward at age 28, but more likely is that performances vary wildly in small samples.
---
For a lot more talk about the Twins' first half, check out this week's "Gleeman and The Geek" episode featuring our MVP ballots and player-by-player breakdowns.