September 10, 2014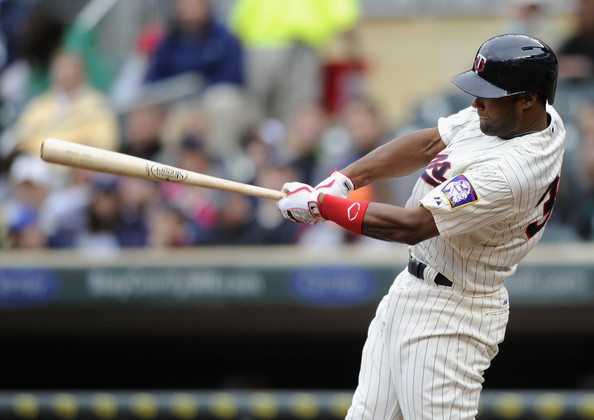 • Danny Santana picked a bad season to be a .320-hitting rookie center fielder, because White Sox first baseman Jose Abreu is hitting .317/.378/.590 with 33 homers and will run away with the Rookie of the Year award. However, assuming that he doesn't go into a prolonged slump down the stretch Santana's performance would be enough to make him a deserving Rookie of the Year winner in quite a few previous seasons. Last season, for instance.
Last season's winner, Wil Myers of the Rays, hit .293/.354/.478 in 88 games as a right fielder. Santana has hit .320/.358/.475 in 84 games as a center fielder/shortstop. They've been nearly identical as hitters and Santana has large edges in base-running, defense, and positional value. Looking at Twins history, Marty Cordova won the award in 1995 while hitting .277/.352/.486 in 137 games as a left fielder in a much higher era for offense.
Here's where Santana currently ranks among Twins rookies in Wins Above Replacement during the Ron Gardenhire era of 2002-2014:
                    YEAR     WAR
Francisco Liriano   2006     4.5
Lew Ford            2004     4.5
Denard Span         2008     4.3
Bobby Kielty        2002     2.7
DANNNY SANTANA      2014     2.7
Longtime readers of this blog will probably remember that I thought Bobby Kielty was destined for stardom. He was not.
• Santana was thrust into center field without ever playing there regularly before and has done reasonably well, but assistant general manager Rob Antony recently said: "I think he's going to be our shortstop of the future. Any opportunity we get to play him at shortstop is a good thing." Which is fine, except with Aaron Hicks back in the majors the Twins are still going out of their way not to play Santana at shortstop, even using Eduardo Nunez there instead of him.
• On a related note: Since a strong start Eduardo Escobar has hit just .247/.292/.365 in his last 85 games. He's now a career .253/.299/.363 hitter in 761 plate appearances as a big leaguer.
• For most of the past four years the Twins' bullpen has been a strength amid the team's overall struggles, but now the relievers are struggling too. In the first half the bullpen had a 3.21 ERA with a 13-10 record. In the second half they have a 4.92 ERA with a 6-10 record, including a 5.81 ERA during the past month. Their season totals now include ranking 22nd in ERA, 29th in xFIP, and dead last in strikeout rate. Of course, the rotation has still been worse.
• Twins president Dave St. Peter apparently didn't mind Keith Olbermann ripping the team to shreds on ESPN, but he predictably did mind me saying their brand survey was "tone deaf." On a related note, we spent a large portion of this week's "Gleeman and The Geek" episode discussing the Twins' increasing assurances of "we get it" in the face of mounting evidence that they don't.
• Pitching prospect Lewis Thorpe, an 18-year-old left-hander from Australia with 144 strikeouts in 116 career innings and one of the highest-upside arms in the Twins' farm system, has been diagnosed with a sprained ulnar collateral ligament in his elbow. For now the Twins are insisting he'll be fine, but UCL injuries are what lead to Tommy John surgery.
• Jose Berrios had one of the 10 best starts by any pitching prospect this season, according to Baseball America.
• Joe Mauer has a .405 on-base percentage with more walks than strikeouts in 28 games since returning from the disabled list. During that time he's got an .848 OPS. His career OPS is .861.
• Kurt Suzuki has hit .235/.279/.337 in 27 games since his two-year, $12 million extension. He hit .237/.294/.357 in 477 games from 2010-2013.
• Tommy Milone allowed 21 runs in 21 innings for the Twins after coming over from the A's in exchange for Sam Fuld and now he's hurt. (Fuld has hit just .218/.269/.307 in 35 games since the trade.)
• Since his disastrous MLB debut Trevor May has a 24/12 K/BB ratio and three homers allowed in 27 innings. It'll take a while for his ERA to not be hideous, but he'll be just fine.
• After nine seasons as the Twins' minor-league hitting coordinator and 14 total seasons in the organization Bill Springman has been let go.
• At one point this season the Twins were 23-21. Since then they are 39-61.
---
This week's blog content is sponsored by Uber, which is offering a free ride to first-time users who sign up with the promo code "UberGleeman."